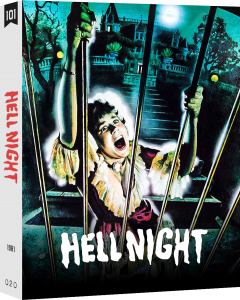 You could almost mistake the title as a parody, but Hell Night isn't taking the piss, and while it may sound like a cookie-cutter horror on paper, this cult classic has an endearing quality. Available now on Blu-ray for the first time in the UK, 101 Films have added the hazing slasher to their popular and collectible Black Label that has continued to soar.
Hell Night is seated in horror tradition as it places an assortment of young adults, or more specifically, college pledges, inside a supposedly deserted mansion, once the scene of a family massacre. There's a spirit to this cult classic that's well-intended and one that invites the audience to have a good time and yet it doesn't compromise on the scares, in fact, the film achieves them better than most. It relies on simple, tried, and tested techniques like shadows, sounds, and tight camera work to build tension during the scenes where our characters are faced with their impending doom. I remember catching Hell Night on late-night TV in the late 90s and remember not only enjoying it a lot but being impressed with the featured "monster", who like Jaws, we only catch glimpse of, with only our imagination to fill in the rest until the big reveal.
Linda Blair is the undeniable draw of this picture, but it's not entirely her show, as her co-stars are all equally, if not more likable than the horror icon. While they each represent various archetypes typical of the genre, none of them are antagonistic, not even the host of the evening shenanigans, Peter, played by a very well-spoken Kevin Brophy. Vincent Van Patten is the playful yet heroic Seth, as is his girlfriend for the evening Denise (Suki Goodwin), while Peter Barton is a fitting romantic lead to Blair's 'Scream Queen' role.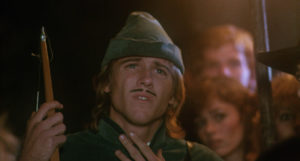 VIDEO AND AUDIO
It's scary to think about how many films have been lost to time and neglect, and while Hell Night thankfully lives on in the realm of physical media, the print hasn't fared too well over the years. Unfortunately, the film has quite a bit of digital noise, as well as instances of hair marks and scratches.  101 Films have sourced a transfer take from, and I quote, "a 4K scan of the best surviving archival 35mm film print with minor SD inserts to replace missing footage", similar in fashion to the early Blu-ray treatment of Silent Night, Deadly Night, although the SD inserts aren't as glaring, and apart from an obvious lack of sharpness, the 1.85:1 image is still decent despite the limitations. However, the sound, while robust in volume, comes in a very clear LCPM Mono 2.0 track with English SHD subtitles.
SPECIAL FEATURES
Audio Commentary with Linda Blair, Tom DeSimone, Irwin Yablans, and Bruce Cohn Curtis
Linda Blair: The Beauty of Horror
Hell Nights with Tom DeSimone
Peter Barton: Facing Fear
Producing Hell with Bruce Cohn Curtis
Writing Hell with Randy Feldman
Vincent Van Patten and Suki Goodwin in conversation
Kevin Brophy and Jenny Neumann in conversation
Gothic Design in Hell Night
Anatomy of the Death Scenes
On Location at Kimberly Crest
Theatrical Trailer
TV Spots
Radio Spot
Photo Gallery
With the picture not occupying the usual amount of disc space, there's a lot of room for a stack of extras that come in just shy of four-hours in total runtime. What I took away from the numerous video interviews and featurettes, which I watched over the course of a week, is that Hell Night is remembered as a very positive experience for all those involved. Linda Blair gives a semi-career breakdown in The Beauty of Horror before talking about the film, which in a way marked her return to theatrical horror, even though she made Exorcist II: The Heretic a few years prior, but that film has always been the subject of selective memory. Her co-star, Peter Barton, speaks very candidly about making Hell Night, who at the time was very on the fence about continuing his acting career. Despite the marginal success that followed, Barton has a great attitude and between recounting his time on the set, he champions the film, believing it just fell short of achieving the celebrated status enjoyed by The Rocky Horror Picture Show.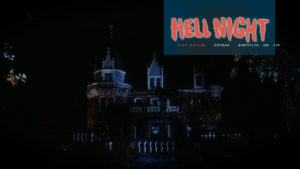 Group interviews with Vincent Van Patten and Suki Goodwin, followed by Kevin Brophy and Jenny Neumann, each feel very warm with the four actors reminiscing over what sounded like a fun production and, in particular, shooting their death scenes and the mechanics involved.
Producer Bruce Cohn Curtis and director Tom DeSimone talk about the filmmaking side as one would expect, but what's interesting is that you slowly notice that while they were making a low-budget horror outside the major studios, they weren't treating it like one. There's a level of sophistication in Hell Night that sets the film apart from its contemporaries, which we get a sense from Randy Feldman's very specific script and the film's gothic style which rightfully gets its own featurette.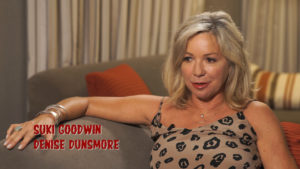 Capping off the video content is a seven-minute tour of the central location, Kimberly Crest in Redland, California, which still looks more or less the same. In broad daylight, the property looks especially beautiful and has been well looked after over the years.
Hell Night is among the best Blu-ray releases I've covered this year. I can see myself watching it every October as it's one of those movies I feel you could never really get tired of, like Black Christmas and Dawn of the Dead. If you're lucky to snatch up a copy during the Limited Edition run you'll be treated with a booklet containing, The Scare Blair Bunch: Hell Night, Linda Blair and the Rise of the American Sorority Slasher by Andrew Graves, and Haunted Houses on Film by Barry Forshaw, which are all excellent reads.
HELL NIGHT
(1981, director: Tom DeSimone)
★★★★½
direct blu-ray screen captures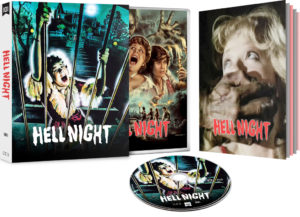 You can follow cinematic randomness on Twitter and Facebook where you'll find all my cinematic exploits. Thank you for visiting!