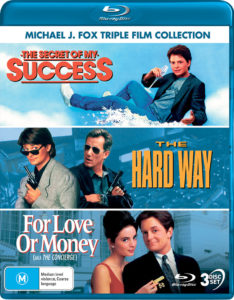 Michael J. Fox was the first movie star I latched onto. I was too young to understand why he was funny in Family Ties, but the live studio audience said he was, so that was enough for me, and seeing Back to the Future a short time later sealed the deal. Via Vision Entertainment has selected three titles from the actor's filmography for a collection currently available on Blu-ray, which in small measure charts the rise and decline of Fox's career, prior to his comeback with the television series, Spin City.
The Secret of My Success was a post-Back to the Future hit starring Fox as a talented country boy, Brantley Foster, who moves to the 'Big Apple' with aspirations of climbing the corporate ladder but discovers a convenient shortcut. Roger Ebert once said, and I quote, "The Secret of My Success seems trapped in some kind of time warp as if the screenplay had been in a drawer since the 1950s and nobody bothered to update it." Whether or not that was the case, the statement is very true and indicative of how the 50s and 80s rhyme. The post-war economic boom is replaced with the rise of big businesses built on excess, but the idealisation of wealth and power remains and Brantley, who appears to be modest and more down-to-earth compared to the "suits", embodies a blue-collar fantasy of success, amounting to a contradictory ending. It's a silly movie, but a staple of 80s comedy and Richard Jordan as Brantley's nefarious uncle clearly 'gets it' as the villainous CEO.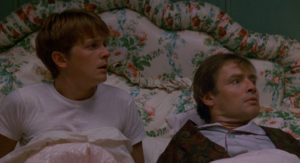 The Hard Way is a stylish hard-edge buddy-cop comedy with a twist: one of the pair is only pretending to be a cop and that's Fox, who plays Hollywood box-office champ, Nick Lang. As an actor looking for meatier roles to flex his dramatic chops, our lead inserts himself into a New York City police precinct where he's assigned to a streetwise cop, John Moss (James Woods), who's after a serial killer known as "The Party Crasher" played by Stephen Lang. I watched The Hard Way a lot when I started collecting DVDs, mostly because I could count my collection on two hands, and for the most part, my enjoyment hasn't waned. I'm a lot more forgiving of Stephen Lang's very campy performance, which I now realise is just a product of early 90s trends. Fox and Woods both click with each other quite well and there's a frantic energy to the movie, much of which comes from Woods who acts like someone who's been addicted to coffee from birth.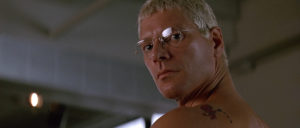 For Love or Money is in several ways a remake of The Secret of My Success, which Fox was called out for by his own wife, as mentioned in his 2002 memoir, Lucky Man. The actor was in a dark place at the time of making this light romantic comedy, having not tasted box office success for some time and wasn't coping with his Parkinson's diagnosis well. Having said that, For Love or Money isn't bad, just a little basic. Fox is a selfless hotel concierge with a dream of building his own hotel with some savvy investing. Of course, there's a beautiful woman in the mix, attached to a generic rich asshole, Christian, played by Anthony Higgins, but true love conquers all. It's a nice movie; non-offensive and hits the usual beats, but I was able to find extra enjoyment when I realised Anthony Higgins was in Vampire Circus, so in my head cannon I was now watching a strange low-key sequel to Hammer Horror classic.
Via Vision has produced a modest value-for-money collection that, while lacking in bonus content, is consistent in the overall presentation. Image quality is surprisingly excellent with all three being soured from a 1080p master. I was worried the transfers would have the dreaded edging effect; a notorious trick Universal employed during the first generation of classic titles on Blu-ray. If you own Tremors, you know exactly what I'm talking about.
The Hard Way looks the best, which is partly attributed to the film's casual neo-noir style with deep blacks and saturated colours while a solid DTS-HD MA 2.0 track kicks in hard. The Secret of My Success also features the same audio, whereas For Love or Money comes with a full 5.1 track. English subtitles are included for all three titles.
Michael J. Fox is undeniably short in stature for a leading man but has the presence and stamina of many of his larger contemporaries, and he's giving it his all in the three of the movies this collection features. It's proof of his perseverance, which has never faltered despite his worsening condition due to Parkinson's Disease. You can find the Michael J. Fox Triple Film Collection in stores and online by visiting viavision.com.au
THE MICHAEL J. FOX TRIPLE FILM COLLECTION  
(1987-93, director: Various)
★★★½
direct blu-ray screen captures
You can follow cinematic randomness on Twitter and Facebook where you'll find all my cinematic exploits. Thank you for visiting!