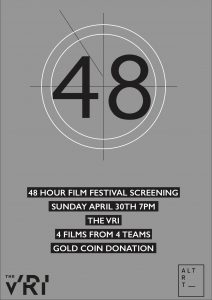 There was growing buzz within the walls of Traralgon's VRI Hall last night, as creative types from all over the Latrobe Valley gathered with much enthusiasm and excitement to view the end result of the first and hopefully not the last 48 Hour Film Festival organised by community-based initiative Alt_Art and creative production company Nanoo Nanoo Arts. An event which began this past Friday night when four teams of eager filmmakers where tasked with creating a short piece within a 48-hour time frame; suffice to say all were successful!
I had the privilege of being invited to attend as one of three judges presiding over each short film. Joined by Latrobe City Lord Mayor Kellie O'Callaghan and former 60's pop idol Ronnie Burns, I was clearly in esteem company.
Kicking off the night of cinematic festivities was Saturn Returns by members of Alt_Art; the tale of an individual suffering the debilitating effects of social anxiety marred by a life plagued by regret and missed opportunity. Using the motif of 'time', a requirement for all four short features, our protagonist is visited by a version of himself from a life potentially lived. Despite lacking certain technical aspects in comparison to the film's counterparts, this work shines through it's positive message of companionship and love.
In a dramatic change of pace, the medieval setting of The Battle by Kingdom Movies wowed audiences with a sophisticated production, encapsulating an epic quality with a simple narrative and short run time. Sounds effects, costumes and coordination were all on point as an ensemble cast clashed furiously in combat to the bitter end. However, the icing on the cake came with the film's final shot, cleverly tying a bow around a brief journey back in time.
Winning the night's top award of 'Best Film' was Must by HT & E Productions (Here There & Everywhere Theatre Co.), a piece which poignantly shows the painful transition and uncertainly of sudden change to one's life. In stark reflection to a recent event which has had considerable impact on numerous families within the Latrobe Valley, Must clearly struck a cord with many of those in attendance and deserves applause to tacking such a relevant issue.
Capping off the night was a slice of tongue-in-cheek horror in the form of The Encounters by The Young Guys, which borrowed elements from The Blair Witch Project (one of my personal favourites) and the wave of found-footage movies that followed. While not clearly aiming to convey any meaningful message, the lads in front and behind the camera clearly had a lot of fun and mischief and mayhem reigned supreme.
As the night drew to a close I was left feeling very optimistic for more of these type of events as the talent is clearly here with so much to offer and capable of capturing Gippsland cinematic beauty.
You can follow cinematic randomness on Twitter and Facebook where you'll find all my cinematic exploits. Thank you for visiting!