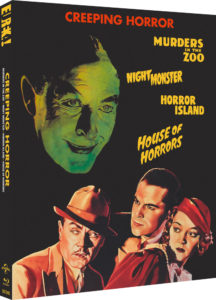 When we think of horror movies from the 1930s and '40s, our minds immediately go to Universal's 'Classic Monsters', namely Dracula and Frankenstein along with the cinematic universe that followed. Whereas the reality was, the genre entered somewhat of a production line state, with major studios like Universal and Paramount churning numerous 60-plus minutes features, which often varied in quality. Eureka Entertainment in the UK has grabbed four such titles, Murders in the Zoo (1933), Night Monster (1942), Horror Island (1941) and House of Horrors (1946); released under the set, Creeping Horror, available now on Blu-ray.
Murders in the Zoo and Night Monster are examples of a studio being too polite to reject scripts. While they're both 'whodunnits', the ideas seem very off the wall; to the point where they're not particularly interesting, just strange. Night Monster is more so the guilty culprit with an introduction to a concept of which we receive little to no explanation and has little bearing on the film's climax. Murders in the Zoo is, by contrast, a little more conventional with its mystery element, but the insistence on comedic moments and one very silly character undercut what might have been a decent thriller.
Horror Island is the jewel of this set; a fun little horror comedy about an assortment of characters who venture to a castle on a secluded island with the advertised promise of finding a lost treasure. With a mysterious Phantom in the shadows, played by John Carradine impersonator, Foy Van Dolsen, the light tone and an amusing trio of protagonists bring a campy quality. Horror Island would make a nice companion piece with William Castle's House on Haunted Hill. Bringing a more sinister note, House of Horrors, follows a struggling sculptor played ferociously by Martin Kosleck. He finds inspiration from an abnormal-looking stranger (Rando Hatton) who has seemingly lost his way but becomes a willing instrument of terror, silencing those who speak ill of our artistic lead. While it's not as on point as Horror Island, it's a dark little feature with an element of insanity from Kosleck, but what's most impressive is Virginia Grey as the assertive and independent, journalist, Joan Medord, who outshines her male co-stars in an unusually prominent role for not only the period but for the type of movie.
SPECIAL FEATURES
Brand new audio commentary tracks on Night Monster and House of Horrors with author Stephen Jones and author/critic Kim Newman
Brand new audio commentary tracks on Murders in the Zoo and Horror Island with Kevin Lyons and Jonathan Rigby
Stills Galleries
Trailers for Horror Island and Night Monster
A limited-edition collector's booklet featuring new writing by Craig Ian Mann and Jon Towlson [2000 copies]
If you're finding some of the titles a little dry, the all-NEW audio commentary tracks provide some levity, especially Kim Newman who embraces the shortcomings and absurdity in Night Monster, whereas his more serious counterpart, Jonathan Rigby, takes a more educational and factual approach with his impressions of the remaining titles in Creeping Horror.  Trailers and still galleries complement each film in style and tone. The collector's booklet along with Eureka's captivating cover art amounts to an edition designed to preserve a much-loved era in a major studio's history.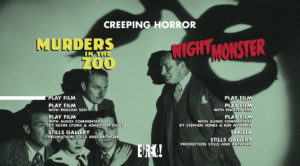 VIDEO AND AUDIO
With all four titles coming presented in 1080p, quality is very impressive for movies that are between 76 and 90 years old. The image for each is very sharp and quite clean. The only exception is that Murders in the Zoo has a glowing filter or overexposed appearance common in titles from the 1930s. LPCM 2.0 Mono is the blanket audio track and while dialogue is loud, brief periods of pops and hissing on occasion are noticeable on a high-end audio receiver. English subtitles are included.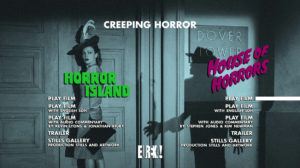 Creeping Horror isn't the best showcase of the countless lesser-known horror titles, but like many of Eureka's releases of this variety, you always finish viewings feeling a little more enlightened and appreciative of the genre's early years within the Hollywood system.
CREEPING HORROR
(1933-46, director: Various)
★★★½
direct blu-ray screen captures (murders in the zoo)
direct blu-ray screen captures (night monster)
direct blu-ray screen captures (horror island)
direct blu-ray screen captures house of horrors)
You can follow cinematic randomness on Twitter and Facebook where you'll find all my cinematic exploits. Thank you for visiting!