Sergio Le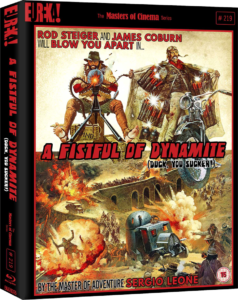 one's A Fistful of Dynamite (aka Duck You Sucker!) was the final western epic from the master filmmaker, now available on Blu-ray for the first time in the UK from Eureka Entertainment, under their prestigious 'The Masters of Cinema' collection.
Two of Hollywood's most popular heavy hitters, Rod Steiger and James Coburn, take centre stage as Juan Miranda, a brutish outlaw; and John Mallory, an Irish fugitive hiding in Mexico respectfully. When the former and latter cross paths on a dusty road, a daring quest to rob a city bank throws them into the chaos of revolution, during which they become involuntarily heroes fending off the relentless and well equipped Mexican army. I feel that Sergio Leone's films are an acquired taste, despite his unmatched skill as a director, but in the case of A Fistful of Dynamite, this bombastic spaghetti western feels a little more conventional as it encroaches slightly towards an American style. You could boil this down to the film's two highly recognisable stars, who each epitomised anti-establishment attitudes that were rife throughout western society at the time. Our protagonists' adventures amidst a people's uprising makes for a series of exciting and spontaneous sequences involving many explosions, as you would expect from the film's title, and they're impressively the real deal with bridges, buildings and remote ruins all being reduced to rubble. Hopefully, they weren't of cultural or historical significance, because they look spectacular coming down in this age of digital explosives. While it's wild ride, A Fistful of Dynamite clocks in at just over two and half hours and despite the length, it's generally well-paced, but Leone's signature tropes like the constant back and forth facial shots and prolonged flashed backs in slow motion become a little tiresome. Nevertheless, Coburn and Steiger are the reason to watch, who both establish themselves as distinctive and likeable characters. Juan is loud, brutish, violent but fundamentally good-natured, while John is the cool, charming and collected type who is isn't afraid to cut loose when the occasion arises.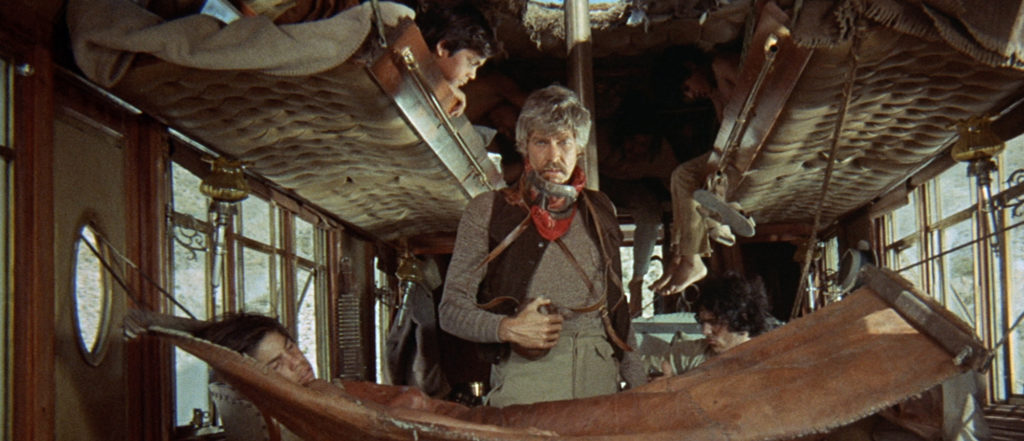 VIDEO AND AUDIO
Eureka has treated us to a 2-disc Blu-ray set, featuring English and Italian versions of the film on respective discs. Both versions are of matching quality and include the menu option of playing the movie with either title ("Duck You Sucker", "A Fistful of Dynamite") for the beginning and end credits. Completed by Cineteca di Bologna in 2009, the transfer comes from a 2K restoration, which may be a little dated in this 4K age, but it's impressive nonetheless. There's a lot of film grain on the image, which suits the dry climate of the setting, and its pallet of rustic colours which enables viewers to feel the sweltering heat. Sharp and consistent throughout, the mono soundtrack naturally isn't very immersive but by no means a detriment to the film's enjoyment.
SPECIAL FEATURES
Limited Edition Hardbound Slipcase (3000 copies)
A LIMITED EDITION 60-PAGE Perfect Bound Collector's book featuring new writing on the film by Simon Ward and western authority Howard Hughes; a new interview with poster designer Robert E. McGinnis; and a selection of rare archival imagery
Optional English subtitles for the deaf and hard-of-hearing
Original Mono Audio available on both versions
Original Italian mono audio available on the Italian version of the film
Audio Commentary by filmmaker Alex Cox
Audio Commentary by film historian Sir. Christopher Frayling
Interview with film critic and writer Kim Newman
Interview with Austin Fisher, author of Radical Frontiers in the Spaghetti Western: Politics, Violence and Popular Italian Cinema
The Myth of Revolution [22 mins] – Sir Christopher Frayling on Duck, You Sucker!
Sergio Donati Remembers Duck, You Sucker! [7 mins]
Sorting Out The Versions: An Analysis of Duck, You Sucker! [12 mins]
Once Upon A Time… in Italy [6 mins] – featurette
Restoration, Italian Style [6 mins]
Location Comparisons [9 mins]
Radio Spots
Newly created stills galleries featuring hundreds of rare archival images
Trailer
After the end credits roll, viewers are treated to an extensive list of bonus material on Disc 1. Comprised of two brand new interviews and a slew of ported featurettes, fans will gain a wealth of knowledge, not to mention history about the film and its respective genre, that's inspired many future filmmakers, most notably Quentin Tarantino. 'Restoration Italian Style' and 'Location Comparison' are in particular well worth checking for a nice before and after perspective, and will likely give you an added appreciation for the film and its harsh locations.
A Fistful of Dynamite is a lot of fun and plays things pretty loose while dealing with some important social themes which are diminished in any way, and while it may not be for everyone, it's a glorious last hooray for Leone's brand of spaghetti western cinema.
A FISTFUL OF DYNAMITE
(1971, dir: Sergio Leone)
★★★★
direct blu-ray screen captures
You can follow cinematic randomness on Twitter and Facebook where you'll find all my cinematic exploits. Thank you for visiting!