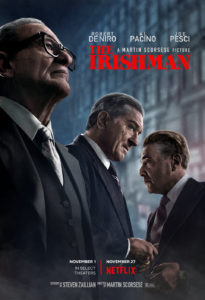 We now live in a world where Martin Scorsese has made a movie for Netflix, which feels like one of those 'before and after' moments, especially if you're an avid filmgoer. Years in the making and adapted from the 2004 book, I Heard You Paint Houses by Charles Brandt, The Irishman is the story of mob hitman, Frank Sheeran, who recalls his involvement with the murder of union leader Jimmy Hoffa.
While he's made a rich variety of films over his career, the subject of organised crime has long been Scorsese's bread and butter and The Irishman is a very generous serving that's very classic in style, particularly the violence. With the film's very drawn out story revolving around Sheeran, he has two anchoring points in the form of mafia boss Russell Bufalino and Jimmy Hoffa. Sheeran often finds himself caught in the middle as he forms a close friendship with both individuals, a source of tension as relationships begin to strain when favours aren't returned. These three perspectives show how easily politics, crime and the simple needs of the 'working man' are able to merge into one collective beast, boiling down to that fundamental appetite for greed and power. One would naturally expect a lengthy run-time from a film directed by Martin Scorsese, but three hours and twenty-nine minutes is bloated to say the least, the bulk of which is spent establishing elements like Sheeran's prowess as a hitman, when it's made apparent very quickly. However, you get a lot of those beats from Goodfellas and Casino throughout, and if that's the reason you're streaming this mob epic then you won't be disappointed. Our trio of heavies; Sheeran, Bufalino and Hoffa, played by Robert DeNiro, Joe Pesci and Al Pacino respectively are all terrific, and while the controversial digital de-ageing is flawed to an extent (because they still move like old men), these are three tremendous actors who are always a pleasure to watch, even in their late 70s.
Whether you agree or not with such an acclaimed director jumping on the streaming-service bandwagon, you have to respect Martin Scorsese for recognising this dramatic shift in film distribution and trying the format for himself. The Irishman, while not the director's best, epitomises why we're fans of him in the first place.
THE IRISHMAN
(2019, dir: Martin Scorsese)
★★★½
You can follow cinematic randomness on Twitter and Facebook where you'll find all my cinematic exploits. Thank you for visiting!