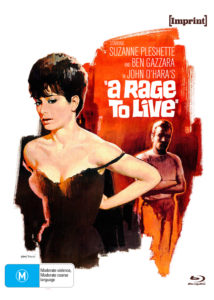 I don't know if there was ever a race to give A Rage to Live its first Blu-ray release but Imprint Films has beaten other labels to the punch, as they have numerous times in the past, with a debut that will no doubt inspire forthcoming editions.
Suzanne Pleshette stars in this dated social drama as young newspaper heiress, Grace Caldwell, who develops an unflattering reputation for promiscuity which creates scandal for her family while putting strain on her marriage.
Marketed as something very salacious and controversial during the time of its release; although, through a modern perspective this picture will either translate as an exaggeration of our heroine's acts or just as an "old sexist film." I'm inclined to say that it's more the latter. A Rage to Live almost seems to go out of its way to constantly condemn a woman as a semi-nymphomaniac, whereas she's essentially a victim, preyed upon by men who live under the notion of "no means yes". Apparently, our star can't help but throw herself into the arms of lustful admirers, namely a local contractor, Roger Bannon (Ben Gazzara), and newspaper editor, Jack Hollister (Peter Graves). There's never any point in the film where Grace appears to be enjoying her extra-marital affairs, yet she must endure the hypocrisy of the very same men when they find out about each other.
Suzanne Pleshette conveys the anguish Grace carries throughout the film and the feeling of having to reciprocate the advances of the men around her, reluctantly embracing the identity she's been given by society, which in a way has robbed her from being able to discover her true self-worth. It's a tragic tale and sadly Pleshette is the only one trying to tell us that.
Our co-stars however do deserve mention, such as Ben Gazzara, who while playing a despicable person, has great screen presence and such a seductive yet intimidating quality; traits the actor was widely known for. Bradford Dillman, as the film's few nice guys, Grace's husband, Sidney, has never been given enough credit as a career supporting playing, but he adds moments of warmth and compassion to this rather cold drama.
VIDEO AND AUDIO
After spending years as a poorly rendered upload on YouTube, A Rage to Live comes to Blu-ray via a 4K scan by MGM, fully utilised by Imprint Films. Presented in the film's original aspect ratio of 2.35:1 and complete with optional English HOH subtitles, we're treated to a very crisp and clean black & white image that meets the high standards of modern restorations. LPCM 2.0 Mono, much like many of Imprint's releases, provides quality sound with solid volume for dialogues that are free of the drawbacks of modern audio mixing.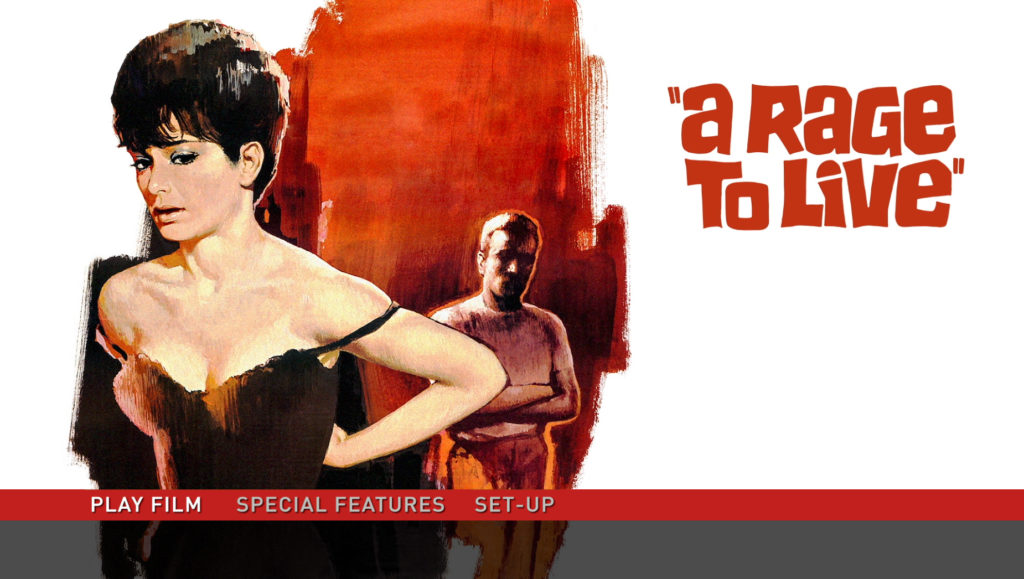 SPECIAL FEATURES
NEW Interview with author and film historian Neil Sinyard on the career of Suzanne Pleshette
NEW "Paralyzed Segments: Suzanne Pleshette Tangled Up in Codes" – a video essay by film historian/filmmaker Daniel Kremer
Theatrical Trailer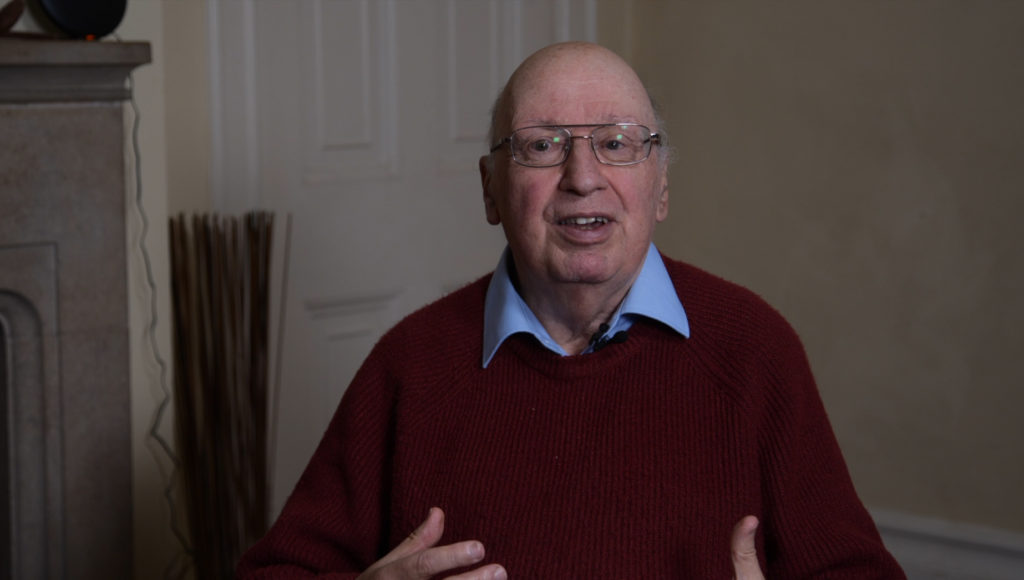 Imprint are certainly catering to fans of A Rage to Live's leading lady with two new supplements on this release highlighting her career. Daniel Kremer's, "Tangled Up in Codes…" is bookended with clips from Quentin Tarantino's Once Upon a Time in Hollywood, an appropriate artistic choice, given Suzanne Pleshette's career potential being almost stalled by the Hays Code, not unlike the fictional Rick Dalton's. The video essay takes us through the actress' roles, and while some are less daring than others, her attempts to break conventions are highlighted in each featured work. Most interestingly, Kremer not only points out Tarantino's homage to Pleshette's career in Once Upon a Time in Hollywood via a fictional poster in the film but gives real-world context to its influence. The interview with author, and film historian, Neil Sinyard is a more straightforward overview of Pleshette's filmography and gives background on her personal life. The sit-down is professional, yet casual, running for a little over 20 minutes. Both men are obvious admirers and fans of our leading lady, and no doubt, viewers will be left with a new appreciation for her work after viewing the featurettes on this disc. – by Hannah Lynch 
A RAGE TO LIVE     
(1965, director: Walter Grauman)
★★★★
Head over to the Imprint Films Facebook page for the latest releases, giveaways, great deals and more!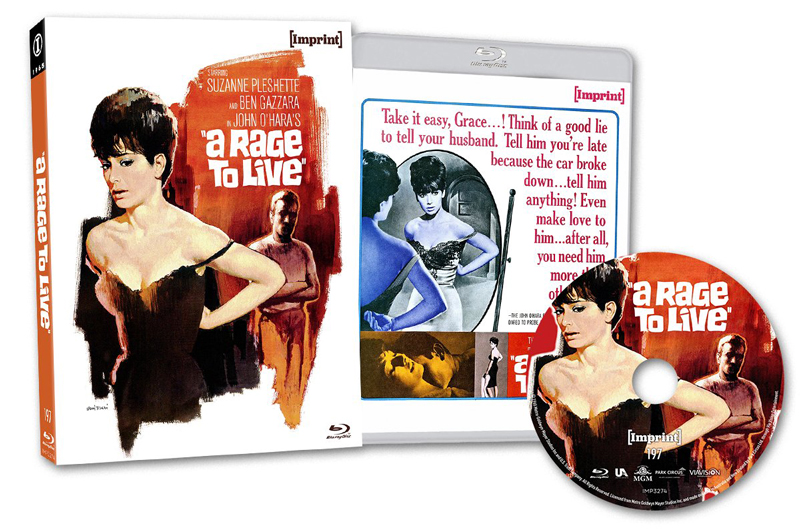 direct blu-ray screen captures
You can follow cinematic randomness on Twitter and Facebook where you'll find all my cinematic exploits. Thank you for visiting!