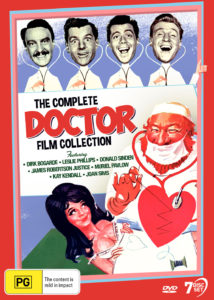 When I was a kid, ABC was the place for all things British, from Worzel Gummidge to Keeping Up Appearances, and now we have dedicated labels like Via Vision Entertainment that bring the occasional staple of UK-based film and television to disc-based formats like it the early 2000s, and I mean that as a complement. The Complete Doctor Film Collection comprises seven classic comedies centred around the medical profession, mostly with a titular 'Doctor' navigating the hectic nature and eccentricities of medicine in and around London.
Unlike today with several cinematic universes currently in play, the Doctor series takes a rather unusual approach with every instalment taking place seemingly in the same world with numerous character reprisals, yet none of the films are connected and there is very little sense of continuity. Perhaps we're dealing with the first cinematic multiverse?
Dirk Bogarde stars in four out of the seven movies, beginning with the establishing title Doctor in the House as a young surgeon hopeful being put through the wringer in a metropolitan hospital. It's a rather light affair with odd characters such as hypochondriacs and a bombastic administrator played by the unmistakable, James Robertson Justice.
Doctor at Sea stands on its own while still exuding the same frivolous tone and energy of its predecessor, this time with Bogarde playing a GP assigned to a small passenger ship. This sequel is easily the best one, with the confined setting allowing for a more creative blend of comedy, and it genuinely feels as though you've been on a voyage with the characters. Of course, there's a romantic angle, which you'll find in all seven, but it's more fleshed out here, and Brigitte Bardot is adorable as the main love interest.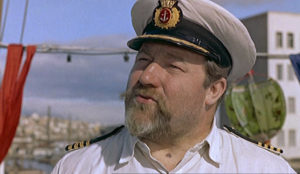 I also enjoyed Doctor at Large quite a bit, which mixes things up by having Bogarde's character moving from practice to practice around the countryside, and things get very strange at times, between an elderly junkie and General Practitioner too cheap for his patient's own good. Doctor in Distress, however, has no plot to really speak of and can't seem to decide if it wants us to follow Bogarde or Justice, the latter of whom is finally on the receiving end of the comedy after barking orders at his subordinates.
I sought to cover this collection, mainly because I am a fan of Sir Dirk Bogarde, a former Major in His Majesty's Army-turned actor. He reached the upper echelon of his profession while making the Doctor movies with critically acclaimed performances in Victim and The Servant. By the time you get to Doctor in Distress, there's a noticeable newfound confidence in him.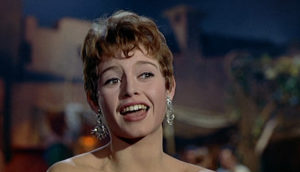 VIDEO AND AUDIO
"Doctor" has seen individual releases in the U.K. and the U.S. and Australia previously, even some volume sets, and while this new collection is not built from the ground up, in terms of packaging it's neat and consistent. Quality and presentation do vary across all seven films, being they are ports of previous editions, but to give you a basic rundown, the aspect ratio does jump between 4:3 and 16:9 and I do recommend using the "Zoom" option to fill your screen. All films are in colour, PAL formatted, but some look better than others and all feature a Mono track with English subtitles available.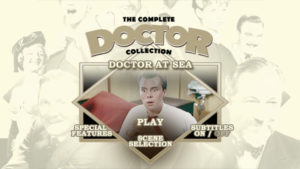 SPECIAL FEATURES
Doctor in the House (1954)
Audio Commentary by Muriel Pavlow and Donald Sinden
Stills Gallery
Doctor at Sea (1955)
Doctor at Large (1957)
Audio Commentary by Muriel Pavlow and Donald Sinden
Stills Galley
Doctor in Love (1960)
Audio Commentary by Leslie Phillips and Liz Fraser
Stills Gallery
Doctor in Distress (1963)
Doctor in Clover (1966)
Audio Commentary by Leslie Phillips and Shirley Anne Field
Stills Gallery
Doctor in Trouble (1970)
Audio Commentary by Leslie Phillips
Stills Gallery
Surprisingly, there's quite a lot of bonus content for a series that's overshadowed by the more popular "Carry On" movies, but the English do love talking about their comedy and if you want a good history lesson on this particular era, the five commentary tracks will certainly provide.
The Complete Doctor Film Collection is a fun time capsule of English humour and sensibilities during the 50s and 60s. Some of the comedy may be lost on today's audiences and despite an instance of 'black-face', the less said the better, it's overall light non-offensive (so they thought) viewing.
THE COMPLETE DOCTOR FILM COLLECTION      
(1954-1970, director: Various)
★★★½
direct dvd screen capture
You can follow cinematic randomness on Twitter and Facebook where you'll find all my cinematic exploits. Thank you for visiting!