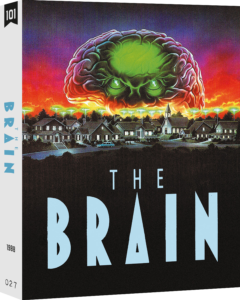 I'm constantly suckered in by 80s horror with its enticing over-embellished artwork and so the saying goes; fool me once, shame on you, fool me twice, shame on me, …or as George W. Bush once said, "A fooled man can't get fooled again". While I am an exception to that rule, I do try to find a silver lining, which The Brain certainly has; now on Blu-ray from 101 Films in the UK.
Inspired by the B-roll classics of 50s drive-in cinema, a psychologist (mad scientist) uses a giant living brain to control the audience of his popular self-help television program, Independent Thinkers. However, when a bright but troublesome high student becomes one of the latest test subjects, he escapes revealing what's behind the curtain.
If what I stated above actually played out in a literal fashion, I would have enjoyed this movie a lot more, but it's done in such a strange way that almost comes across as misleading, even though the plot is technical as advertised. Our protagonist, Jim (Tom Bresnahan) and his girlfriend, Janet (Cynthia Preston), spends for what feels like most of the film, running from the 'Igor-esque' assistant Verna (George Buza) through various locations that have a strange coldness and lack of character; there's no dressing. Whereas scenes involving the titular Brain are pure 'monster madness'. Ironically, the creature and its motivations don't make any sense nor are we given any explanation of where it came from or how it came to be; the Brain simply IS and that's what the movie gets right, along with David Gale as the human antagonist, Dr. Anthony Blakely, who plays upon his popular Re-Animator personality. Although be warned, that his screen time is rather limited.
Despite the flaws of this cerebral horror, it does hold relevance in today's society where the most powerful means of influence is right in our pocket; a tiny screen that hinders more than it helps with parallels to the public's obsession with television during the 1950s.
VIDEO AND AUDIO
Sourced from a 2K scan of the original negative, The Brain, projects an impressive 1.85:1 image, which is very consistent in quality and free of any visible damage; perfect for this HD world. The audio track is undisclosed, but I'd say DTS-HD 2.0 is a fair bet, which offers a clear and balanced sound with optional English HOH subtitles.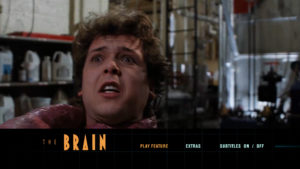 SPECIAL FEATURES
Sounds of the Mind: Paul Zaza on the Brain (NEW)
Commentary with director Ed Hunt
Commentary with composer Paul Zaza
Commentary with actor Tom Bresnahan
Canada on the Mind – An interview with actress Cynthia Preston
From Monster Kid to Monster Man – An interview with actor George Buza
Brain Art – An interview with assistant art director Michael Borthwick
Food for Thought: A Love Letter to The Brain
Still Gallery
101's release of The Brain comes with an all-new interview with composer Paul Zaza who is best known for his work with Bob Clark and Canadian cult classics like My Bloody Valentine. Zaza is candid about his previous negative feelings toward The Brain due to receiving the project last minute but notes that he's warmed up to it in recent years, and further shows appreciation for its fan base. The remaining special features are all ported from the previous U.S Blu-ray release but are a welcome sight on a region B locked disc. Stars Cynthia Preston, George Buza, and assistant art director Michael Borthwick sit down for short, separate interviews, detailing their background and ongoing relationship with The Brain. While it's always interesting to hear from those who worked on a film, fan culture is equally engaging as shown in the aptly titled "Food for Thought: Love Letter to the Brain". In a brief 11 supplement, film archivist John Campopiano shares his almost life-long passion for this horror classic, which will give any naysayer a new appreciation for it. – by Hannah Lynch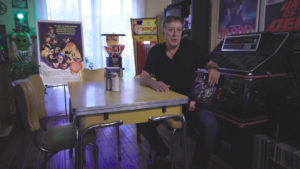 The Brain and I are on different wavelengths, but I do like the core idea and the movie's place in VHS history, the artwork of which I have an almost irresistible urge to frame. It's the fan that give this type of genre filmmaking so much energy and appeal despite not all of them living up to the hype or meeting expectations.
THE BRAIN   
(1998, Ed Hunt)
★★★½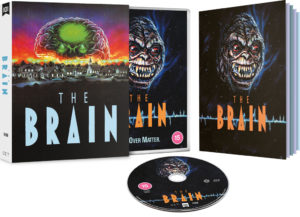 direct blu-ray screen captures
You can follow cinematic randomness on Twitter and Facebook where you'll find all my cinematic exploits. Thank you for visiting!