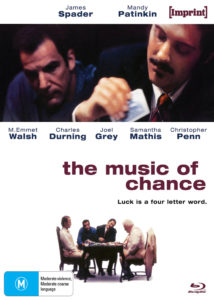 With streaming becoming the dominant means of delivering content into our homes, the chance of certain classic titles seeing a physical release slowly decreases. However, boutique label, Imprint Films, continues to buck the trend, so to speak, with the release of the obscure indie drama/mystery, The Music of Chance, which only saw a DVD release in 2005 from a long-defunct distributor.
Two strangers meet on a quiet road, one bruised and bloodied, the other, a former fireman enjoying the country on the back of a large inheritance; their names are Jack (James Spader) and Jim (Mandy Patinkin) respectfully. When they enter a high-stakes poker game with a pair of eccentric millionaires, Flower and Stone, previously acquainted with Jack (a professional gambler) they subsequently lose. Unable to pay up, our out-of-pocket heroes agree to work off their debit in the unusual manner of erecting a stone wall from the remains of a supposed 15th-century castle for these two rich old cats, on their large gated estate; but have they inadvertently become prisoners?
The Music of Chance is a movie that knows it's smarter than you are, but not in a spiteful way, which is why I love it so much. With a perplexing circular plot, there's no defining answer to any of the numerous questions that arise nor is there any conclusion or resolution. All there is to cling to and what keeps the viewer grounded is the repetitive task Jack and Jim are given under the watchful eye of a somewhat sinister groundskeeper played by M. Emmet Walsh.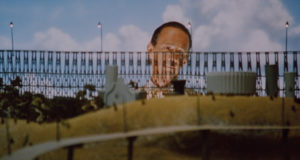 Charles Durning and Joel Grey play the mysterious Bill Flower and Willy Stone, who I assumed were brothers despite being opposite in width. Nevertheless, they have both a charming yet ominous presence, which is a credit to both Durning and Grey as actors. In a strange way, it's almost as though they're not real or the world they inhabit is somehow removed from reality with our protagonists' now unknown characters in someone else's story. I get an almost 'Blair Witch' vibe from the setting, a feeling pending doom, even though the captive pair appear to be making progress, honouring their deal. Spader lays it on thick with a New York accent and colourful personality as the impatient Jack, whereas Mandy Patinkin as the more level-headed Jim, is the perfect counter and the only glimmer of hope that we find in this very odd and fascinating feature that totally sucks you in.
VIDEO AND AUDIO
If you're one of the five people who own the DVD, you'll know it's not great and fitted to 4:3 for your old tube-telly, but Imprint has really gone the extra mile sourcing a new 2K scan. Unlike many 1080p presentations, which have a certain polished appearance, The Music of Chance has a rawer look to the image with a matte texture and while it's not particularly ship-shape, I dig this 1.85:1 (widescreen) transfer and colour pallet. An uncompressed LPCM 2.0 Stereo track has a nice balanced sound and dialogue is thankfully at a non-frustrating volume.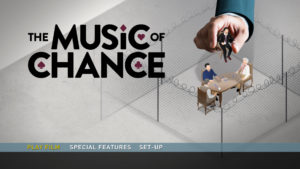 SPECIAL FEATURES
Audio Commentary by film critic A. S. Hamrah. (2022)
Chance and Destiny – video essay by film scholar Adrian Martin and film critic Cristina Alvarez Lopez (2022)
A Character at a Time – interview with actor Joel Grey
Defining the Character – interview with actor M. Emmet Walsh (2022)
Music for Misguided Tasks – interview with composer Phillip Johnston (2022)
Theatrical Trailer
Limited Edition slipcase on the first 1500 copies with unique artwork
Imprint's debut release of The Music of Chance wouldn't be complete without all-new special features. Stars Joel Grey and M. Emmet Walsh give short-but-sweet separate interviews which touch on memories of their roles, personal backgrounds, and careers as character actors. Composer Phillip Johnson also sits down to talk about his unique score for the film and even goes into depth about how certain tracks relate to their respective scenes thematically. For a story so open to interpretation, analysis is certainly welcome and thus comes in both audio and video forms. A traditional but informative commentary is presented by critic A. S. Hamrah, but those looking for a quicker and equally interesting deep dive will enjoy the video essay presented by Adrian Martin. – by Hannah Lynch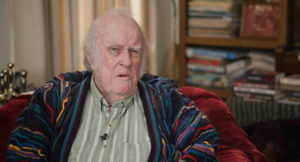 I honestly thought that owning a copy The Music of Chance via such a first-rate edition would never happen. Imprint clearly saw the value in this film, which I hope is a sign of the label picking up more hidden gems produced outside of the big studio system, even though there are still a few Paramount classics begging for a release …cough, cough King of the Gypsies.
THE MUSIC OF CHANCE    
(1993, Philip Haas)
★★★★
Head over to the Imprint Films Facebook page for the latest releases, giveaways, great deals and more!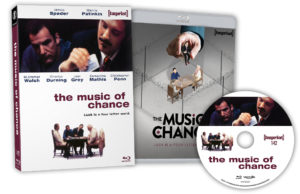 direct blu-ray screen captures
You can follow cinematic randomness on Twitter and Facebook where you'll find all my cinematic exploits. Thank you for visiting!