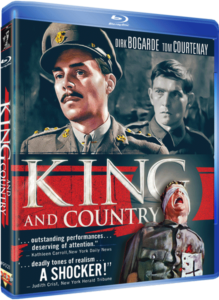 It's been almost a year since I sampled VCI Entertainment's catalogue of Dirk Bogarde classics. Now I have the pleasure of once again of reviewing a title starring the distinguished British actor; the highbrow war-drama King and Country. Set in the muddy trenches at Passchendaele on Western Front during the First World War, an officer is assigned to defend an army private, Arthur James Hamp, who stands accused of desertion during battle.
With major film budgets often exceeding $100 million, watching small-scale productions like King and Country serve as a perfect example of what can be achieved with limited resources. Shocking real-life photographs open the film, which seamlessly transitions to our sole location of an entrenched barracks filled with exhausted soldiers and officers. Cold, wet and unmistakeably putrid, the harsh elements and the agony of impending battle have created an atmosphere on the fringes of sanity. Distraction from reality is a sought after commodity by the young privates while officers concern themselves with more official matters. We're presented with a bleak world full of detail and uncomfortable realism, and as odd as it may sound I enjoyed the experience immensely. Onto the film's subject matter, the reason for desertion by its central character is explored from different and opposing standpoints. While some cite sheer cowardice in the heat of battle, Private Hamp's defender, Captain Hargreaves (Bogarde), is quick to look at the issue more deeply to find the possible root cause, despite Hamp's inexplicable explanation. Whether it was pure instinct or a number of mounting personal matters, we come to realise why a soldier might be promoted to commit an act of such severe magnitude. Perhaps it's the fleeting window of freedom when a soldier can be choosing one's fate when death is all but certain; it's just a question of how. King and Country lets the viewer ponder the hell of war and all its absurdity instead of giving them a definitive answer. Dirk Bogarde, excuse me, Sir Dirk Bogarde is never better as the duty-bound Officer Hardgraves, a fair and realistic man who has great sympathy for the accused and is himself not immune to unforgiving environment. BAFTA nominee Tom Courtenay (45 Years) delivers a heartbreaking performance as Private Hamp, a mental casualty of prolonged conflict, who struggles to fathom his momentary desire to 'walk home', however ludicrous the journey.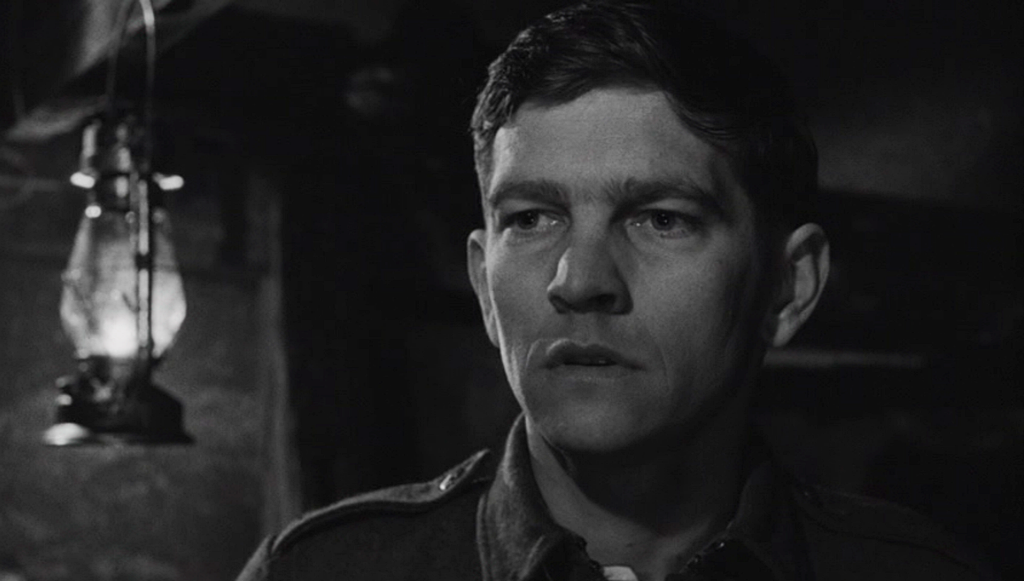 VIDEO AND AUDIO
Presented in 1.66:1 widescreen the black and white picture is very clean in full HD 1080p, appearing as if it were shot only in the last twenty years or so. I doubt you'll find the film looking any better than what's on this Blu-ray, which also features a well-balanced audio track in Dolby Digital 2.0 plus English subtitles
EXTRAS
Unfortunately, there isn't much bonus material, but a very triumphant show-reel presents the numerous Dirk Bogarde films in VCI's library, including Campbell's Kingdom and Agent 8 ¾, both of which come highly recommended.
King and Country is a poignant film, which doesn't give any false notions regarding its tone and is bolstered by the presence of a well-rounded cast, who each convey the story's seriousness in a way that it can be felt by the audience.
KING AND COUNTRY
(1964, dir: Joseph Losey)
★★★★
direct blu-ray screen captures
You can follow cinematic randomness on Twitter and Facebook where you'll find all my cinematic exploits. Thank you for visiting!