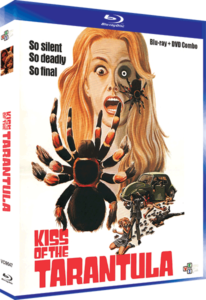 What would horror movies be without spiders? Whether they're dangling somewhere in the background or terrorising the hero, those eight-legged freaks never fail in setting the mood. VCI Entertainment stir up our arachnophobia with the drive-in classic Kiss of the Tarantula, released on Blu-ray and DVD earlier this year, in a complete duel format edition. Directed by Chris Munger, an exploitation filmmaker of very few credits, a disturbed and fragile teenage girl unleashes her pet tarantulas against those who wrong her.
Essentially the narrative of this lower end B-picture revolves around the effects of untreated childhood trauma experienced by the film's gloomy protagonist Susan, the daughter of a small town undertaker. Our heroine's introverted demeanour and youthful attractiveness catches the unwanted eye of her sleazy uncle among other local men with one thing on their mind. Despite being made on a low budget the film's limited resources match the drab aesthetic of its rural setting where abject boredom leads many astray. Its sombre quality works in the film's favour, creating the illusion that the viewer is in fact, a silent observer within this isolated community; further enhanced by limited music queues and prolonged periods of eerie silence. Story-wise, Kiss of the Tarantula serves mostly as a means for Susan to retaliate against constant harassment with her beloved titular pets. Victims are literally frightened to death at the sight of the spider's creepy-crawlies, while others suffer fatalities befitting to a Final Destination sequel. They're fun sequences, which are milked for all their worth and certainly help the film live up to its ominous title. One-time screen actress Suzanna Ling turns in a relative genuine performance as Susan, who's aloof and fragile exterior matches the film's unsettling vibe. Supporting cast such as Herman Wallner as Susan's father, John, makes more of an impression due to his enormous height, but is fine in the role nonetheless, while Ernesto Macias is uncomfortably forward as villainous uncle Walter.
VIDEO AND AUDIO
Much like many from this distinctive era of cinema, picture is awash with a 70s signature orange-yellow hue. However, this remastered and restored 2K scan from the film's original 35mm negative, does bring some balance to the colouring, while adding an impressive level of HD clarity. VCI Entertainment has once again gone above and beyond for the cult cinema market with the DVD counterpart proving to be a worthy SD match. Presented in 1.85:1 widescreen, both discs are region free with a clear PCM 2.0 soundtrack to boot.
SPECIAL FEATURES
New 2018 Commentary Track by David Del Valle & David Decoteau
Original Theatrical Trailer
Commentary tracks are always welcome for films of the lesser-known variety an in the case of Kiss of the Tarantula, historian David Del Valle and David Decoteau of Puppet Master fame dive into the mid-70s obscurity wholeheartedly, exploring the themes and style. The film's original trailer can also be found along with a number of others from VCI's back catalogue of genre favourites.
Despite being only 85 minutes long, Kiss of the Tarantula does tend to drag at time and is a little dull outside of main attractions, but there's great mood and atmosphere amounting to an easy viewing experience, best enjoyed late at night.
KISS OF THE TARANTULA    
(1976, dir: Chris Munger)
★★★½
direct blu-ray screen captures
You can follow cinematic randomness on Twitter and Facebook where you'll find all my cinematic exploits. Thank you for visiting!