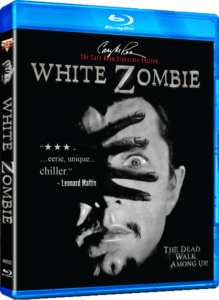 Made literally off the back of Universal's Frankenstein and Dracula, utilising free-standing sets on the studio's backlot, brothers Victor and Harold Halperin, created the first feature-length zombie film, White Zombie, in just 11 days. Now the long-admired independent horror classic has a home on Blu-ray thanks to America's oldest independent label VCI Entertainment. Set down in the Caribbean nation of Haiti, a plantation owner seeks the help of an evil witch doctor, Murder Legendre (Bela Lugosi), to lure the woman he loves away from her fiancé by means of zombification.        
With a runtime of only 67 minutes, which was common for the time, there's very little to unpack before the plot is set in motion and while the story is a little flimsily, it's a film to watch more for its influence on other works and filmmakers. During the opening scenes our soon to be married couple encounter what their stagecoach identifies as 'Zombies'; the sight of which almost instantly conjures up images of George A. Romero's Night of the Living Dead. Going back to the film's Haitian setting, the exotic location has since been a popular location and element for a number of undead-related films. Val Lewton's spine-tingling I Walked with a Zombie covered similar ground while Wes Craven's The Serpent and The Rainbow brought a degree of reality to the subject matter. However, the most glaring connection to White Zombie can be found in Hammer's The Plague of the Zombies where catatonic individuals are used as slave labour for mining. Much like how we discover that Legendre is using zombies to work his sugarcane mill, among other things. Despite a low budget, the production manages to replicate the major studio standard of the period. Detailed set pieces and some gorgeous matte paintings, which help with improving scope and scale, create the illusion of foreign setting. Although, someone may not have paid for appropriate heating, because the breath of our cast members is very noticeable during some scenes. Performances are a little stiff, which may be due to the tight 11-day shoot, but seem to be more evident of acting that hasn't quite departed from the silent ear. Bela Lugosi however is still very much in Dracula mode, who he portrayed the previous year. He has a lot more dialogue as the diabolical lead and plays up the part as one would expect.
VIDEO AND AUDIO
Given the film's position in the pre-code ear of cinema combined with its significant cult following, White Zombie has long been a fixture of the public domain horror. Subject to numerous bargain basement DVD releases and unofficial online uploads, quality has never been paramount. However, within the last six years, two editions have been brought to the HD market with VCI's Cary Roan Signature Edition being the most recent. Despite a low bitrate issue during the edition's initial release, which has since been corrected, the overall transfer is generally impressive, all things considered. Picture is a little patchy in places, with a few brief moments of poor quality, but a level of HD clarity has been achieved for the most part. In regards to brightness, the film is a lot more visible than we've previous seen, but there's a washed out quality which greatly hinders the contrast between black and white. It's certainly not something I found distracting, but some deep black, particularly in the background would have helped to further enhanced the film's atmosphere. Sound comes in at a decent volume via a 2.0 PCM track and is for the most perfectly audible despite being on the lower end of the audio spectrum. Presented in the film's original 1.37:1 aspect ratio, the disc is labelled a Region A despite universal playback being optimised.
SPECIAL FEATURES
2014 Commentary by author Gary Don Rhodes
White Zombie Theatrical Re-Issue Trailer
Bonus "Dracula (1931)" Trailer
Photo & Poster Gallery
Gary Don Rhodes' commentary will have you hooked in minutes, a film historian who wrote a book on White Zombie and is clearly a bank of knowledge when it comes to horror in general. You'll be left with a feeling of appreciation as he cites the various influences the film has had on mainstream titles whilst being enthralled by his informative viewpoint on the piece as a whole. Trailers include a rather melodramatic 'Re-Issue' of the 1932 classic, plus a bonus trailer for Universal's Dracula, capitalising on prominent Lugosi factor. Capping off the modest list of bonus content is a very colourful, and well-presented Photo & Poster Gallery, which is definitely worth checking out.
I'm happy to have finally seen White Zombie. It's not a masterpiece by any means, but certainly "oddly poetic" to quote VCI and offers a message about how love can't be forced or enslaved and how it's important for people to have an identity. If this early indie-horror classic is on your list, save for this October for maximum effect.
WHITE ZOMBIE    
(1932, dir: Victor Halperin)
★★★½
direct blu-ray screen captures
You can follow cinematic randomness on Twitter and Facebook where you'll find all my cinematic exploits. Thank you for visiting!