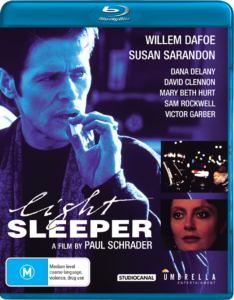 Have you heard of Light Sleeper? I hadn't either, until a few months ago, but now we can thank Umbrella Entertainment for having dusted off this early 90s classic for a HD upgrade, which hit Blu-ray for the first time worldwide on October 3rd. Written and directed by Paul Schrader, this mid-life metaphor as he describes, follows a street-level drug dealer who finds himself at a crossroad, when his boss decides to enter a legitimate business and an old flame reappears.
Willem Dafoe stars as our anxious lead, John LeTour, a rather pleasant type, tasked with dealing with a variety of individuals during his night-to-nigh life, delivering those all-important palm sized packages.  From the theological ramblings of a young coked-up David Spade to wealthy party-goers, we quickly get a sense LeTour has heard and seen it all. His relationship with boss Ann (Susan Sarandon) and fellow dealer Robert (Davd Glennon) is very close, the trio acting more like high school friends. However, LeTour knows this line of employment is far from secure, but his lack of any realistic plans hinders is ongoing struggle with sobriety and efforts in finding a clear path in life. While reasonably light in regards to crime, you can feel its presence lurking in the background, with one such off-screen incident playing a significant part behind our protagonist's fraught journey on the streets of New York City. Performances are strong all around, especially from Dafoe, who comes across as quite vulnerable as LeTour, yet can switch his demeanour to one of a confident street merchant with ease. Susan Sarandon presents a tough exterior as the attractive Ann, whilst being caring with a somewhat maternal quality. If I were a drug dealer, I would want her as my boss. Dana Delany makes a memorable appearance as LeTour's former girlfriend, Marianne, whose past relationship suggests it may have been one based on mutual addiction rather than genuine passion.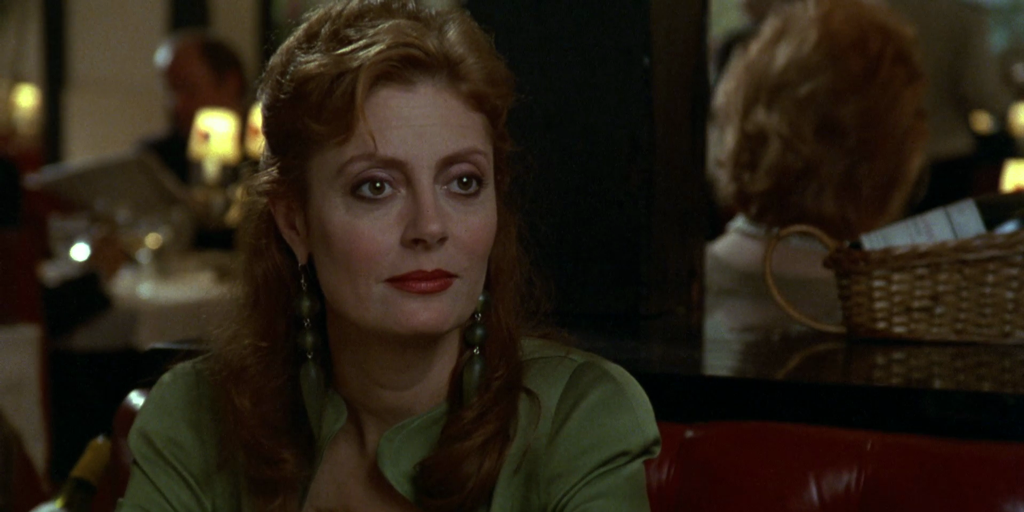 VIDEO AND AUDIO
It's amazing what isn't available on DVD, let alone Blu-ray, but that fact Light Sleeper has been excluded so long from the HD fraternity is a little puzzling. Nevertheless, Umbrella Entertainment have done a great job with this debut release. Picture quality brings out the film's neo-noir aesthetic, although the transfer unfortunately lacks any real texture and appears is quite flat overall. On the other hand, a solid 2.0 DTS-HD Master Audio track packs quite a bit of punch, especially during the many times Michael Been's moody soundtrack kicks in, giving the subwoofers a good ol' workout.
SPECIAL FEATURES
Audio Commentary with Film Critics Emma Westwood & Sally Christie
Q&A with Ed Lachman & Director Paul Schrader
Trailer & VHS Promo
Australian film critics Emma Westwood and Sally Christie provide a light, yet intellectual and analytical commentary on the Paul Schrader classic, a recommended listen if you're wanting to experience the film through different set of eyes. Despite picture poor quality, the Q&A featurette provides an insight into what lead to the film being made and connections to Schrader's previous works, namely Taxi Driver and American Gigolo.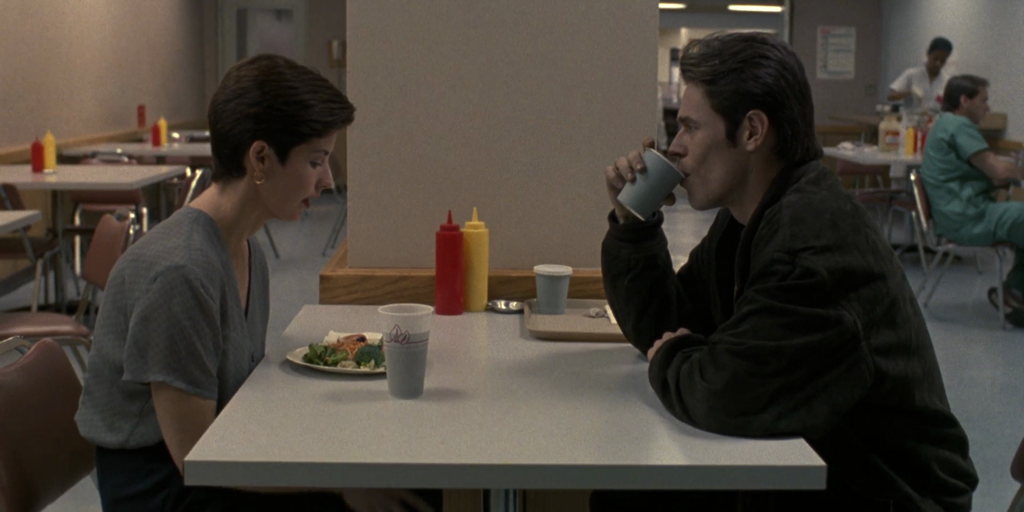 Light Sleeper feels like a film designed for insomniacs or people who generally just function better during the night hours. Umbrella Entertainment deserves major props for landing this title for the world market of collectors, who I'm sure will embrace the neo-noir obscurity.
LIGHT SLEEPER
(1992, dir: Paul Schrader)
★★★★
You can follow cinematic randomness on Twitter and Facebook where you'll find all my cinematic exploits. Thank you for visiting!