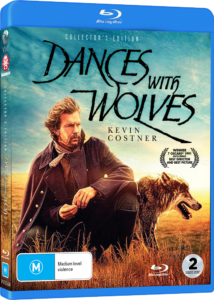 Out now on Blu-ray from Via Vision Entertainment is Kevin Costner's grand American feature, Dances with Wolves, a movie so big that it was sold in a two-VHS tape release in the 1990s. The era's biggest heartthrob doubles as our lead performer playing army Lieutenant John Dunbar, a man assigned to a remote Civil War outpost on the untamed lands of American's vast west. After enduring much loneliness and solitude he eventually befriends a curious wolf and a native tribe of Indians.
Over the twenty-eight years since the film's release, its win over the arguably more popular Goodfellas has become somewhat controversial among avid film fans. However, the film's echoing themes of preservation make it one of the most important Hollywood features of the 20th century. Dances with Wolves breaks down a wall of ignorance held by a majority who think that America was once a land for the taking, blind to the roots set down by its original occupants; who to this day maintain a spiritual connection and respectful standing. Dunbar's astonishment reflects our own as the indescribable beauty he encounters in addition to the ways of his Sioux neighbours, quickly erode his structured existence, set forth by military training. Gone are the days of generic savage head-hunters who were shamelessly portrayed throughout the 40, 50s and 60s, with much care and attention to detail going into how civilised the native tribes were. Possessed with great knowledge and culture heritage, even the more aggressive Pawnee people display great presence and character. Costner, who's performances have varied over the years, often ranging from corny to even more corny, turns in his best. His bond with the Sioux is profoundly moving to say the least and way he embraces every element of their lives is inspiring. Graham Greene as medicine man 'Kicking Bird' is a memorable supporting character, who's humour and curiosity towards Dunbar is child-like and infectious; while Mary McDonnell as 'Stands With A Fist' is convincing given the context of her character. I must say that at first sight her appearance is quiet jarring, obviously being a white woman, but over the course of the film is less apparent.
VIDEO AND AUDIO
Dances with Wolves has been subject to numerous Blu-ray releases in the past and the quality of Via Vision's coveted edition pushes the envelope of its respective format. Natural colours of the American frontier are beautifully showcased in stunning clarity, which is balanced and consistent throughout the entire film. Sounds resonates via a thunderous DTS-HD Master Audio track, amounting to a fully immersive home cinema experience.
SPECIAL FEATURES
Disc 1 (Extended Director's Cut)
Commentary by Kevin Costner and Producer Jim Wilson
Commentary by Director of Photography Dean Semler and Editor Neil Travis
Military Rand and Social Hierarchy Guide
Real History or Movie Make-Believe?
Disc 2 (Theatrical Cut)
A Day in the Life on the Western Frontier
The Original Making of Dances with Wolves
The Creation of an Epic: A Retrospective
John Barry Music Video
Second Wind
Confederate March and Music
Getting the Point
Burying the Hatchet
Animatronic Buffalo
Photo Gallery
Poster Gallery
TV Spots
Theatrical Trailer
Without a doubt the most comprehensive collector's edition I've come across in quite some time.  More on the side of a digital encyclopaedia, both discs come to a combined running time of 9 hours and 25 minutes, presenting two cuts of the film, plus an extensive assortment of behind-the-scenes footage and promotional content.
Dances with Wolves picked up an impressive seven Oscars at the 63rd Academy Awards, including Best Director and Best Picture. Not surprisingly, much of the success when to Costner's head, who followed up his frontier epic with possibly Hollywood's biggest vanity project, Robin Hood: Prince of Thieves. Despite widespread ridicule from critics and movie-goers, who mostly took aim at Costner's performance as the English folk hero, the film made a killing at the box office, taking in over $390 million worldwide. Call that what you will, but I see the staggering figure as a measurement of the actor's start power during the early 90s.
Dances with Wolves is a film you must see before you die.
Currently available online at Via Vision Entertainment at the RRP price of $39.95 on Blu-ray & DVD.
DANCES WITH WOLVES
(1990, dir: Kevin Costner)
★★★★½
You can follow cinematic randomness on Twitter and Facebook where you'll find all my cinematic exploits. Thank you for visiting!