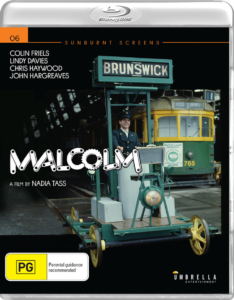 I don't look back on my high school experience very often, but watching Malcolm for Year 8 English remains a fond memory of lessons in character study and storytelling. Now over twenty years later I sit down once again to pen my thoughts and some observations on this charming classic from director Nadia Tass and writer David Parker; that's made its long-awaited Blu-ay debut from Umbrella Entertainment, under their Sunburnt Screens label.
Colin Friels is our titular lead, a socially inept mechanical genius, who after losing his job at the Melbourne Tramways, takes in a boarder, Frank (John Hargreaves), to help pay the bills, followed shortly after by Frank's girlfriend, Jude (Lindy Davis). Together the odd trio turns to a life of crime, combining Franks's skills as a thief, Judy's brains, and Malcolm's mechanic wizardry.
I'm often very mixed when it comes to Australian cinema, but I felt an immediate affection towards Malcolm, which was partly due to my deep-seated fascination with suburban Melbourne along with my own shyness and social awkwardness. Nadia Tass based the character of Malcolm on her brother, who exhibited traits of high-functioning autism. Colin Friels' portrayal and performance feels not only authentic but well researched, in representing individuals who are on the spectrum. His subsequent growth upon meeting Frank, his polar opposite in many respects, and the very outgoing Jude, is what makes the film so endearing and warm. Malcolm's inability to connect with people on a personal level is almost unbearable at times, yet also comical when it's in contrast to Frank's brash personality, an Aussie archetype that John Hargreaves absolutely nails. Lindy Davies as Jude you could say is the 'tie that binds' as she enables Malcolm to come out of his shell through gentle persuasion and understanding while keeping Frank grounded.
Between the quirkiness and remote-control shenanigans, Malcolm speaks to the working-class spirit of Melbourne's endless sprawl of suburbs and the city's multicultural flavour, all while celebrating the humble and iconic W-Class trams. There's nothing overtly negative about the film in terms of its story, despite much of the premise revolving around crime. Everything is done with a sense of adventure and fun, encompassing the film's good nature; feelings that extend to the viewer.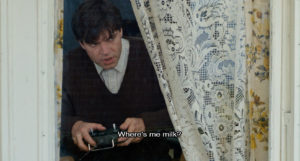 VIDEO AND AUDIO
You may have noticed that several Australian classics released under Umbrella, following a 4K restoration, bare a rather striking similarity regarding colour grading. Malcolm, which now looks better than ever, still retains its rather overcast natural pallet, synonymous with Melbourne weather, but the humble W-Class trams with their signature green and yellow coating, really pop. While the disc's singular audio track is only 2.0 mono, the DTS-HD format amplifies and volume and enhances the quality of the film's simplistic yet creative soundtrack, a part of which Telstra would later adopt for a late 90s advertising campaign. English subtitles are included, and the release is region-free.
SPECIAL FEATURES
NEW – "A Quieter Time" interview featurette with David Parker
NEW NFSA Malcolm Car featurette
NEW "Where Was It Filmed?" Featurette
Audio commentary with Nadia Tass and David Parker
MALCOLM at the AFI Awards
"Where Was It Filmed?" Featurette
Popcorn Taxi Q&A with Nadia Tass and David Parker
Interview with Colin Friels
SBS Movie Show Interview with Lindy Davies
David Parker and Nadia Tass archival NFSA interview
More Malcolm Gizmos
Theatrical Trailer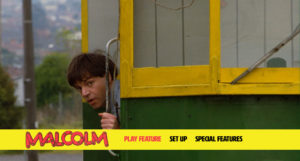 I remember when Malcolm made its DVD debut under Umbrella in 2004, a release that, in my opinion, has one of the most creative and interactive menus on the format. Nowadays menu screens have been streamlined, but thankfully all the bonus content has been ported over along with a few new featurettes. A Quieter Time has writer David Parker talking about Malcolm's origins while comparing Melbourne of 1986 to the city as it is today, which is arguably a lot quieter if you take COVID into consideration. Where Was It Filmed is actually a YouTube video from Phagl Productions, a channel I subscribed to earlier this year, on which presenter, Paul Fargel, gives a number of very precise location tours from various Aussie films shot in and around Melbourne. Much like our mechanically gifted protagonist, Paul's a little awkward, but pinpoints just about every location of significance in the film. NFSA Malcolm Car featurette runs for only roughly two minutes but lets us see the iconic dual vehicle on proud display inside the National Film and Sound Archive of Australia.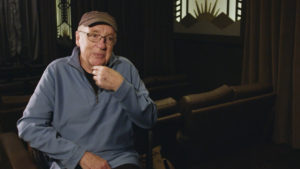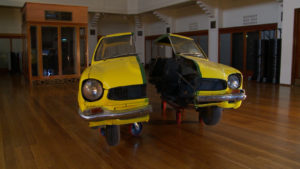 Much of the older content is an assortment of archival interviews from various outlets, plus an audio commentary with Nadia Tass and David Parker, that I assume was recorded around the time of the original DVD release. Overall, this very complete Blu-ray release from Umbrella serves as a nice time capsule of Australian filmmaking during the mid-1980s.
Malcolm was described as "90 minutes of sheer joy" on a United Kingdom DVD release. It's actually 85-minutes, but I agree wholeheartedly with the statement.
MALCOLM
(1986, director: Nadia Tass)
★★★★½
direct blu-ray screen captures
You can follow cinematic randomness on Twitter and Facebook where you'll find all my cinematic exploits. Thank you for visiting!