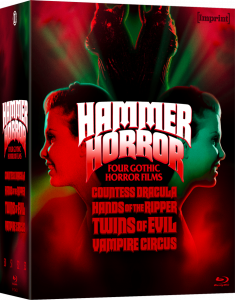 I've been asked many times when Imprint Films plan to dip their toes into horror, due to the company releasing many big studio classics. You could argue they've been playing it safe, but I detect some clever strategy with the many worldwide debuts and now on their 13th month since launch, August has been dedicated to macabre, headlined by Hammer Horror: Four Gothic Horror Films.
COUNTESS DRACULA (1971)
While she only appears in two Hammer films, the first being The Vampire Lovers, Ingrid Pitt is regarded as one of the studio's 'Queens of Horror', right next to Barbara Shelly, who appeared in numerous titles. Pitt's performance as the cruel, mean-spirited and vain, Countess Elisabeth Nádasdy is both frantic and sensational despite the malevolent nature of this demented creature. The royal bathes in the blood of virgins to maintain her youth, but the evil old hag is never kept at bay as the desire to stay beautiful drives the titular Countess to insanity during what is a rather risqué film and bloody affair, even for Hammer.
VIDEO AND AUDIO
Not every 'Hammer Horror' classic has enjoyed the same level of restoration, but most have made the transition to high definition and rightfully so. Countless Dracula, which has a particularly dazzling quality that comes mostly through Ingrid Pitt's wardrobe can be enjoyed in more detail. Although, I dare say the source of Imprint's release is the same HD master that's been passed around previously among overseas labels, which lack vibrant colour and definition, certainly fits the criterion of a 1080p presentation as advertised. Audibly, the LPCM 2.0 Mono track doesn't exactly burst through the speakers but carries solid volume and clear sound. English language and English HOH subtitles are included.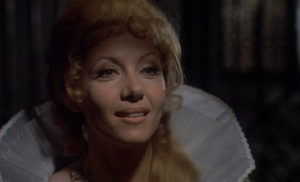 SPECIAL FEATURES
Audio commentary with Ingrid Pitt and critics Kim Newman & Stephen Jones
Audio Commentary by Ingrid Pitt, Peter Sasdy, Jeremy Paul and Jonathan Sothcott
NEW Audio Commentary with Hammer historians Jonathan Rigby & Kevin Lyons (2021)
NEW Vampire Lover: The Life and Career of Ingrid Pitt – Visual Essay by Kat Ellinger (2021)
NEW Blood Countess: Bathory on Film – A Visual Essay By Kat Ellinger (2021)
NEW Interview with Leon Lissek discussing Countess Dracula
Interview with director Peter Sasdy, moderated by Marcus Hearn (2021)
Interview with writer Gabriel Ronay (2021)
"Immortal Countess: The Cinematic Life of Ingrid Pitt" archival featurette
Video and Audio Interview With Ingrid Pitt
Theatrical Trailer
Double Bill trailer (with Vampire Circus)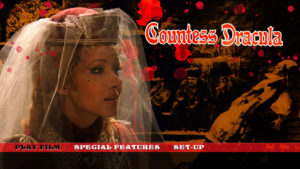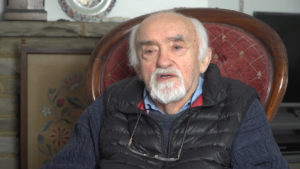 Having previously purchased a bare-bones edition of Countess Dracula, it was a real treat to enjoy such a deep dive into not only the film but the legend of Elizbeth Bathory, which the film is loosely based on. Kat Ellinger's two video essays are must watches for historical context, and for her exploration of Ingrid Pitt's extraordinary life, which is also covered in the archival featurette Immortal Countless. Fans can even hear the talented star talk about her background and career in vintage audio and video interviews as well. While not specified if the featurette was obtained for ViaVision's latest release, the sit-down with Peter Sasdy was filmed for 2021. Enthusiasts of the Bathory legend and film will enjoy comparing the director's take on bringing the immortal tale to life, with that of Gabriel Ronay who penned the short story that inspired the picture.  Many of Hammer's horror titles were originally released as double features, so it's a nice touch that Imprint has included the small piece of marketing material in the form of a trailer.
HANDS OF THE RIPPER (1971)
Hammer certainly had a knack for mixing or reworking gothic tales into something new for film audiences, and this 'after the fact' take on Jack the Ripper is quite creative as the serial killer's daughter continues his brutal reign as an adult. Our hero is a psychiatrist who tries to cure the hereditary trait for murder, but as you can imagine, there are grave consequences for those involved. Hands of the Ripper is more on the tame side, but the stabbings, will make you wince and visually the film has a very grandiose quality, utilising a number of stunning locations.
VIDEO AND AUDIO
Hands of the Ripper looks more or less the same as Countess Dracula in regard to its 1080p presentation, although a little sharper and brighter in places and also features a clear LPCM 2.0 Mono track. English language and English HOH subtitles are included.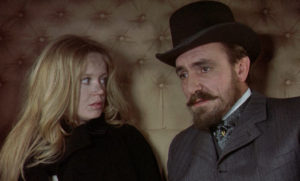 SPECIAL FEATURES
Audio Commentary with Angharad Rees, Kim Newman and Stephen Jones
NEWAudio Commentary with Hammer historians Jonathan Rigby & Kevin Lyons (2021)
The Devil's Plaything: Possessed by the 'Hands of the Ripper' documentary
Fresh Blood – Interview with Peter Sasdy
Slaughter of Innocence: The Evolution of Hammer Gore motion still gallery
Television Introduction
Original Theatrical Trailer
TV Spots
Motion Still Gallery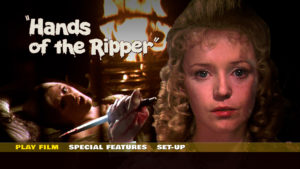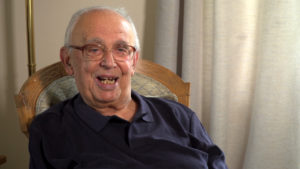 Hands of the Ripper may not be bestowed with the same amount of exclusive content as other titles in this set, but the array of extras still offers a treat for fans! New material comes in the form of an insightful commentary by Jonathan Rigby & Ken Lyons. Collectors who've missed out on either the previous U.S and/or German releases of Hands of the Ripper, can now enjoy the two featurettes from both, respectfully. The Devil's Plaything is a short documentary and series of interviews with Hammer historians, which manages to pack a lot of information on the movie's making of and legacy in under 30 minutes. Fresh Blood gives a singular perspective on these aforementioned two areas from the film's director, Peter Sasdy, filmed in 2013. – written by Hannah Lynch 
TWINS OF EVIL (1971)
Peter Cushing suffered the loss of his beloved wife prior to accepting the role of an overzealous puritan in Twins of Evil, but it's his grief that produced one of the actor's most menacing and fierce performances. Outside of the more popular Dracula and Frankenstein series that won Hammer much international reignition, this 16th-century tale is one of the production company's most notable. Much of Twins of Evil's popularity is due to being choked to the brim with exciting plot elements such as witchcraft, vampirism, decapitations, and the radiant real-life twins, Mary and Madeleine Collinson, who are seduced by evil. It's about as Hammer as you can get and the final chapter in the Karnstein Trilogy, preceded by Lust for a Vampire and The Vampire Lovers. Having seen the film three times now, it's among my favourites as it not only epitomizes the best of Hammer's gothic filmmaking but also the more explicit style seen during the early 70s, that culminated with To the Devil a Daughter.
VIDEO AND AUDIO
Twins of Evil is without a doubt the best looking out of the four titles, with a gorgeous 1.66:1 widescreen image, that's especially bright and vibrant while reassembling the look of modern restorations despite being a 1080p presentation, again with an LPCM 2.0 track. English language and English HOH subtitles are included.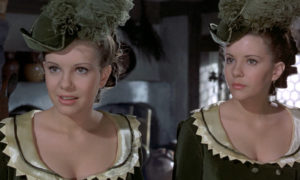 SPECIAL FEATURES
NEWAudio commentary with critics Kim Newman & Stephen Jones (2021)
Audio Commentary with Hammer historians Jonathan Rigby & Kevin Lyons
NEW Directors cut of "The Flesh and The Fury: X-posing 'Twins of Evil'" feature-length documentary exploring Hammer's "Karnstein Trilogy" from Ballyhoo Productions (2021)
NEW Satanic Decadence & The Legacy of Sheridan Le Fanu in Hammer's Twins of Evil – A Visual Essay by Kat Ellinger (2021)
The Props that Hammer Built: The Kinsey Collection featurette
Interview with director John Hough, conducted by Marcus Hearn in 2013
Interview with Damien Thomas, conducted on stage by Wayne Kinsey in 2013
Super-8 version
Motion Still Gallery
Deleted Scene
Original Theatrical Trailer
Double Bill Trailer (with Hands of The Ripper)
3 TV Spots
Isolated Effects and Music score
Galleries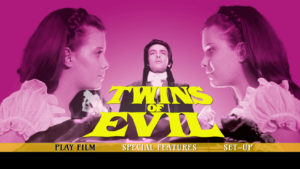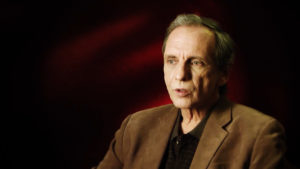 Twins of Evil fans will delight in this collection of featurettes which includes new bonus material in the form of two commentaries and a video essay from Hammer film historians. Content is pooled from the film's prior U.S and German releases, so those who missed out on either or both editions can now enjoy previously exclusive features in one place. An additional five to six minutes is added to the archival documentary The Flesh and the Fury, an in-depth journey through the history of Twins of Evil, from its literary roots all the way to its production and continued legacy. Those particularly interested in the story's inspiration will enjoy Kat Ellinger's 20-minute video essay on author Sheridan Le Fanu, whose short story, Camilla, flows through Hammer's Karnstein trilogy. The Props That Hammer Built is a vintage featurette from the film's U.S release, and a fun, short watch for fans of the production studio which looks at rare set pieces and costumes from an enthusiast's private collection. Back on track to the movie itself, interviews with director John Hough and actor Damien Thomas from 2013 offer differing perspectives on both men's experience making the film and short relationship with Hammer. – written by Hannah Lynch 
VAMPIRE CIRCUS (1972)
You can almost smell Vampire Circus, that while set in centuries past, captures that outdoor traveling carnival atmosphere, although the acts are far from innocent. I get some heavy Nightmare on Elm Street vibes from this literal horror show, which stems from the plot device of using child-snatching as an act of revenge. This comparison is made more appropriate by the antics and playful terror exhibited by the head vampire, Count Mitterhaus, played by Robert Tayman. While he's slightly miscast in the role, the colourful character basically bookends the film, and I wouldn't be surprised if Robert Englund drew inspiration from the performance. Vampire Circus is ambitious, creepy, unsettling, and plays into the slightly mysterious quality of circus folk, conjuring up a personal memory of myself a child wandering between the tents to find an aging clown easing the burden of performing with a very tall bottle of Bundaberg Rum.
VIDEO AND AUDIO
While it's the most decorative and extravagant Hammer Horror in this set, the 1080p presentation for Vampire Circus is a little inconsistent but compared its overseas counterparts, the picture is a tad brighter throughout. Having seen the film twice, I've always found the opening scene to be the most impressive in terms of an overall HD appearance with the natural greens of the forest setting showing up beautifully. Given the film's wild nature, the LPCM 2.0 track offers a lot more in terms of mixing and variety, which off-sets the limited audio output. English language and English HOH subtitles are included.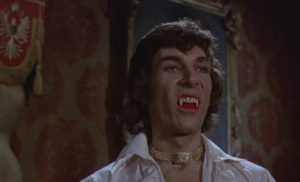 SPECIAL FEATURES
New Audio commentary with critics Kim Newman & Stephen Jones (2021)
Audio Commentary with Hammer historians Jonathan Rigby & Kevin Lyons
"The Bloodiest Show on Earth: Making Vampire Circus" documentary
Gallery of Grotesqueries: A Brief History of Circus Horrors featurette with British author/film historian Philip Nutman
Visiting The House of Hammer: Britain's Legendary Horror Magazine featurette with British author/film historian Philip Nutman
NEW Documentary on Vampire Circus Produced & Directed by Marcus Hearn (2021)
NEWCutting Hammer Horror Interview on editing Vampire Circus with Peter Musgrave (2021)
Blood and Circuses interview with director Robert Young (2021)
Vampire Victim interview with actress Sibylla Kay (2021)
Vampire Circus Interactive Comic Book
Theatrical Trailer
Isolated Music and Effects Track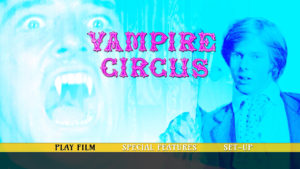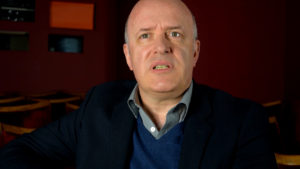 Vampire Circus boasts the most exclusive content in this already-impressive boxset, and like the other discs, still comes with extras from previous releases. A new sit-down with Hammer historians directed by Marcus Hearn is an insightful update and companion piece to the U.S produced documentary from 2010, which gives additional background information on the making-of process of the film and modern social commentary on its themes. Interviews with editor Peter Musgrave, director Robert Young, and actress Sibylla Kay have never been seen before on prior releases despite being shot in 2014. Coming in at around 40-minutes the sit-down with Young is especially informative, as he comments on just about everyone who worked on the film from the actors to set workers. Musgrave's differing takes on editing the movie from the director offers an interesting clash of opinions (and memories). For those viewers who are confused about a key death scene at the end of the film, be sure to tune into Musgrave's interview as he explains why it turned out so muddled. – written by Hannah Lynch 
FLESH & BLOOD – THE HAMMER HERITAGE OF HORROR DOCUMENTARY
Produced in 1994, this 100-minute documentary gives fans an overarching history of Hammer Films with narrations from the studio's two most beloved stars, Peter Cushing and Christopher Lee. Despite being over 25-years-old, it still serves as an informative retrospective of not only Hammer as a whole but their popular gothic era, which is what we're here for.
Imprint Films have delivered a box sex that rivals the very best of what's come before from overseas boutique labels, and the selection of four very specific titles indicated a personal affection towards Hammer horror. We have a limited range of titles available in Australia, but, I think this box set will set a precedent to release, or at the very least, re-release other titles from Hammer's gothic era.
HAMMER HORROR: FOUR GOTHIC FILMS
(1971-1972, director: Various)
★★★★½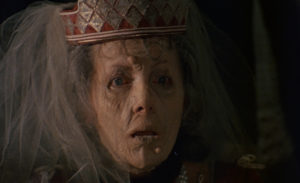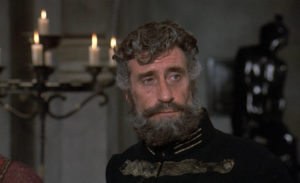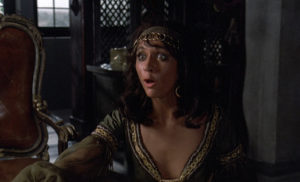 countess dracula – direct blu-ray screen captures
hands of the ripper – direct blu-ray screen captures
twins of evil – direct blu-ray screen captures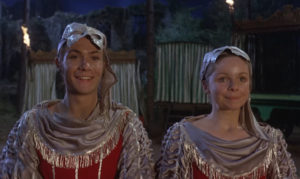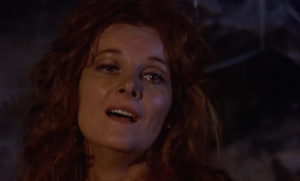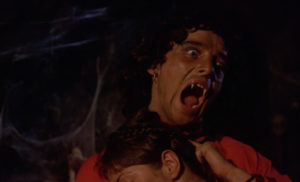 vampire circus – direct blu-ray screen captures
You can follow cinematic randomness on Twitter and Facebook where you'll find all my cinematic exploits. Thank you for visiting!