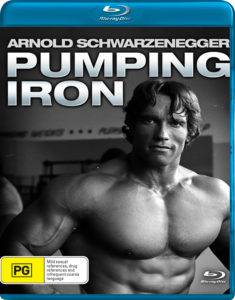 I've been an Arnold Schwarzenegger fan for as long as I've been watching movies. At the risk of sounding melodramatic, watching Conan the Barbarian for the first time, at the very inappropriate age of 6, was a life-changing moment due to its unconventional hero and deep philosophical subtext. Little did I know at the time that Arnold was originally famous for his physique, being a champion bodybuilder, and the focus of an up-close-and-personal documentary, Pumping Iron, available now on Blu-ray from Via Vision Entertainment.
Opening with a ballet instructor teaching our muscled subjects grace and elegance for when posing on the stage, the nature of these first few minutes immediately tells us there's much more to this fascinating and competitive world than simply lifting weights. Viewers follow Arnold in his quest to win a sixth Mr. Olympia title along with younger hopeful, Lou Ferrigno, who is eager to claim his first victory over the long-reigning world champion.
The mark of any good documentary is the ability to engage the viewer, whether they have an interest in the topic or not. Personally, I'm just about the opposite of a bodybuilder, yet Pumping Iron is not only fascinating but crafted in a way that results in something unusually entertaining as we meet some literal larger-than-life figures. The subjects here are both the sculptor and clay as they meticulously shape their bodies into a sought-after ideal of perfection for which Arnold is recognised as the world's best. At first glance, these men all appear equally impressive, but as our stars explain, the skill is in developing specific muscles to accentuate the competitor's best attributes.
Pumping Iron, while raw and visual, has a somewhat cinematic narrative with an almost villainous Arnold, who oozes confidence, while equipped with knowledge and strategy. He shamelessly piles on modesty to lure his rivals into a false sense of security as seen during a breakfast with Lou Ferrigno and his pedantic and peculiar father, Matty. Then we have the short, but freakishly strong, Franco Columbu, who can lift the back ends of cars and inflate water bottles like party balloons. He's a mini modern Hercules who also has his eye on the prize, but unlike this larger counterpart, has a more childlike enthusiasm for competition. All three are captivating figures to say the least.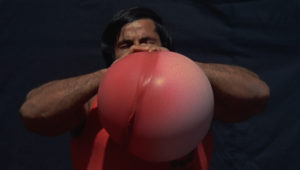 SPECIAL FEATURES
Hard Science of Body Building
Still Pumping
Trailer
The special features on this disc come ported from an early 2000s DVD release, but despite their age are a welcome addition to the disc. "Hard Science of Body Building" is a self-explanatory how-to guide for those interested in lifting weights, and includes various tips and tricks from veterans in the sport. Running for around 10 minutes, "Still Pumping" features a sit down with Arnold Schwarzenegger hot off his governor win, and therefore makes an interesting time capsule. – by Hannah Lynch 
VIDEO AND AUDIO
Despite its popularity, Pumping Iron has only seen three Blu-ray releases worldwide; with the first being under Via Vision in 2015, followed by a German edition in 2018 and now we have Via Vison's re-issue release. Presented in 16:9 widescreen, the negative 16mm source renders nicely in 1080p and regains a very raw appearance like any true documentary of the time when viewing on modern TV screens. Dolby Digital 2.0 provide a solid stereo track with plenty of base for the opening tune and Arnold's deep voice. Unfortunately, this release does not include subtitles and is region B encoded.
Pumping Iron proves the phrase, "No pain, no gain" and even if it doesn't get us off our asses, Arnold's work ethic and competitive nature are inspiring. It's clear why he was included among Time Magazine's Top 100 influential people in the World on more than one occasion.
PUMPING IRON
(1977, director: George Butler & Robert Fiore)
★★★★
direct blu-ray screen captures
You can follow cinematic randomness on Twitter and Facebook where you'll find all my cinematic exploits. Thank you for visiting!