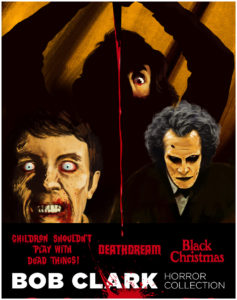 Piecing together Bob Clark's filmography on DVD and Blu-ray would likely prove an expensive endeavour, especially considering the wave of horror movies made during the filmmaker's earlier years, but 101 Films in the UK have created the simply named, Bob Clark Horror Collection. Showcasing three titles, Children Shouldn't Play with Dead Things, Deathdream and Black Christmas, this perfectly curated, uniform, and limited-edition box set is out now on Blu-ray with hours of the best bonus content sourced primarily from previous releases.
Children Shouldn't Play with Dead Things
Under the pale moonlight, six friends in a theatrical troupe arrive on a disused resort island off Maimi where they intend to dig up a corpse and perform a mock Satanic ritual, but grim reality quickly descends upon our aspiring performers.
As horror films were taking on a more serious and metaphorical nature like in George A. Romero's Night of the Living Dead, this notably similar zombie-oriented feature opts for a lighter and unapologetic cheesier tone. However, this offers the type of atmosphere I personally can't get enough of, packed with the fundamentals of a good ol' fashion Saturday night spook-fest. Despite being over 50 years old, our cast of characters bare an amusing resemblance to today's hipster culture; our leader especially, played by Alan Ormsby, who co-wrote the film with Bob Clark.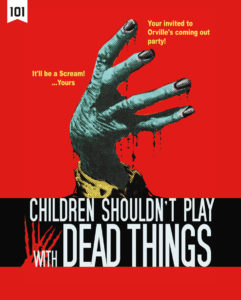 SPECIAL FEATURES
Commentary with Alan Ormsby, Jane Daly and Anya Cronin
Alan Ormsby Interview
Memories of Bob Clark
Confessions of a Grave Digger: Interview with Ken Goch
Grindhouse Q&A
Cemetery Mary – Music Video
Dead Girls Don't Say No – Music Video
Trailer
Photo Gallery
This disc's supplements come ported from the U.S 4K edition, many of which are several years old. The Alan Ormsby interview, produced in 2022, is the most recent featurette and is one of the biggest selling points. In the first half of the sit-down, Ormsby reflects on the making of "Children" and its differences with his subsequent horror features. Most interestingly the writer divulges his creative (and friendship) break-up with Bob Clark. The second half of the interview shows Ormsby answering a series of questions sent in by fans, which allows him to elaborate on less-discussed aspects of the film (such as his colourful costume). Unfortunately, the audio quality for the interview is quite poor, and subtitles need to be turned on via remote. – by Hannah Lynch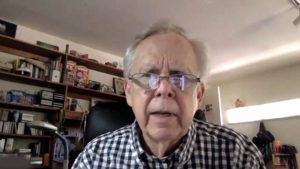 Deathdream (AKA Dead of Night)
When a young soldier, Andy, is killed in Vietnam, he inexplicably or perhaps miraculously shows up on his family's doorstep, but he's not the lively son and brother they remember. There's something missing within the young man, and it's been replaced with a malevolence neither Andy nor anyone else can understand.
I recently reviewed Jacob's Ladder, a psychological horror that bears a striking resemblance to Deathdream regarding the concept and its metaphorical aspects. Bob Clark does however take a more literal approach to the shared themes and while the film plays out like a traditional drive-in B-picture on the surface, there's still a very profound statement made about the emotional withdrawal many returned servicemen suffered as a result of the Vietnam war. Andy is more or less, a zombie; an empty shell of a man unable to feel while those around him are affected by his emotional absence and persevered in silent despair. Andy's unnatural disposition has a very clear parallel to drug addiction, but with a vampiric angle, which also leans into the film's post-war subtext. Children Shouldn't Play with Dead Things alumni are among the supporting cast such as Anya Ormsby as Andy's sister, Cathy, and Jane Daly as his high school sweetheart Joanne; but it's Richard Backus in the leading role as Andy who personifies the film's unnerving and a horrific quality.
Deathdream, if you pardon the pun, is a sleepy classic that mixes popular horror tropes with a very real issues that faced many Americans during the mid-1970s.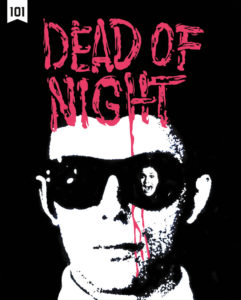 SPECIAL FEATURES
Dreaming of Death: a brand-new feature-length documentary on the work of director Bob Clark
Brand New Audio Commentary with Travis Crawford and Bill Ackerman
Trailer
English Subtitles
Deathdream features this set's sole new supplements, but they're certainly worth the price alone! Dreaming of Death is a feature-length documentary that examines Bob Clarke's contributions to the horror genre, covering the three films included here as well as Deranged, and his overlooked psychological thriller Murder by Decree. The featurette depicts interviews with fans, and contributors to Clark's films, alike and is affectionately produced; insightful and engaging. For sole behind-the-scenes and thematic discussion for Deathdream, the commentary track by Travis Crawford and Bill Ackerman offers a laid-back yet professional listening experience.   – by Hannah Lynch
Black Christmas
Much like the many great horror movies from the 20th century and beyond, Clark's grisly feature grabbed influence from both real-life events and common folklore. Black Christmas was conceived by screenwriter Roy Moore, who took key elements from both the urban legend The Babysitter and the Man Upstairs and a series of heinous murders which took place in the Westmount section of Montreal, Quebec, supposedly during the holidays. Numerous alterations to Moore's script gave the story a collegiate setting, which Clark used as an opportunity to present a more realistic portrayal of young adult life, capturing its "astuteness". We've since seen this representation most prominently via the capable and intelligent Laurie Strode in the original Halloween and the ass-kicking Sidney Prescott in Wes Craven's Scream; although both those series did quickly regress to what is more typical of the genre. In the case of Black Christmas, our protagonist Jess, played by Olivia Hussey, is a college student lamenting over an unexpected pregnancy to her boyfriend, Peter, a neurotic and tightly wound music student. During the lead-up to their holiday break, Jess and her sorority sisters are plagued by obscene phone calls from an unknown man, who would make the most seasoned of prank callers curl into a ball. Laced with the most vulgar language imaginable and combined with a slew of sickening voices, the graphic nature of what is mostly incoherent ramblings more than makes for what is a relatively bloodless film. While the characters and general tone come across as quite mature, the film is not without its common tropes, such as the drunkenness of Barb, who provides much of the comic relief along with the inept Sergeant Nash.
Who is our ominous caller? Well, as much as we're dying to know each time we watch, thankfully his identity has remained an enduring mystery, one that's still discussed and theorised to this day. Staling his victims with nail-biting intensity, only minor clues are given to what we can only describe as a 'shape', sound familiar?  Borrowing from Alfred Hitchcock's Psycho, there's a signature shot of a singular eye, but not one that leers with desire like Norman Bates, one fixed with immeasurable rage and anger.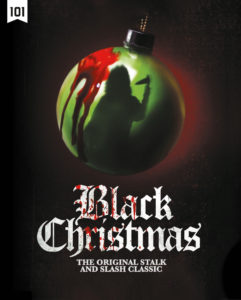 SPECIAL FEATURES
Commentary with director Bob Clark
Commentary with actors John Saxon and Keir Dullea
Commentary with actor Nick Mancuso
Film and Furs: Remembering Black Christmas with Art Hindle
Victims and Virgins: Remembering Black Christmas with Lynne Griffin
Black Christmas Legacy
40th Anniversary reunion panel: Fan Expo Canada 2014
TV and Radio Spots
12 Days of Black Christmas Featurette
Black Christmas Revisited Featurette
Midnight Screening Q&A with Bob Clark, John Saxon, and Carl Zittrer
As with "Children" the special features for Black Christmas come ported from various previous releases which span almost 20 years. The various interviews and commentaries all prove insightful, and the array of subjects offers unique perspectives on the film's themes and anecdotes on the making-of process.  – by Hannah Lynch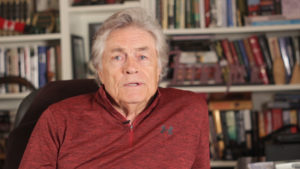 VIDEO AND AUDIO
With transfers for all three movies being sourced from their counterpart labels, VCI Entertainment, Blue Underground and Scream Factory respectively, each looks impressive despite their varying level of obscurity.
Children Shouldn't Play with Death Things has drawn criticism in the past for its treatment in HD, much of which is unfair, but there's nothing getting in the way from enjoying the film and 101 has made good use. Colours are bright and nicely saturated while the loud LPCM 2.0 track is perfect for the film's dialogue-heavy first half.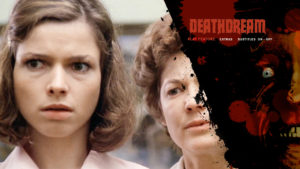 Deathdream and Black Christmas look very similar in terms of their 1080p presentation with both displaying high levels of grain and digital noise. Although the festive slasher edges out with a very effective 5.1 LPCM track whereas Deathdream suffers briefly from an odd occurrence where the colour literally changes hue sporadically during one scene. I wouldn't call it an issue, just a short-lived visual anomaly.
With stunning newly commissioned artwork for all three titles with reversible sleeves, a booklet, and a set of art cards, 101's Bob Clark Horror Collection is without a doubt the most flattering tribute to the late director's terrifying legacy as a genre pioneer and visionary.
BOB CLARK HORROR COLLECTION  
(1972-74, director: Bob Clark)
★★★★★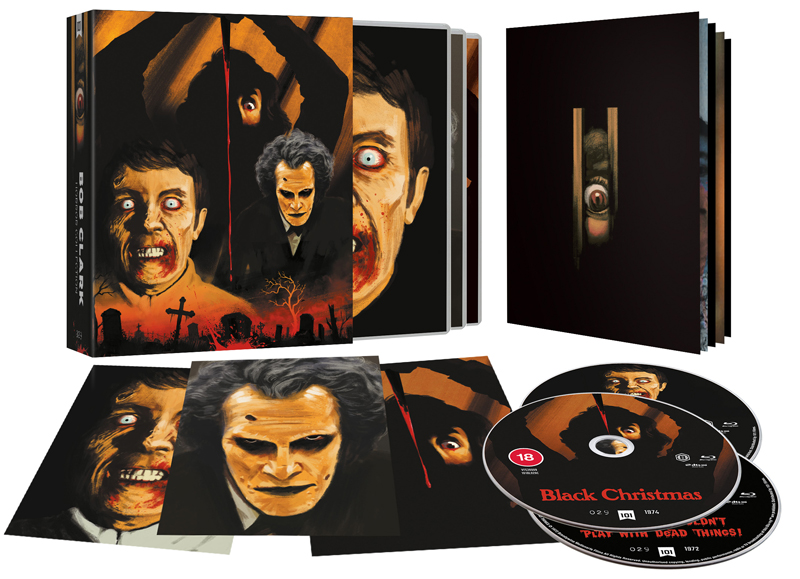 direct blu-ray screen captures
You can follow cinematic randomness on Twitter and Facebook where you'll find all my cinematic exploits. Thank you for visiting!