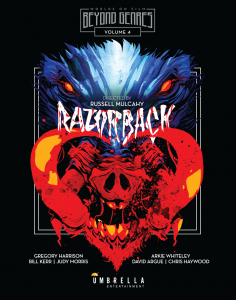 I don't remember the first movie I saw, but Razorback is among one of my earliest memories. Censorship and my parents rarely crossed paths, so it was no surprise that I caught the pivotal opening scene of Russell Mulcahy's classic on television. With my young mind barely able to process the insanity, I expressed my fascination the following day in kindergarten through painting of a titular beast. Unlike my inspired portrait, Razorback returns with added clarity in an all new Blu-ray release from Umbrella Entertainment, Volume 4 of Beyond Genres: Worlds on Film.
Sprung from an abnormality of mother nature, a wild boar of ferocious size terrorises an Australian outback community, with its first victim being a small child. One of Australia's most recognised films and a staple of 'Ozploitation' cinema, Razorback draws influence from a certain Hollywood blockbuster and the tragic death of Azaria Chamberlain, paralleled during the film's opening act. Combining elements of a traditional creature-feature and Wake in Fright-esqe journey, what follows feels more like a prolonged nightmare rather than a structured narrative. Our central protagonist, American journalist Carl Winters (Gregory Harrison), embodies the viewer's experience through his quest for answers regarding the death of his fiancée, played by Judy Morris. Numerous characters he meets, namely brothers Benny and Dicko (Chris Haywood and David Argue) prove more animalistic than our rogue boar, adding to the film's surreal quality. However, their colourful performances quickly grow tiresome. Bill Kerr as the vengeance-fuelled hunter Jake Cullen has great presence and serves well as the crux of our story. Cinematography is by far the Razorback's crowning achievement, capturing the film's harsh setting unlike anything that has come before or since. Ominous silhouette shots against striking backdrop of tempered light convey a sense of death, littering the landscape.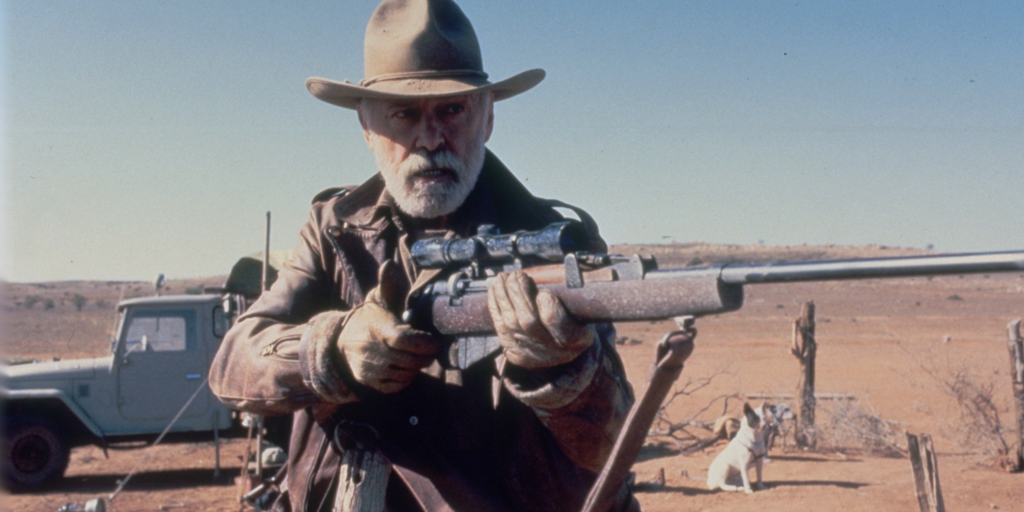 VIDEO AND AUDIO
Presented in an all new transfer from a newly restored 4K master, I honestly can't imagine Razorback looking any better outside of an in-theatre projection. Both picture and sound co-exist in perfect harmony, in line with what I'm sure was Russell Mulcahy's jarring vision. Remarkable sharpness, clarity and adequate use of film grain bring out the film's rough textures and the feeling of searing heat; which overall prove to be a perfect example of the restoration process conducted with care and patience.
SPECIAL FEATURES
Audio Commentary with Director Russell Mulcahy and Shayne Armstrong
Audio Interview with actor Gregory Harrison
JAWS ON TROTTERS: featuring interviews with Director Russell Mulcahy, Producer Hal McElroy, Razorback Creator Bob McCarron, Composer Iva Davis and Cast Judy Morris and Chris Haywood
Extended interviews with Cast & Crew from Mark Hartley's Not Quite Hollywood
RAZORBACK: THE VHS CUT: the original uncut 4:3 Australian home video version
A CERTAIN PIGGISH NATURE: Looking Back at Razorback with Film Historians Lee Gambin, Alexandra Heller-Nicholas, Sally Christie and Emma Westwood
Grisly Deleted Scenes with new optional audio commentary
Theatrical & VHS Trailers
Image Gallery
Not since Umbrella's 2014 Blu-ray release of The Texas Chain Saw Massacre, has there been such culmination of bonus content to feast on. Ported from previous releases, Jaws on Trotters is a must-watch and one of my favourite "making-of" documentaries. Fan will no doubt rejoice at being able to watch the sought after VHS cut, which comes as the biggest surprise among the list of extra. For some deep analytics discussion, I suggest new featurette A Certain Piggish Nature, which provides plenty of food for thought.
While I think Razorback sways a little to the side of style over substance, I feel it's less about a giant pig and more about man's primal nature, not to mention a continent's deadly wilderness for weary outsiders. Available now on Blu-ray in stores and online, this Ozploitation classis is one of this year's most collectable editions!
Note: Razorback is also available on DVD from Umbrella Entertainment.
RAZORBACK
(1984, dir: Russell Mulcahy)
★★★★½
You can follow cinematic randomness on Twitter and Facebook where you'll find all my cinematic exploits. Thank you for visiting!