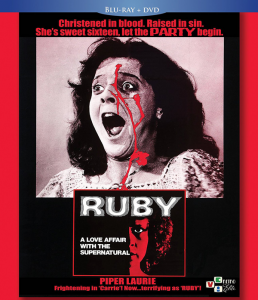 Vengeful spirits have come in many forms on the big screen, but a prohibition era gangster would definitely be among the rare. Curtis Harrington (Night Tide) gives audiences one such scenario in Ruby, where a criminal spectre comes calling on his old girlfriend Ruby Clair and his former associates who violently gunned him down sixteen years earlier.
Supposedly the biggest independent horror money-maker before John Carpenter's Halloween, this rather low-end, but entertainingly random flick, takes place for the most part at drive-in theatre, where much carnage unfolds.  Piper Laurie stars as the titular lead, on the back of a career resurgence following her Oscar nominated performance in Carrie. The starlet's glitz-and-glamour persona bares a tragic side as past sins have taken their toll, leaving her to wallow in the memory of her glory days. Our protagonist's daughter Leslie, an aloof young woman becomes the unwilling conduit for our other worldly antagonist, taking some shameless props from the far more popular and recognised The Exorcist. Although a little hokey at times, Ruby does succeed in being genuinely creepy in its own right and the fashion in which the former gang associates (now concession stand operators) are bumped off is pretty creative and appropriately disturbing. Should any Seinfeld fans be reading this review, look out for Len Lesser as Jerry's 'Uncle Leo' who is among the victims. I particularly liked the drive-in theatre setting, in which patrons can be seen enjoying Attack of the 50 Foot Woman, oblivious to the supernatural guest. As the film rarely venture beyond this location, it creates a feeling of being trapped, in which our characters are kept in a strange cinematic purgatory.
VIDEO AND AUDIO
For the very first time on Blu-ray, Ruby comes dolled up from a 2K film transfer from the film's original 35mm negative and restored to the director's theatrical cut, all thanks to VCI Entertainment. While the image is clean and free of imperfections, it has a very softened quality. Despite its lack of sharpness, the transfer enhances the feature's dream-like and haunting atmosphere. Audio on the other hand is quite clear on the disc's PCM track, with good depth and balance.
SPECIAL FEATURES
2K Film Transfer and Restoration
2001 David Del Valle Video Interview with Director Curtis Harrington
Commentary Track – Dir: Curtis Harrington & actress Piper Laurie
Sinister Image Episode – David De Valle Interviews Curtis Harrington – Vol 1 (circa 1988)
Sinister Image Episode – David De Valle Interviews Curtis Harrington – Vol 2 (3/15/1988)
2017 Commentary Track with David Del Valle &'Curtis Harrington' expert – Nathaniel Bell
Liner Notes by Nathaniel Bell (on reverse side of coverwrap)
Original Theatrical Trailer – Restored HD
Includes a Bonus DVD copy!
With roughly 120 minutes of worth of interviews, director Curtis Harrington and film journalist David Del Valle talk extensity about the veteran filmmaker's career, although little about Ruby, which is slightly disappointing. Two commentary tracks however fill the void and are definitely worth listening to.
VCI Entertainment has done an exceptional job resurrecting this cult classic, which has spent the better part of its existent censored and incomplete. Ruby is by no means a landmark in horror, but one which draws considerable influence from earlier titles, very much deserving of your time on a cold late night.
RUBY
(1977, dir: Curtis Harrington)
★★★½
You can follow cinematic randomness on Twitter and Facebook where you'll find all my cinematic exploits. Thank you for visiting!