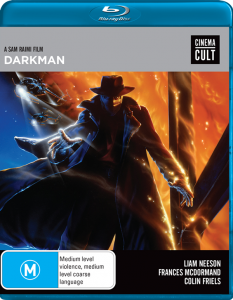 Over a decade before director Sam Raimi (The Evil Dead) tried his hand at bringing Marvel's Spider-man to the big screen, he introduced audiences to his own superhero in the form of Darkman. Based on film maker's own short story, and paying homage to the Universal horror films of the 1930s, the story follows a brilliant scientist experimenting with synthetic skin who is left for dad following a savage attack. Horribly burned and disfigured, our anti-hero sets out for revenge against those responsible.
I remember having a lot of fun watching Darkman as a child, despite my tender age. While being quite brutal in parts, the fast-paced narrative and wildly cartoonish quality give the action sci-fi a unique flavour. Having just recently re-visited the film and for the first time on Blu-ray, new from Cinema Cult, I quickly learned that Darkman is one such revenge fuelled classic best viewed ironically, as flaws and leaps in logic are not only prominent, but hilariously so. I can see what Raimi was going for, especially with the film's primary influence which is reflected mostly through visual style. However, I'm not sure everyone in and behind-the-scenes were on the same page, and perhaps a period setting would have been a better canvas for the story. On the other hand, I still enjoyed the movie even though probably not as intended. It's far from boring and Liam Neeson's performance as the titular figure is quite a sight to behold, and it's hard to believe he'd be up or an Oscar just three years later for Schindler's List. Larry Drake is a fine villain as the sadistic Robert G. Durant, while Australian actor Colin Friels is impossible to take seriously as corrupt developer Louis Strack, donning the most stereotypical and exaggerated New York accent I've ever heard.
VIDEO AND AUDIO
Darkman looks amazing in high-definition, although the crystal clear clarity is slightly detrimental to special effects of 1990, but an impressive transfer nonetheless with a powerful Dolby 5.1 audio track to boot.
Our cinema experiences don't always transfer well into adulthood, but the fond memories more often than not remain. With both the Marvel and DC universe dominating the box office, Cinema Cult's release of Darkman is a welcome sight for superhero fans who may be are after something more obscure and stand-alone.
Note: Darkman, along with sequels Darkman II: The Return of Durant and Darkman III: Die Darkman Die are also available on DVD through Shock Entertainment.
DARKMAN
(1990, dir: Sam Raimi)
★★★½
You can follow cinematic randomness on Twitter and Facebook where you'll find all my cinematic exploits. Thank you for visiting!