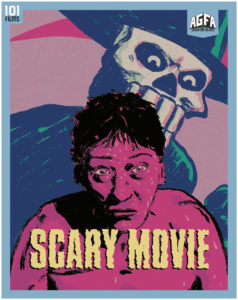 Nine years before the Wayans brothers delivered their relentless spoof of late 90s horror, Austin-based filmmaker, Daniel Erickson, made his feature-length directorial debut with what was probably the deliberately unimaginatively titled, Scary Movie. – Available now on Blu-ray from 101 Films in the UK, under their American Genre Film Archive line.
Set on Halloween night during small-town carnival, a high-strung dweeb named Warren (John Hawkes), becomes convinced that an escaped lunatic is hiding inside the main attraction, 'House of Horrors' and as the night progresses, his self-inflicted terror puts him on the edge of sanity.
The film's shooting location of the sparsely populated Driftwood, Texas, is a fitting choice for this modest affair by Austin native, Daniel Erickson, who I think it's safe to assume utilised friends and some of the "local talent" in making his feature-length debut. However, the lack of experience is countered by the very prominent and authentic Halloween atmosphere, which I admit made me very nostalgic for an annual local carnival I used to attend as a child, which did include a ghost train or Spookhouse of some variety.
Scary Movie is a little anticlimactic, but it's cleverer than it appears. Misdirects are constantly used to gradually make the viewer, and our protagonist, question reality vs fiction which perfectly mirrors the psychology behind spook houses. One surprisingly perfect example of this is when our nervous hero goes in for a most painfully awkward kiss with one of the local 'babes', who responds with obnoxious yarn, piling onto the growing list of public humiliations Warren has already suffered. John Hawkes's performance is rather one note, which gets a little tiresome at times, but when he's certain that death is a mere second away, his terrified theatrics are pretty hilarious.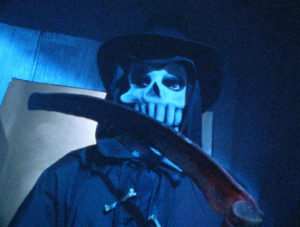 SPECIAL FEATURES
Commentary with director Daniel Erickson and Joseph A. Ziemba of AGFA
PUMPKIN and LITTLE HERO short films by Daniel Erickson
Original theatrical teaser trailer
Behind-the-scenes photo gallery
Commentary tracks for low-budget films are always insightful, and this one, provided by AGFA with director Daniel Erickson is no exception. The conversation is upbeat, lively, and constantly flowing between Erickson and Joseph A. Ziemba as listeners learn all sorts of behind-the-scenes trivia concerning everything from the construction of the cool spook house to the influence of The Texas Chainsaw Massacre. Also included are two short films of Erickson's, the first of which, Little Hero, runs for around seven minutes: what it lacks in plot, it makes up for with an impressive 1930s vibe. Mr. Pumpkin is certainly the stand-out of the two shorts, in its 12-minute runtime it perfectly captures the essence of post-trick-or-treating (sugar highs, annoyed parents, and the ominous glow of a jack-o-lantern). All supplements come ported from the U.S. AGFA release. – by Hannah Lynch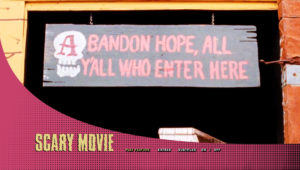 VIDEO AND AUDIO
Scary Movie comes via a very natural and detailed 2K preservation of the film's original 16mm camera negative, presented in 16:9 (1.33:1) with a dual mono PCM soundtrack. While the picture is naturally very grainy, I think polishing the image would take away from the movie's down-to-earth experience and character. English HOH subtitles are included.
Coming in at just 81 minutes, Scary Movie is an easy watch and best enjoyed at night, or even better during October, naturally. Erickson is obviously an enthusiastic horror fan and proud Texan, who does a great job of replicating the late-night movie experience. I would like to thank 101 Films for generously sending a retail copy despite the recent issue the Royal Mail has faced. It's an overall quality release with some fantastic artwork, both inside and out.
SCARY MOVIE
(1991, director: Daniel Erickson)
★★★½
direct blu-ray screen captures
You can follow cinematic randomness on Twitter and Facebook where you'll find all my cinematic exploits. Thank you for visiting!