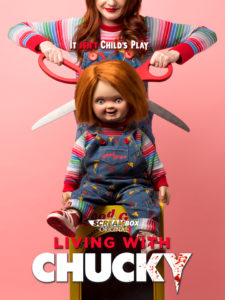 Many of us assumed the 2019 remake of Child's Play would be a fresh start for the long-running franchise which began over 30 years ago, and while the story was adapted well for this overly digitised age, it's now all but forgotten. Much like Jackie Earl Hayley as Freddy Krueger, fans were unwilling to embrace another version of their beloved killer doll, Chucky. However, with two seasons of a television adaptation now under his belt, the 29-inch 'Good Guy' is bigger than ever.
Living with Chucky is a documentary that's a culmination of both rejuvenated and life-long fandom. Unlike most retrospective pieces, the project is presented from the unique angle of those who've literally grown up in the company of Charles Lee Ray; namely Fiona Dourif, daughter of Brad Dourif (Chucky's iconic voice), and Kyra Gardner, the daughter of franchise puppeteer, Tony Gardner, and the director of this very feature.
The documentary opens in a celebratory manner, featuring an array of artwork, and a delightfully sinister video montage of Chucky's murderous exploits. We settle on the nostalgic, and oddly comforting sight of a modest family VCR, our usher if you like, through a summary of each film upon insertion of their respective VHS, and later DVD. Mainly focusing on the sequels following Child's Play 3, which is where Gardner's memories begin, a somewhat random assortment of interviews with various individuals including the usual suspects like Don Mancini, David Kirschner, and Alex Vincent pad out the 105-minute runtime. While most discussion points are re-treads of what we've heard before, the genuine affection our subjects hold for each other makes this a non-issue; the vibe is more that of a family reunion rather than a tired lecture. The addition of fellow horror actors/filmmakers such as John Waters, Marlon Wayans and a very millennial Abigale Breslin help showcase how the franchise transcends and appeals to all generations. Gardner's intended family angle doesn't really become prominent until the film's last act, which is a bit of a shame because listening to Brad and Fiona Dourif talk about their shared involvement is an experience on its own. Never has family resemblance been so remarkable: same face, vibe, style, mannerisms, and energy. Having played a younger version of her own father in the television series, Fiona has become an almost living embodiment of not just Chucky, but the franchise and will no doubt carry the fire longer after her father is gone. We're very fortunate as fans to have her.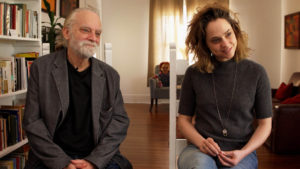 Gardner's story is very sincere and like the Dourifs, Kyra has clearly bonded with her father, Tony, over their mutual best "friend till the end", Chucky, who would have wound up as pint-sized CGI nightmare if it wasn't for Gardner's expertise as a puppeteer.
Living with Chucky will warm your heart, and even if this franchise is not your cup of tea, you'll be moved by the family dynamic born from scary movies. – Screaming from April 4 on Screambox in North America, followed by a release on various digital platforms in Australia and New Zealand from April 26th.
LIVING WITH CHUCKY  
(2022, director: Kyra Gardner)
★★★★
stills courtesy of Simply Legendary Publicity 
You can follow cinematic randomness on Twitter and Facebook where you'll find all my cinematic exploits. Thank you for visiting!