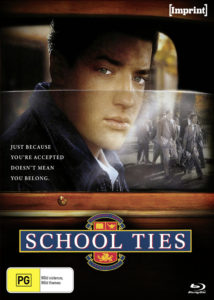 With the triumphant return of the Encino Man himself, Brendan Fraser, which the internet is calling the "Brenaissance", his second future, School Ties has graduated to Blu-ray thanks to Imprint Films and the timing could not have been more perfect.
Set in the good old days back in 1959, Fraser plays 17-year-old David Green, a Jewish member of Scranton, Pennsylvania's rough and tumble working class. He's awarded a football scholarship to a prestigious prep school in New England for his senior year but finds himself conflicted over keeping his ethnicity a secret from his classmates as prejudice is quick to reveal itself.
Written by Dick Wolf of Law & Order fame, School Ties is a very focused and dramatic teen-centric film with a young and hungry cast of up and coming actors, including Matt Damon as the petty Harvard hopeful, Charlie Dillon, as the film's main antagonist. Most effective is the presentation of elitism with an ugly undercurrent; a place where America's brightest young men are being prepared to help shape a nation's future. It's under a thin veil of acceptance that makes the increasing display of anti-Semitism even more disturbing. I've seen the film twice and I'm still nonetheless baffled by how openly bigoted this generation of boys is, let alone society as a whole. I can only attribute this in part to a black-and-white view of America's involvement in defeating Nazi Germany; seeing the regime as simply the "bad guys" without understanding the reasons why and the full scope of the atrocities committed.
School Ties is also a heartbreaking portrayal of the pressures placed on the young, often boiling down to their family's tradition of attending an ivory-league college, while their true aspirations and dreams are suppressed. We see this through the artistic, Mack, (Andrew Lowery), pushed over the edge by a cruel and insensitive French teacher, who later becomes the object of the film's lighter and comedic moments.
David's strength, convictions and unbiased nature ironically make him a more model student than those within the school that took him, only to gain an advantage over rival football teams. Brendan Fraser carries these qualities with much stoicism while delivering an overall strong performance as our less fortunate hero, showing an impressive rage for a young star only just out the gate.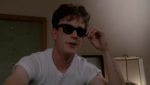 VIDEO AND AUDIO
While technically qualifying as a 1080p transfer, no one has really given the old 'college try' in remastering this prep-school classic. Although credit must be given to Imprint for at least giving the film its first Blu-ray release, the image quality is rather dull and with many tell-tail signs of an SD-upscale, but on the plus side, both the English DTS-HD 5.1 Surround + LPCM 2.0 Stereo are exception by comparison. I do suggest, however, switching to LPCM for louder dialogue. Optional English subtitles.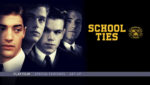 SPECIAL FEATURES
NEW Audio commentary by filmmaker/film historian Jim Hemphill
Interview with actor Matt Damon (1992)
Interview with actor Brendan Fraser (1992)
Interview with producer Sherry Lansing (1992)
Interview with actor Chris O'Donnell (1992)
Interview with director Robert Mandel (1992)
Theatrical Trailer
Given the A-list status of most of the cast, and crew, for School Ties, it's understandable this blu-ray release is lacking in new interviews. While the achievements of our feature presentation's stars speak for themselves, film historian Jim Hemphill delves deep into the careers and backgrounds of those who worked behind the scenes for this disc's sole commentary. Professional and insightful, yet never boring, the track is a fitting companion for the movie and will no doubt leave the listener with new appreciation efforts of the cast and crew.
TV reporter Bobbie Wygant thankfully sat down with many of School Ties' big names upon its release in 1992. Running for about five to seven minutes each, the interviews offer an interesting time capsule and fresh thoughts about their subjects.
School Ties rein as 1992's most underrated movie has recently come to an end with Imprint recently selling out of copies, but you'll still likely find some at your nearest JB Hi-Fi and on their website, so if you're celebrating Brendan Fraser's road to the Oscars, try to add this on to your list.
SCHOOL TIES    
(1992, director: Robert Mandel)
★★★★
Head over to the Imprint Films Facebook page for the latest releases, giveaways, great deals and more!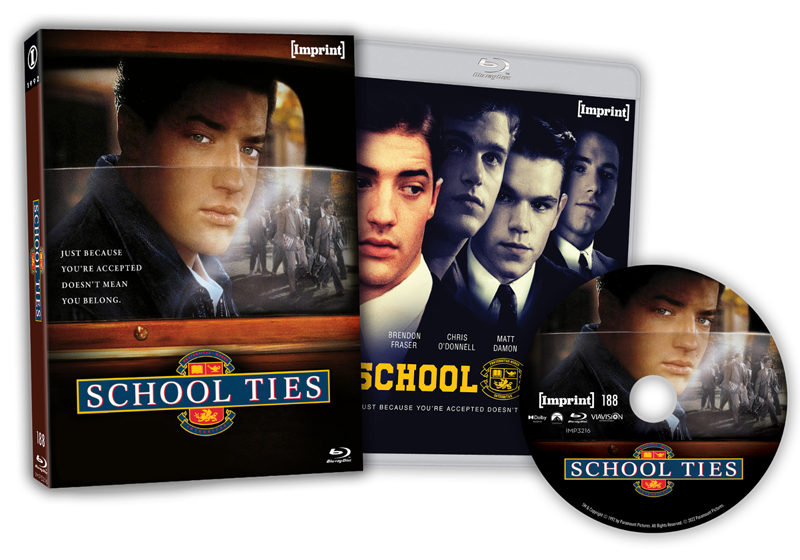 direct blu-ray screen captures
You can follow cinematic randomness on Twitter and Facebook where you'll find all my cinematic exploits. Thank you for visiting!