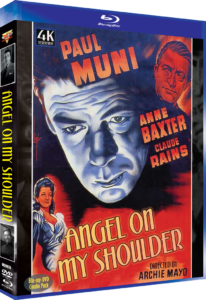 My introduction to Paul Muni came back in May 2021 when a local label unleashed Scarface on Blu-ray and it so happened that later in the year, VCI Entertainment release the more mellow, Angel on My Shoulder, which I'm only now getting to.
Muni plays low-down dirty crook, Eddie Kagle, who, shortly after graduating from the 'big house', is murdered by his supposed pal, Smiley. Now roasting away in Hell, our lead is visited by the Prince of Darkness himself, who we come to know simply as Nick (Claude Rains). Satan offers Eddie a ticket back above ground, but in the body of a well-respected judge, whose reputation he seeks to destroy to spite his heavenly rival.
Unlike the violent and provocative Scarface, the criminal personality of Eddie is used in a well-balanced comedic fashion, played for some big laughs that haven't lost their potency over the past 77 years. Between pushing around his butler and instinctively raising a backhand to his missus, played by Anne Baxter, the dramatic element is still there, but the contrast of a wise guy's vernacular with the privilege of the upper class is fine a recipe for entertainment. It's no wonder Warren Beatty used the same formula, although slightly inverted, for his comedy, Heaven Can Wait, which interestingly predicts the actor's death for this year. On a side note, the film's depiction of Hell has a Charles Addams quality in how it presents mundanity in such a horrific environment; there's even a character who resembles Uncle Fester!
Angel on My Shoulder is at its warmest when the stone heart of Eddie begins to be chipped away, by the smile of grateful children and love from his girl, Barbara, who makes our protagonist realise there's so much more to life than the one he chose. Claude Rains is deliciously evil as "The Devil", with a soothing manner of speaking that has a strange power over others (even the audience), but his growing frustration at our lead's gradual evolution is satisfying to watch. While Muni's performance sets a standard for character acting, which Peter Strauss very much embraced in the made-for-TV remake, Anne Baxter is a radiant presence and perfect counter to his abrasive exterior and manages to hold her own against the lager-than-life leading man.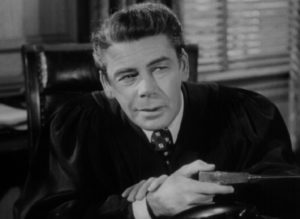 VIDEO AND AUDIO
In typical VCI style, we have a nice dual format release, and it's region-free with the source material being a 4K scan of original 35mm and 16mm film elements. The resulting Blu-ray is impressive, but the picture quality does vary at times, appearing quite raw, despite the film being restored. Presented in 1.37:1, the Mono PCM track is limited but has nice volume and English subtitles are available.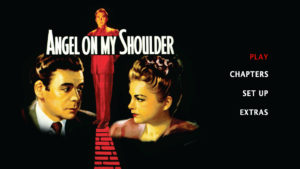 SPECIAL FEATURES
Movie Matinee Playback Option: movie opens with special period appropriate Cartoon and Newsreels!
Bonus Cartoon: Noveltoon: "Cheese Burglar" (1946)
Bonus Newsreel: "The Adventure Parade: Wing, Claw and Fang!" (1946)
Viewers can re-enact a 1940s movie-going experience in the comfort of their own home with the "matinee" presentation which plays two period-appropriate shorts before our main feature. First up, is a Paramount "noveltoon" entitled Cheese-burglar, a not-so-inconspicuous knock-off of Tom & Jerry and Felix the Cat. Despite being directed at children this seven-minute animation is surprisingly adult in content regarding violence; The Simpson's Itchy and Scratchy would be proud! The second short is a tongue and cheek live-action "documentary" of sorts which follows several different animals in humorous and atypical scenarios for their species. The shorts can also be played separately. – by Hannah Lynch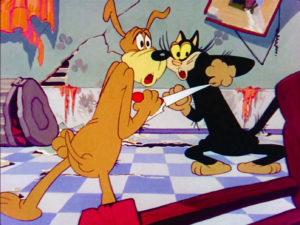 One might say that Angel on My Shoulder is a little unconventional for its time. I'd say it's rather brave for some the choices it makes, especially the ending, which I'm sure did not please many when the film was in theatres. I extend my gratitude to VCI for proving a copy for this review, which I can see myself putting on to lift my mood during the winter months.
ANGEL ON MY SHOULDER   
(1946, director: Archie Mayo)
★★★★½
direct blu-ray screen captures
You can follow cinematic randomness on Twitter and Facebook where you'll find all my cinematic exploits. Thank you for visiting!