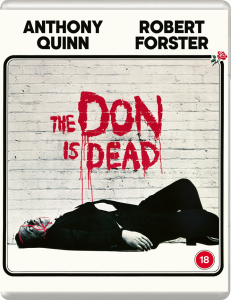 I first saw The Don is Dead a couple of years ago, after coming across an old copy at a vintage market. Now this violent gangster classic, that's for many years existed somewhat in the shadow of The Godfather has re-emerged, this time on Blu-ray in the UK from Eureka Entertainment.
When the son of a recently deceased don, Frank Regalbuto (Robert Forster), places his loyalties with Don Angelo DiMorra (Anthony Quinn), it sows the seeds for violent and bloody gang war instigated by a rival family who play both sides to their advantage.
It's hard not to compare The Don is Dead with The Godfather, but the are some obvious similarities, not to mention a couple of faces who appeared in Coppola's classic like Abe Vigoda and Al Lettieri. Upon the passing of our lead's father, we see a very dignified meeting between the 'the families' to discuss their way forward. While all members appear civil and true to the label of 'organised crime', none of them are on the same page, epitomising the hypocrisy that has always been detrimental to the mob. Forster as Regalbuto is more or less a modelled after 'Sonny Corleone', but instead of suffering a premature death, much to the dismay of fans, he's the driving force behind the film's explosive and bloody reign of violence. Akin to the more exploitative gangster flicks, The Don is Dead, really knows how to plays the hits (pun intended) while also embracing the more slow-burn and sophisticated storytelling the crime genre was edging towards. Director Richard Fleischer, whose diverse list of credits includes classics that are first and foremost entertaining, clearly had his fingers on the pulse of audiences, finding that perfect medium that appeals to more than one kind of movie-goer. Frederic Forrest is the film's MVP as one-half of the Fargo brothers hitmen, Tony, whose level headed attitude keeps him relatively out of harm's way, whilst enabling him to climb the ranks. Anthony Quinn, who despite being top-billed, has less screen time than suggested, but is an imposing presence nonetheless. He's an ageing don out of step and disillusioned with the new generation of criminal.
Despite being a standard 1080p presentation, this 1.85:1 Blu-ray release is a welcome upgrade from your DVD edition with a substantial improvement in regards to brightness and texture. Aesthetically, the film reminds me of looking through an old album of photos from the 70s, a decade which had a very specific colour pallet and this HD transfer allows them looks as vibrant as possible. Measured amounts of film grain keep The Don is Dead from looking too polished, keeping in line with classic HD film viewing. Sound comes in an uncompressed LPCM track, the film's original mono presentation, which overall provides a clear and sharp audible experience. English SDH subtitles included.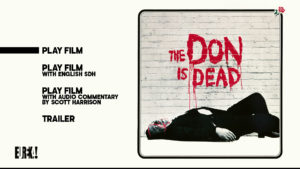 SPECIAL FEATURES
Brand new feature length audio commentary by author Scott Harrison
Theatrical trailer
A collector's booklet featuring an extensive essay on the crime films of director Richard Fleischer by film writer and journalist Barry Forshaw
Scott Harrison's commentary, a noted film critic and author, is quite informative and warrants a second viewing of the film, especially if you're a big fan. Adding to the history, which features a nice display of the varying poster art, the collector's booklet takes readers through Richard Fleischer's foray into crime films that spanned over twenty years. The vintage theatrical trailer has been remastered, but retains all the dust and dirt from the film's scan and is presented 4:3. It's a pretty chaotic 2-minutes of quick edits, playing up the action and bloodshed.
The Don is Dead is underrated. I would say criminally underrated, but one pun's enough. Having watched the film a few months prior to Robert Forster's passing in 2019, it was good to get a sense what he was like as younger actor after seeing him in only older roles. The actor looks the part as he rocks some stylish 70s fashion, all while balancing a fine line between hero and villain.
THE DONE IS DEAD  
(1973, director: Richard Fleischer)
★★★★
direct blu-ray screen captures
You can follow cinematic randomness on Twitter and Facebook where you'll find all my cinematic exploits. Thank you for visiting!