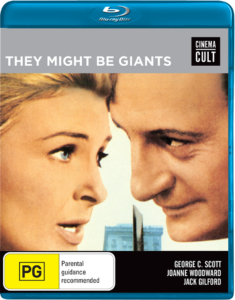 Cinema Cult welcomed the world's greatest detective (no, not Batman) to its broadening Blu-ray library of genre classics with They Might Be Giants, a charming comedy-mystery with a splash of romance. Starring Oscar-winners George C. Scott and Joanne Woodward, the story follows a wealthy New York City judge, Justin (Scott), who believes himself to be Sherlock Holmes, much to the concern of his brother and sister-in-law. In an attempt to have him committed, our hero's family place him under the care of an overworked analyst, coincidentally named Watson (Woodward).
They Might Be Giants celebrates eccentricity and is a quintessential New York movie, one which has our two leads embarking on a whimsical adventure through the vast cityscape, where they encounter one peculiarity after another. It's never stated what lead to Justin's unbreakable delusion, but one can surmise that it may have resulted from his years as a prominent judge. Undoubtedly exposed to many harsh and disturbing realities while behind the bench, the trauma of which, may have forced him to retreat into his current mental state. George C. Scott indirectly plays the famed sleuth remarkably well, showing off his almost supernatural skills of precise deduction, which edges the film into ambiguous territory. Has something astonishing happened to this man, or is the narrative simply driven by many amazingly convenient coincidences? Viewers never know, as the line between delusion and reality continues to blur right up to the very end. Scott's performance is instrumental to the film's magic and certainly breaks the misconception that he only plays characters of a fiery temperaments. They Might Be Giants is a tremendous example of the actor's versatility and his flair for light comedy. Joanne Woodward as Watson is very relatable as an individual who is at the mercy of her chosen profession of which she devotes much of life to, despite little rewards. During her adventure with Justin, she begins to subscribe to his delusion, which gives her an alternate perspective on not only mental health but people in general, particularly the little things that make each person special.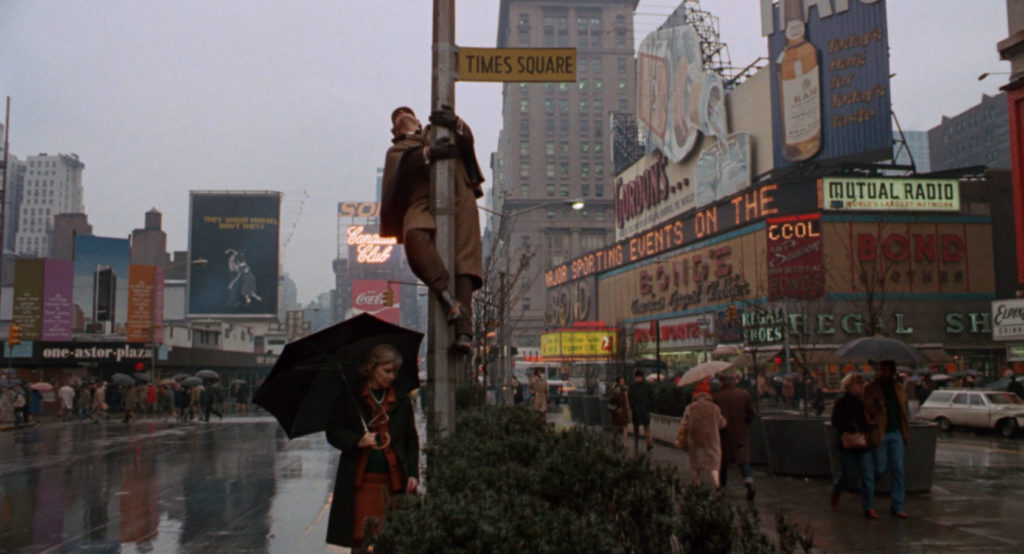 VIDEO AND AUDIO
While the cover art on this region B disc may not be of the highest quality, the HD presentation is surprisingly vibrant, rivalling foreign releases both visually and audibly. Filling your television in 1.85:1 widescreen, colour is strong but not oversaturated, allowing the natural pallet of an urban environment to speak for itself. In terms of detail, clarity of picture is exceptional and measures up to the limits of 1080p. Sound is available in only 2.0 Mono contrary to the advertised dual audio track printed on the cover's rear and is of an appropriate volume and richness considering the hustle and bustle of New York City and its wide variety of noise.
Given the repertoire of Cinema Cult, which has in the past showcased numerous titles from horror maestro Wes Craven and Tobe Hooper, They Might Be Giants probably won't jump out at you. However, not only is it worthy of cult status, but it's one of the label's best Blu-ray releases in recent months, deserving of more recognition.
THEY MIGHT BE GIANTS
(1971, dir: Anthony Harvey)
★★★★
direct blu-ray screen captures
You can follow cinematic randomness on Twitter and Facebook where you'll find all my cinematic exploits. Thank you for visiting!