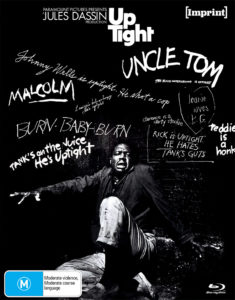 Twenty years before Spike Lee gave us his unique and colourful take on racial politics in Do the Right Thing, the social drama, Uptight, paved the way for how the plight of minorities can be represented through provocative cinema.  Available now on Blu-ray for the first time in over ten years, Imprint Films in Australia have given Jules Dassin's obscure classic a release that's fitting for today's tumultuous social climate.
Set in Cleveland, Ohio following the assassination of Martin Luther King Jr., preparations for a violent conflict led by a member of black revolutionaries go wrong, resulting in the betrayal from one of their own, the more passive, but badly down on his lucky, Tank.
Untight explores an individual merely existing on society's fringe. Tank once had clout among his fellow black workers in the city's thriving steel industry as a leader and defender of employee rights, but a fight with "the man" saw him quickly cast out and thrown in jail. Now unemployable, Tank has succumbed to alcoholism and his subsequent reckless behaviour has him alienated from his revolutionary brothers. Although, more to the point, Tank represents the struggle of those stuck in the middle of racial divides and animosity. He's beaten down by prejudice but is at odds with the idea of violent reprisals against his oppressors. The film's portrayal of Tank's inner conflict is effectively shown through his belligerent wandering of the city streets under a neo-noir hue; during which he stops to profess his love of the roaring steel mills before another detour where he plays up the 'bogeyman negro' perception to a bunch of wide-eyed white folks with the distorted aid of magic mirrors. It's undoubtedly the best scene in the movie, speaking volumes about the mainstream media's role in fuelling false stereotypes during the volatile period.
Julian Mayfield as Tank, his second and last film role, delivers a raw performance from more or less start to finish and it's simultaneously exhausting and energising to watch, whereas Ruby Dee, has a calming effect on the film's frantic nature, as Tank's girlfriend, Laurie, a single mother surviving on welfare and prostitution. Dee co-wrote the screenplay with Mayfield and Dassin, a well-thought-out collaborative effect.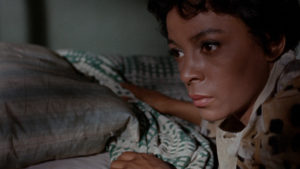 SPECIAL FEATURES
NEW Audio Commentary by film historians Alain Silver and Jim Ursini
NEW Film critic/writer Christina Newland on 'Uptight'
NEW Elective Vicissitudes: The Radical Exiles of Jules Dassin – a video essay by film historian Daniel Kremer
If you're unfamiliar with the work of Jules Dassin, you'll certainly gain an appreciation for his impressive body of work via the all-new special features provided by Imprint on this disc. In his sleek video essay, Daniel Kremer draws parallels to themes present in Uptight with the director's earlier efforts, while also highlighting how truly "radical" some scenes in this drama were. Christina Newland, on the other hand, both focuses on Dassin's filmography as well as elaborates on the general historical context of the film. Both featurettes run a little over 17 minutes and provide easy but thought-provoking listening. For a more in-depth discussion on Uptight and its major players, the commentary by Alain Silver and Jim Ursini is highly recommended; the pair offer constant food for thought and bounce off each other well.  – by Hannah Lynch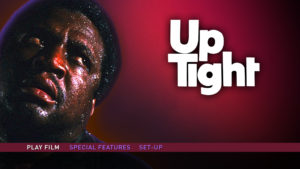 VIDEO AND AUDIO
We're starting to see more Imprint titles being sourced from new 4K scans as opposed to standard 1080 presentations, which are becoming a little passé in Ultra HD 2023, and this very premium release of Up Tight is one of the best examples of Blu-ray's upper echelon. Sometimes modern disc releases suffer from inconsistent picture quality, but every scene of this radicalised drama is rich with detail and colour: you could probably count every bead of sweat on Julian Mayfield's head if you decide to take the time.
Presented in 1.78:1, the singular audio track, LPCM 2.0, is rich in quality much like the visuals with robust volume that compliments the dialogue-heavy script. English language optional HOH subtitles are included.
Uptight is the real prize among Imprint's batch of titles for May, even just for the improved transfer. It's a powerful film that was quite sophisticated for its time, finding a nice medium in delivering its message without stoking the fire, and also boasts surprisingly modern camera techniques.
UPTIGHT  
(1968, director: Jules Dassin)
★★★★
Head over to the Imprint Films Facebook page for the latest releases, giveaways, great deals and more!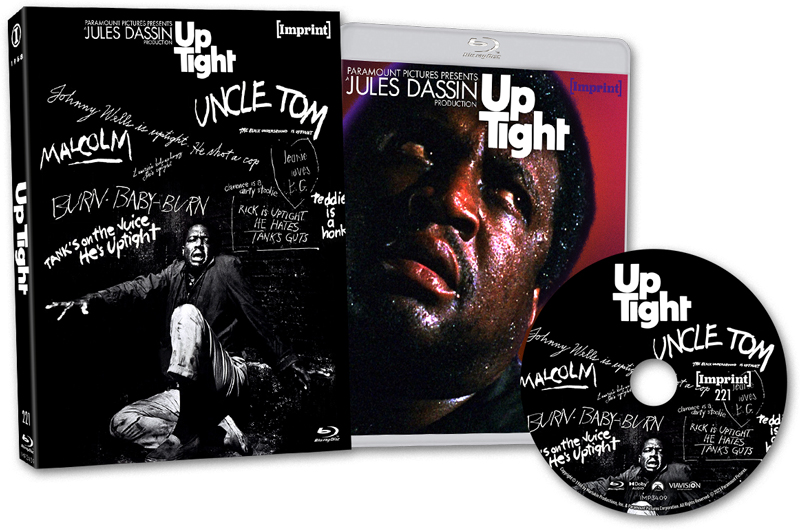 direct blu-ray screen captures
You can follow cinematic randomness on Twitter and Facebook where you'll find all my cinematic exploits. Thank you for visiting!