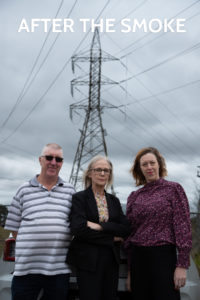 Fossil fuels are the result of pressure and time. One example is brown coal, of which there is an abundant supply for literally centuries beneath the Latrobe Valley: it's dredged up, burnt and in turn, creates pressure, resulting in the generation of electricity.
In early 2014 during an intense summer, embers from a nearby grass fire ignited the exposed coal face in the Hazelwood open-cut mine, smothering the adjacent town of Morwell in a thick blanket of hazardous smoke for 45 days.
After the Smoke is a documentary short film that looks back on the event, but from the point of view of local resident-turned-activist, Wendy Farmer, who became the community's loudest voice when the state government failed to recognise the severity of the noxious catastrophe which was unfolding.
Produced by Josie Hess and Stephanie Sabrinskas, hosts of the informative and environmentally focused, Coal Face Podcast, the less-than 10-minute runtime is treated as though it was a gift rather than a constraint. Instead of dwelling on the fire's negative impact, a valid point is made of how the disaster marked a turning point for the region, a stark realisation that coal was no longer the viable and sturdy future we once believed; that it's time to pursue cleaner alternatives for our energy needs.
There's a bittersweet sentiment about After the Smoke. How could there not be? While aging and outdated, the power stations, which now exist under increased scrutiny, provided a living and way of life for generations, from the post-war migrant boom through to the controversial privatisation of the state's assets. Hess, who is behind the camera as the film's director, beautifully captures these industrial mega structures, juxtaposed against the Valley's lush landscapes. Yes, there is a narrative, but it does not play into alarmist mentalities; it encourages a positive notion of change, and the short is an inspirational story with an undeterred heroine at its centre.
AFTER THE SMOKE
(2023, director: Josie Hess)
★★★★
After the Smoke will be streaming on ABC iView from Saturday, June 17th, among 11 other documentaries under the collection, Your Planet Short Docs – focussed on climate and environmental solutions through the power community.
Visit lifeaftercoal.com for more information and to learn about the feature-length documentary currently in development. You can also have your say in the fight against climate change via the Impact Campaign.
production still courtesy of Stephanie Sabrinskas – lifeaftercoal.com
You can follow cinematic randomness on Twitter and Facebook where you'll find all my cinematic exploits. Thank you for visiting!