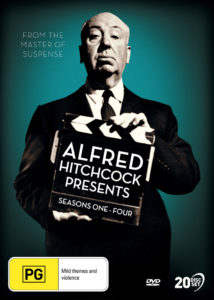 Amazingly, Pay-TV still operates in Australia, even though they're all but redundant, but during its glory days in the late 90s, the previously absorbed, Austar, was my gateway to classic television. Alfred Hitchcock Presents was one of many shows that piqued the interest of my young curious mind, but I quickly found myself in The Twilight Zone, which played daily on TV1. Now the first four seasons of Hitch's ten-year-long series is out now on DVD from Via Vision Entertainment.
It's hard not to think of Rod Sterling's staple series while watching this half-hour pre-courser and despite our sassy host speaking to the contrary, the notion of something paranormal or supernatural creeping in, lingers with many episodes. Nevertheless, what seems to be impossible always boils down to a logical explanation; it's just a matter of perspective, an element the writers regularly utilize throughout.
The stories themselves are not just murder plots and mysteries; they explore a wide range of subjects such as morality, mental illness, greed, and deception. Some are even played for laughs, like cunning relatives eager to get their hands on a large inheritance only to be done in by their own hand. Inspiration also comes from popular and real-life tales like that of Lizzie Borden; urban legends like the Disappearing Room, and the works of Ray Bradbury, all of which come with a neat twist and play on a more psychological form of horror and suspense.
Alfred Hitchcock Presents features a range of guest stars from veteran performers like Bette Davis and Claude Rains to rising stars, Steve McQueen, Roger Moore, Walter Matthau, Cloris Leachman, John Cassavettes, and Elizabeth Montgomery among many others. Their efforts aren't diminished on the small screen. If anything, their approach only adds to the theatrical quality and helps to carry many of the episodes, which tend to draw out the plot in question for the climax.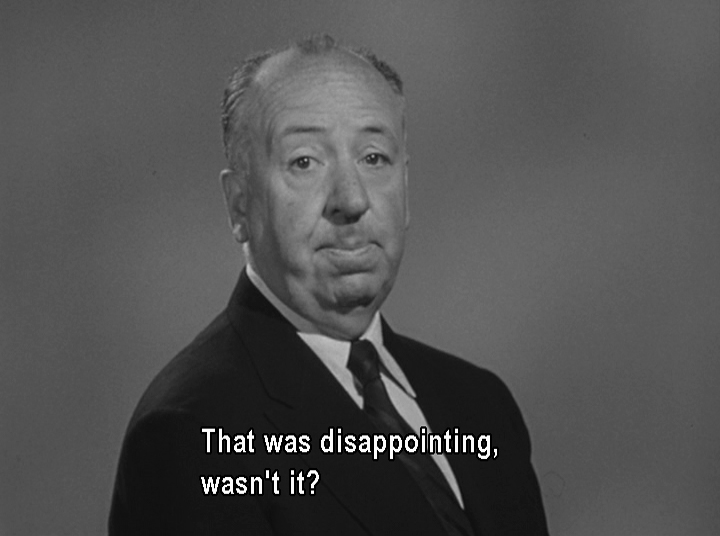 VIDEO AND AUDIO
Hitchcock's landmark series is far from new to DVD and its Australian debut under Via Vision uses the same transfer that's been passed around since 2004. Nevertheless, it's a decent but very raw standard-definition scan of the film elements, which pick up all those tiny hairs and specs of dirt that I don't mind dealing with. Imperfection, is, in a way, perfection and I liked the aged look. Presented in 4:3 aspect ratio and complete with English HDH subtitles, the region 4 set is another NTSC arrival in this predominantly PAL nation, and a modest 2.0 mono soundtrack sounds a lot better than your grandparent's old squared yet circular-screen TV.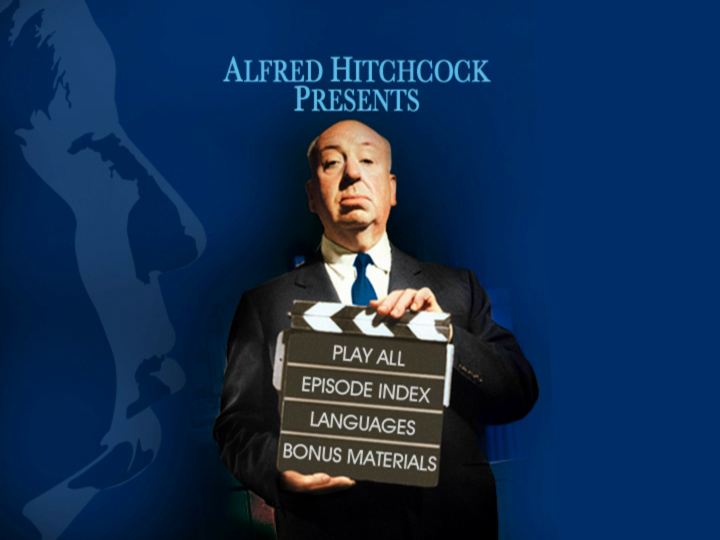 SPECIAL FEATURES
Featurette – "Alfred Hitchcock Presents – A Look Back"
Fasten Your Seatbelt: The Thrilling Art of Alfred Hitchcock
With a series as old as this one, there naturally isn't a lot out there in terms of supplement material, but the 15-minute featurette, Alfred Hitchcock Presents – A Look Back is more than enough. It gives an insight into how the series came to be, including an interview with actor and producer, Norman Lloyd, who passed away earlier this year at age 106. Obviously, the limitations of television and allocated airtime were factors in creating the cinema-quality short with commercial breaks, but of course, the DVD is free of interruptions.
The Thrilling Art of Alfred Hitchcock is a very dramatic montage of praise heaped upon the 'Master of Suspense' by the likes of Martin Scorsese, William Friedkin, and Eli Roth to name a few. It's roughly seven minutes long, but a great little tribute.
I've been watching Alfred Hitchcock Presents every evening since getting the set and it's very digestible as a televised-form dinner theatre. Not every episode is a masterpiece, in fact, some are a little flat, but the majority keep one guessing, and are most importantly, entertaining.
ALFRED HITCHCOCK PRESENTS
(1955, director: Various)
★★★★
You can follow cinematic randomness on Twitter and Facebook where you'll find all my cinematic exploits. Thank you for visiting!