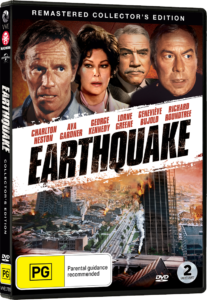 Without question, I cite The Poseidon Adventure as the quintessential disaster movie for its characters, set design and well-thought-out execution. However, the urban destruction-filled epic, Earthquake, deserves its place within the popular 70s sub-genre, but more so for a visual spectacle.  Out now on a remastered DVD 'Collector's Edition' from Via Vision Entertainment, various people all interconnected to some degree, struggle to survive when a 7.9 magnitude earthquake hits Los Angeles, destroying much of the city.
Earthquake establishes the typical formula found in many of today's disaster summer blockbusters by depicting an abundance of one-dimensional characters woven together via a loose narrative for the titular event. Charlton Heston leads the ensemble cast as engineer Stewart Graff, whose dysfunctional marriage to wife Remy (Ava Gardner) has led him into the bed of a young single mother and aspiring actress, Denise (Geneviève Bujold). Down on the streets, beat cop, Slade (George Kennedy) is ready to turn in his badge following what he considers an unjust disciplinary action; while motorbike stuntman Miles (Richard Roundtree) hopes to impress a Vegas booking agent. Going down a darker avenue, grocery store manager and National Guardsman, Jody (Marjoe Gortner), has a creepy fixation towards Rosa (Victoria Principal), which escalates during the ensuing chaos. Most of the film's enjoyment comes from when the quake hits at around the halfway point, taking on an almost amusement park-style effect with all the collapsing buildings and mass panic. While the special effects are generally impressive, with matte paintings and detailed miniatures, there are moments of gratuitous carnage that not only seem excessive but look downright terrible. Unfortunately, the numerous subplots don't add much emotional weight and the logic displayed by some of our characters is irritating, but that's often the case with these type of films. Nevertheless, this 70s staple is a fun ride despite some glaring flaws and paints a truly frightening picture of the effects from a powering earthquake.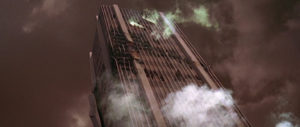 VIDEO AND AUDIO
NTSC formatted, the remastering of the theatrical cut certainly shows with strong colouring and sharpness on a spotless image, further enhanced by HD upscaling. On a gimmicky note, the film's original in-theatre audio of 'Sensurround' is included but is noticeably weak against and much more powerful and immersive Dolby 5.1 track, which enables you to really feel 'The Big One' when it hits.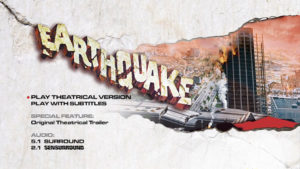 SPECIAL FEATURES
Extended Television Cut
Original Theatrical Trailer
Earthquake is a two-for-one deal with the film's television cut available on a separate disc, offering an additional 30 minutes of footage and presented in 4:3 letterbox, minus the 'Sensurround' audio with Dolby 2.0 in its place. It's a nice extra, especially if you're a completest, but it doesn't add anything to the film apart from the obvious runtime. In addition to a simple and well-presented menu on both discs with simple playback options, there's the standard trailer, which proves even more melodramatic than the film itself.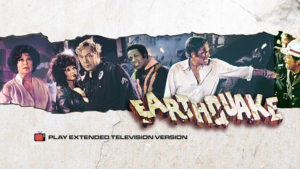 TELEVISION CUT (DISC 2)
Prior to the opening credits, we're given a brief introduction on the San Andreas Fault, which was shot for but not used in the theatrical cut. Other additional segments include scenes which establish Jody's obsession with Rosa, plus an extra subplot of a newlywed couple on a flight to Los Angeles where the husband has a job interview with Stuart Graff (Charlton Heston). These scenes were actually shot almost two years later by NBC without director Mark Robson's involvement, who reportedly loathed the extra footage. I can understand why, as they don't exactly mesh well with the film in terms of appearance. Older fans who may have happened to see Earthquake on the small-screen might appreciate the novelty extra, but if your new to the 70s disaster classic, definitely stick to the theatrical cut.
EARTHQUAKE
(1974, dir: Mark Robson)
★★★★
Head over to the Via Vision Entertainment Facebook page for the latest releases, giveaways, great deals and more!
direct dvd screen captures
You can follow cinematic randomness on Twitter and Facebook where you'll find all my cinematic exploits. Thank you for visiting!