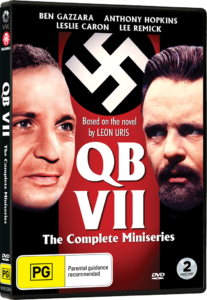 Winner of 6 Primetime Emmy Awards in 1975, miniseries QB VII (Queen's Bench Seven) is adapted from Leon Uris' worldwide best-selling novel and is out now on DVD, presumably for the first time in Australia, from Via Vision Entertainment. Encompassing the lives of two men, a Polish-born doctor is accused of having performed atrocious experiments on concentration camp prisoners during World War II by an American author. Their stories culminate in gripping a court battle where the truth will be exposed.
Comprising of three lengthy episodes, the first two are devoted entirely to our leads, beginning with Dr. Adam Kelno, played by Anthony Hopkins. His remarkable journey begins with his narrow escape from a concentration camp in Poland. During his recovery, the exhausted Holocaust survivor begins a romance with his nurse, Angela, whom he marries. The pair eventually settle in England, where Adam continues to practice medicine, particularly focusing on those less fortunate than himself. Our protagonist's eagerness to go out of his way in order to care for others is subject to interpretation. In light of a brief court hearing instigated by members of Poland's communist party, who are the first to accuse Kelno of heinous war crimes, his selflessness can be looked at as compensation for past sins, which add to the intrigue of his character. To escape the unwanted notoriety, Adam travels with his family to the Middle East where he hopes to bring modern medical practices to those without adequate health care. Hopkins' performance as Kelno is excellent despite his peculiar Polish accent, portraying a man who on the surface appears to be nothing by kind-hearted and generous, but he's clearly carrying a tremendous burden; viewers can see the unspoken pain behind his eye. As an overall episode of television, it's thoroughly intriguing from start to finish whose subtle political undercurrent proves to be an interesting look at a world healing from the horrors of war.
Abe Cady (Ben Gazzara) is a popular author who like many American airmen, volunteers in the RAF to help defend Britain from Nazi aggression. He's shot down over the English Channel, temporarily wounded, and like Kelno, marries his nurse. Over the subsequent years, Abe gains success and notoriety as a writer with several of his war-time stories being made into motion pictures. Throughout this period viewers see many more similarities between our two protagonists emerge, as in addition to marrying foreign women, and moving for their careers, both have sons around the same age. However, unlike Kelno, Cady's arrogance, aggressive atheism and womanising ways cause his relationships to deteriorate. Fortunately, Abe is able to turn a corner when his estranged father dies, enabling him to reconnect with his Jewish heritage. Our hero goes on to write a book entitled "The Holocaust", in which he names Kelno as a willing Nazi collaborator who performed hundreds of forced sterilizations on Jewish prisoners without any anaesthetics. Ben Gazzara made a career out of playing unpleasant and intimidating characters and he's especially savage as Cady, who isn't the faintest bit as likeable as Kelno, but like Hopkins, he turns in an amazing performance.
When our two prominent figures finally meet in court, much of the climactic episode is intense cross-examination and cunning attempts on Cady's part to prove Keno's guilt and involvement in the events described his book. It's an episode that stirs up mixed emotions towards both men and provides plenty of food for thought before casting judgment on the accused.
VIDEO AND AUDIO
As you expect being a made-for-TV miniseries, QB VII, is presented in its original aspect ratio of 4:3 and looks surprisingly good with no visible damage. Although, the work does have the earmarks of a television production with slight dips in quality during major transitions between scenes, but that's more of a technical drawback. Sound is less consistent in 2.0 with muffled patches here and there but is clear and audible when it counts the most.
Spread over two NTSC formatted DVDs, 'Parts 1 & 2' are on Disc 1 and play as one 2:24:52 feature with the break between episodes occurring at 1:14:45 and Disc 2 is dedicated to 'Part 3', coming in at 2:39:44. With the menu for each disc labelled as Part 1 and 2, it did cause some initial confusion, but with the runtime on each being roughly the same, I can see why Via Vision took this route, although, a simple chapter selection would have been helpful.
QB VII lives up to its acclaim despite slipping into obscurity for many years and will hopefully resonate with a new generation of television audiences, due to its humanitarian stance on mankind's darkest chapter.
QB VII
(1974, dir: Tom Gries)
★★★★½
Head over to the Via Vision Entertainment Facebook page for the latest releases, giveaways, great deals and more!
direct dvd screen captures
production stills courtesy of Via Vision Entertainment and Sony Pictures Television 
You can follow cinematic randomness on Twitter and Facebook where you'll find all my cinematic exploits. Thank you for visiting!