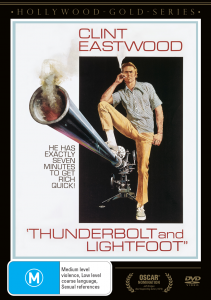 Never underestimate the DVD bargain bin; to me it's the retail gift that keeps on giving. Few things gives me more of a buzz than watching a great movie that no one is currently talking about; it's an intimate kind of feeling, especially if you're a film buff like me. This happened recently over the past weekend, when my girlfriend and I sat down to watch the Clint Eastwood vehicle, 'Thunderbolt and Lightfoot'. In which a bank robber on the lamb, with the help of a irreverent young sidekick, gets his old gang back together to organise a daring new heist. If you follow my Facebook page you may have seen a short post I made prior to seeing the film, in which I pondered upon what makes classic heist films stand above their modern incarnations. Having now see it I can say that much of the credit goes clearly to the story.
Director, Michael Cimino delivers an immensely fun melodrama-comedy with a tough guy edge; taking a viewers on an eventful journey across the rugged terrain and breathtaking landscapes of America's Midwest. The highlight of the film is by far the developing friendship between the two lead characters. Clint Eastwood as the seasoned thief, Thunderbolt, is in fitting contrast to his unexpected protégé, Lightfoot, played by Jeff Bridges who is regarded by many to be the film's true star. Eastwood himself has stated that he felt upstaged by Bridges's energetic and spontaneous performance, which lead to a second Oscar Nominated for the young actor. The typical male banter between the two, in addition to moments of light action throughout the well paced script, keep viewers consistently entertained as the film shifts gear towards unfolding the plans for an intricate climatic sequence of events. Also worth noting are the two very distinguishable supporting characters played by George Kennedy and Geoffrey Lewis, who passed away earlier this year in April.
Like many films of it's time, 'Thunderbolt and Lightfoot' ends on a bitter-sweet note; steering away from those old fashion Hollywood endings where the heroes ride off into the sunset in search of new horizons. These a tenderness to this story which leaves an impact on those who view the film for the fist time. I thoroughly enjoyed this film and I recommend the $6.98 purchase from JB Hi-Fi where I had to good fortune of finding it.
THUNDERBOLT AND LIGHTFOOT
(1974, dir: Michael Cimino)
★★★★
You can follow cinematic randomness on Twitter and Facebook where you'll find all my cinematic exploits. Thank-you!