They come aro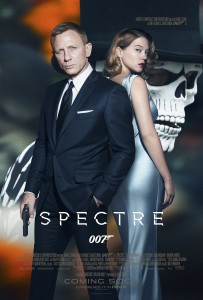 und quick don't they? It feels like only yesterday that I was sitting inside the Mid Valley cinema watching 'Skyfall' with much enthusiasm. Now here we three years later with highly the anticipated 'Spectre', which is now playing around the country. In this 24th Bond adventure, Agent 007 receives a cryptic message from his past, sending him on the trail to expose the mastermind behind a secret, and of course very sinister organisation.

I consider myself a casual fan of the long running spy franchise, but since the previous film set the bar higher than any other before it, I was naturally very curious like most people to see what 'Spectre' was going to bring to the table, however I was left feeling ultimately disappointed as I walked out of the theatre. While the film is in many ways a return to the traditional style and flair of earlier entries, the biggest problem is an unimaginative plot that desperately tries construct this strange and intricate story-arch for Daniel Craig's incarnations of James Bond. This came across to me as very thin, allowing little room in the script for surprise and and some much needed depth. Despite the underwhelming narrative, there's a good variety of thrilling action sequences, sporting the usual level of fun and sophistication in addition to pushing the limits of vehicle endurance, both on land and in the air. Cleverly offsetting the two house plus runtime, regular supporting characters play a more active role as they battle political forces to keep the secret service alive, in what is fundamentally a surveillance oriented film. Daniel Craig commands the screen once again Bond; his hard edge demeanour and subtle humour are perfect fit. His latest adversary is played by Oscar winner, Christoph Waltz who is an intimidating villain but grossly underused. Ralph Fiennes steps into the shoes of M with great authority and of course Bond girls, Monica Belucci and rising star, French actress Léa Seydoux bring a good amount of class to the picture.
Traditional fans are likely to enjoy what 'Spectre' has to offer with all the various throwbacks, however those expecting something in the same vain as 'Skyfall' may be dissatisfied.
SPECTRE
(2015, dir: Sam Mendes)
★★★
You can follow cinematic randomness on Twitter and Facebook where you'll find all my cinematic exploits. Thank-you!