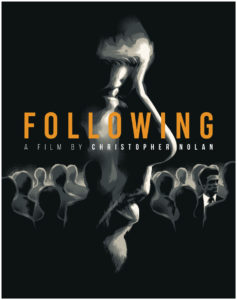 We all start somewhere and for director, Christopher Nolan, it was twenty-five years go on the busy streets of London with the crafty little mystery/thriller, Following, available September 11th 2023 on Blu-ray from 101 Films in the UK – Black Label Edition No. 30 with a NEW collection of interviews with the cast and crew, including Nolan himself.
Hungry for material, a writer, who we know only as 'The Young Man', takes to following strangers for inspiration, but when he crosses paths with a self-confessed thief, curiosity leads our protagonist down a rabbit hole of crime and mystery.
I'm usually lousy at being able to notice a director's style unless they're Spike Lee or Martin Scorsese, but Nolan's unique touch of class and sophistication is noticeable in Following, which is a little hard to describe, but there's a clear film noir influence with a plot that ever so slightly hints that something supernatural may be afoot. If the camera suddenly panned to the right for an introduction by Rod Serling, it wouldn't feel out of place. Nolan's non-linear approach is also very much in play, rivalling his latest future Oppenheimer, but more as a means of keeping the viewer engaged and following the plot while cleverly masking budgetary restraints. It's a minimalist production but has the panache of a studio feature.
I could relate to the writer's sense of wonder towards the people he observed; particularly during his opening narration where he describes his thoughts when fixating on a single individual, on which he allows his mind to wander. It reminded me of train rides home from the city as a child when I would often get a fleeting glimpse into people's private homes; sometimes I could see right into their living rooms if it was a night out. Although, in the case of Following, things are a little more extreme and could almost serve as a cautionary tale. Perhaps it's better that we now hide behind the veil of social media, which has turned us all into would-be stalkers.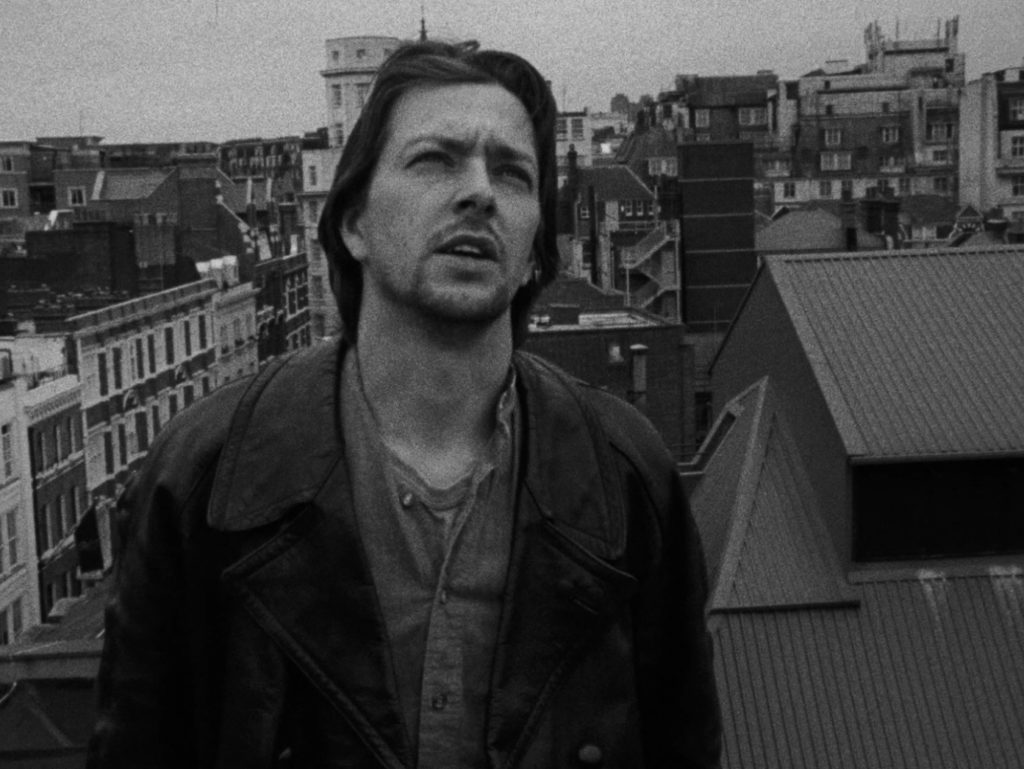 SPECIAL FEATURES
Commentary with Actor Jeremy Theobald and Film Critic James Mottram
Unfollow – Director Christopher Nolan on Following
Dreamcatching – Producer Emma Thomas on Following
Wandering – Actor Jeremy Theobald on Following
The Blonde – Actor Lucy Russell on Following
Backtracking – Editor Gareth Heal on Following
Setting the Pace – Composer David Julyan on Following
Pay Attention – Jonathan Nolan on Following
Following in their Footsteps – Actors Jeremy Theobald & Lucy Russell revisit exterior locations from Following
Limited Edition Booklet: What's in the box? Lifting the lid on Christopher Nolan's debut Following by James Mottram and Lingering Shadows: A look at Christopher Nolan's early neo-noir, Following by Andrew Graves.
Additional extras:
Doodlebug – Short Film by Christopher Nolan
Theatrical trailer
For this release of Following, 101 Films deliver an impressive assortment of special feature content which runs almost double our feature's length in time. Nearly every major player involved in the 1998 project, including director Christopher Nolan, offers their respective thoughts during separate interviews. Based on each person's answers, they're all asked similar questions, but due to differing memories and experiences all offer different and insightful perspectives. Whether they were involved in several areas of production like lead actor Jeremy Theobold or fell into the project by happenstance like editor Gareth Heal, everyone interviewed comes off as a member of one proud, big, family all these years later. Regardless of one's feelings of Following, viewers will come away from these interviews with helpful information on creating an impactful film on a small budget.  – by Hannah Lynch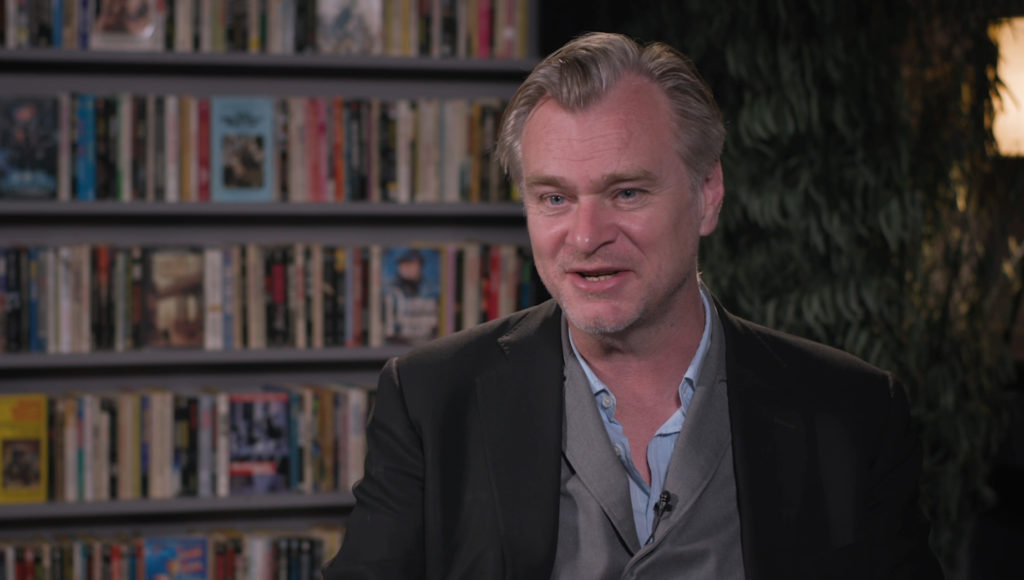 VIDEO AND AUDIO
Theatre audiences have claimed that dialogue is often difficult to hear in Christopher Nolan's recent films, more so in his IMAX features, but there is no issue with that with Following. While the film is presented in two optional tracks, the 5.1 DTS-HD Master Audio is so well mixed that it reminded me that the surround speakers in my study work. The more standard 2.0 PCM track also packs a lot of volume. Criterion's unmistakable emblem opens the 1.37:1 presentation of Nolan's feature, indicating the HD master has been sourced from the U.S. label which as one would expect, is of the highest possible quality. Black and white cinema rarely looks this good, with high levels of grain, contrast, and deep blacks for maximum noir style.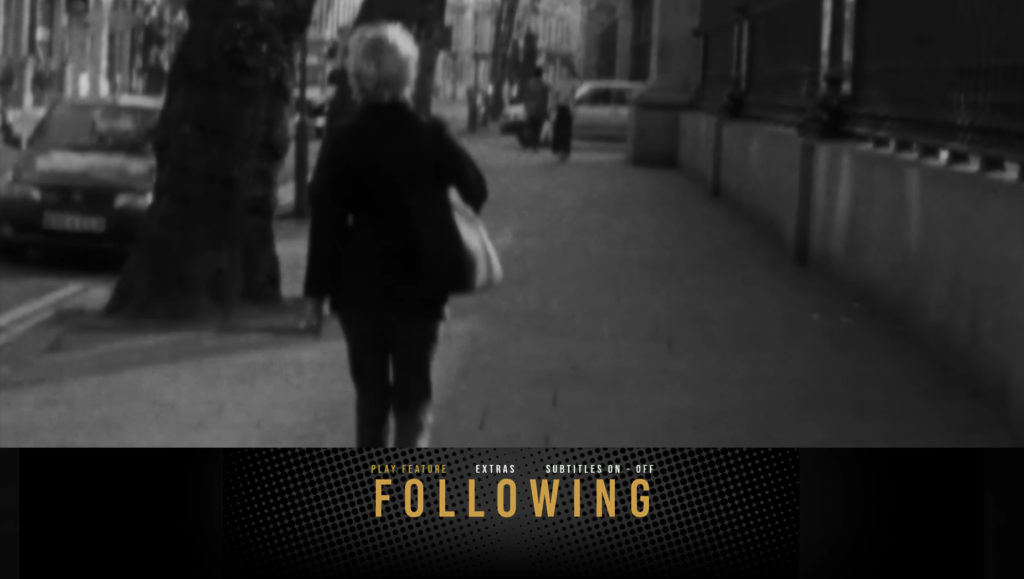 Following is a remarkably competent debut feature from Christopher Nola, who already seemed well-practiced from the get-go with a firm grasp of cinematic language and genre. The film is set clearly the late 90s but often feels like the late 40s with a 'Blonde', 'Policeman' and a 'Criminal' interwind with a lowly hero's search for literary success – filed under 'S' for Stranger, in the Twilight Zone.
FOLLOWING
(1998, director: Christopher Nolan)
★★★★★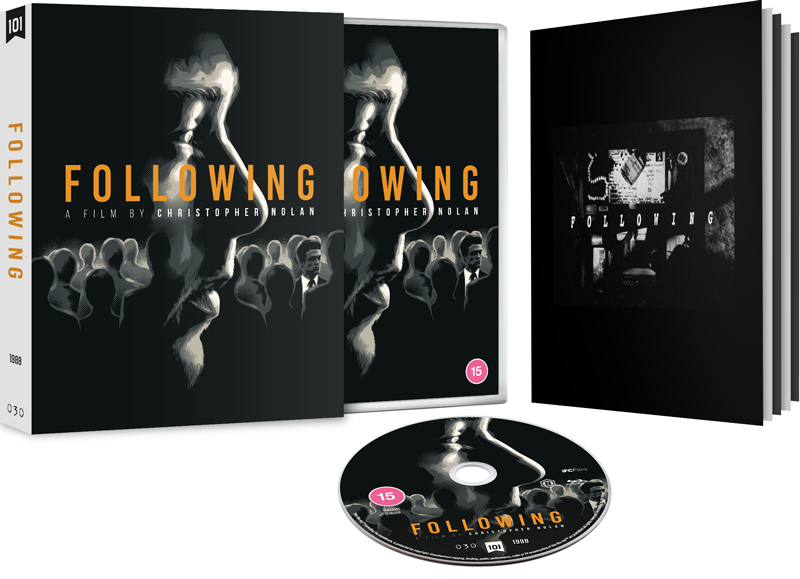 direct blu-ray screen captures
You can follow cinematic randomness on Twitter and Facebook where you'll find all my cinematic exploits. Thank you for visiting!