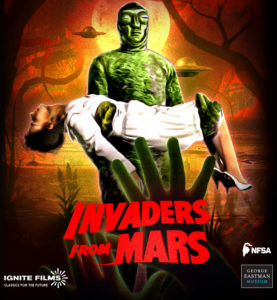 I have an old public domain DVD of Invaders from Mars, which is presented in such poor quality only its jewel case was useful to me. Thankfully, the 'Cine-Color' classic has now been "developed to its ultimate intelligence" to quote that rather chilling line from the film. Ignite Films is responsible for a stunning 4K restoration, with subsequent physical releases now available on DVD, 4K Ultra HD and Blu-ray, which is the edition I'm covering for this review.
David MacLean, a young all-American boy, with a lively curiosity for the cosmos, is awakened one night to a flying saucer landing in a field, adjacent to his home. Convinced by 'Mom & Pop' that he only dreamt of the close encounter, things become all too real when his folks and other earthlings are taken over by the alien intruders.
To say that Invader from Mars is "the" seminal 50s science-fiction classic, would be an understatement. The film embodies every dream and nightmare, along with the overwhelming sense of wonderment that sprays from the 'Atomic Age'. David's reality is terrifying and the fact that many scenes are literally shot from a child's perspective awakens those memories of when the world loomed over us while in precarious situations, and all the anxiety and that came with it. Without a doubt, this well-thought-out art direction elevates the film's relatively low budget, compared to what the major studios were producing at the time. I mean, the fact that we can so early look past those 'Mu-tants' in green pyjamas is quite an accomplishment.
At only 78 minutes in length, it's a fast-paced movie, yet there are some obvious moments when the filmmakers are clearly padding out the runtime. Nevertheless, there's substance within the plot that still manages to find relevance today, pertaining to new technology frontiers and the need for caution.
SPECIAL FEATURES
Restored 4K original 1953 trailer and a newly commissioned trailer 2022
Interviews with star Jimmy Hunt, William Cameron Menzies' biographer James Curtis and recollections of Menzies' eldest granddaughter Pamela Lauesen
Featurette with acclaimed film directors John Landis, Joe Dante, editor Mark Goldblatt, special visual effects artist and two-time Oscar Winner Robert Skotak (foremost expert on Invaders from Mars), and enthusiast and film preservationist Scott MacQueen
John Sayles' introduction at Turner Classic Movies Festival in Hollywood, April 2022
Before/after clips of restoration – original negative and archival film elements – with film restoration supervisor Scott MacQueen
Restored segments in 2K of the Alternate International Version — alternative ending and extended Planetarium scene
Gallery with original Press Book pages, behind-the-scenes photos from the restoration process
20-page extensive essay on the restoration process: "Invaders from Mars: A Nightmare of Restoration" by Scott MacQueen
Whereas most supplemental booklets discuss a film's behind-the-scenes making of, or its themes, the one included with this release details Invaders from Mars' extensive restoration. Over the course of 23 pages, Scott MacQueen introduces the five different film stocks sourced for this Blu-ray, and in layman's terms, explains how each contributed to the finished product. For a visual demonstration of the restoration of certain key scenes from Invaders from Mars, viewers can check out the "before and after" featurette. Video supplements also include an interview with star Jimmy Hunt who, despite being in his 80s, is very energetic and talks enthusiastically about his memories as a child actor. While obviously not available to talk about his own work, William Cameron Menzies is memorialised well by his biographer, James Curtis, in a separate featurette which doubles as a solid introduction to the art director's filmography. In celebration of the film itself, recognisable talking heads such as Joe Dante and John Landis discuss the impact of Invaders from Mars on themselves and others who grew up during the "Boomer" generation. – by Hannah Lynch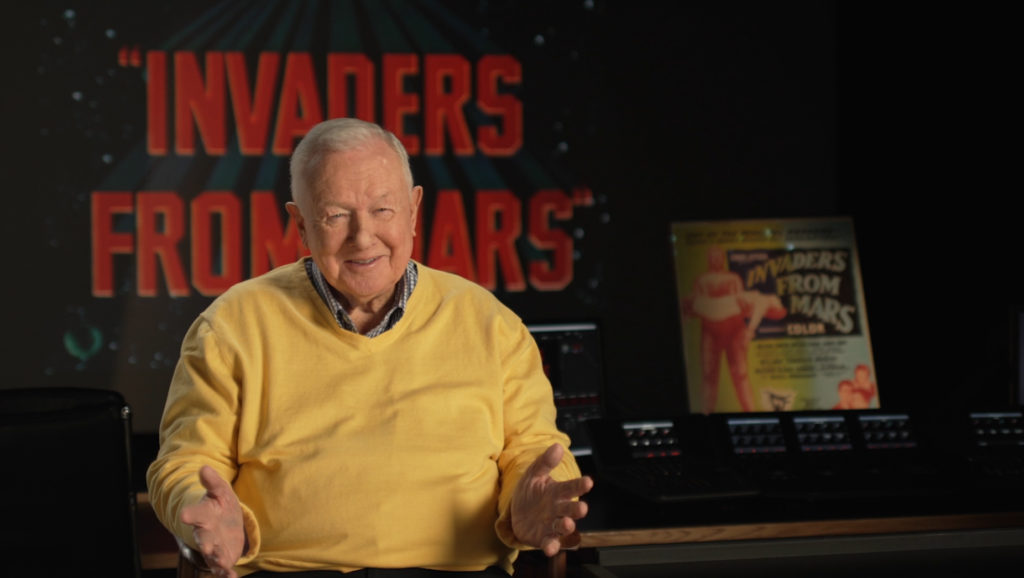 VIDEO AND AUDIO
Ignite Films' effort in bringing this brand new 4K restoration to physical media was in part thanks to film elements located in Australia of all places, which was probably looked upon as a somewhat alien world back in the 1950s. Specifically restored from the original camera negative and master positives, Invaders from Mars, if you allow me, looks "out of this world"; but in all seriousness, this is the type of film preservation we need to be actively encouraging and supporting.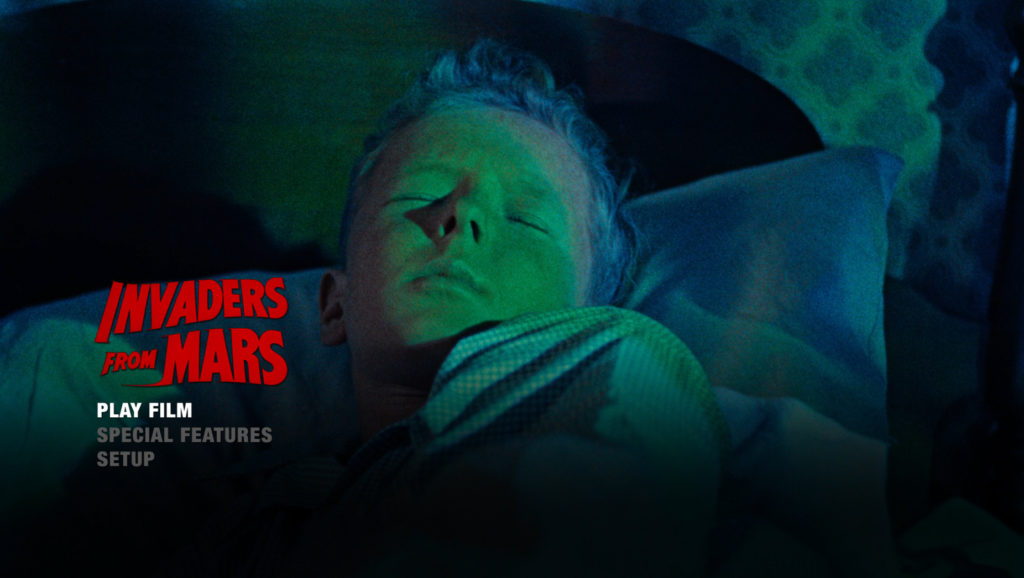 Presented in 1.37:1 and free of those rounded corners on your grandparent's old tube telly, the image is impressive to say the least, even for a 1080p rendering. Naturally, there's a significant amount of film grain, but an amazing amount of detail has been captured and the colours have been restored to their full 50s gimmicky effect. English and Spanish language tracks are both presented in DTS-HD Master Audio 2.0 Mono, which certainly won't put any strain on your amp or soundbar, but they're well-optimised with crisp dialogue at adequate levels.
Invaders from Mars is timeless and arguably one of the best examples of what defines science-fiction; not just from 1950s. Ignite has done the genre and physical media market a great service. Should we one day send another Voyager space probe out beyond our solar system, it should include a copy. Hopefully, no little green men take offence.
INVADERS FROM MARS
(1953, director: William Cameron Menzies)
★★★★½
direct blu-ray screen captures
You can follow cinematic randomness on Twitter and Facebook where you'll find all my cinematic exploits. Thank you for visiting!