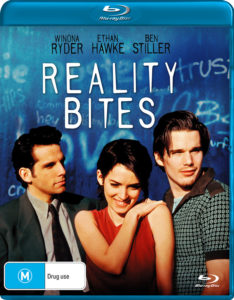 Generation X is defined as people born between the years 1965 and 1980; the offspring of baby boomers, who were given their own cinematic portrait with The Big Chill.  By the 1990s the up-and-coming youth were portrayed in several teen and 20-something related films, perhaps most memorably in Reality Bites.
Available now on Blu-ray from Via Vision Entertainment, this post-grad drama follows four friends as they navigate life, love and work in Huston, Texas, with Winona Ryder starring as our central figure, Lelaina; a self-proclaimed voice of her generation and aspiring documentary filmmaker. Among her circle is the too-cool-for-school, Troy (Ethan Hawke), her bestie, Vickie (Janeane Garofalo), and the neutral Sammy, played by Steve Zahn in probably his most introverted role.
I really dig slice-of-like narratives, especially those from the 70s and more recently, by Sean Baker. With the 90s being somewhat in vogue again, I did enjoy Reality Bites for the most part, but I'd be lying if I said it doesn't get a little tiresome. Maybe it's because I'm significantly older than the characters with different values and aspirations, but their need to achieve success right out the gate and the passive resentment of settling for a modest living don't really bode well in our strenuous economic time. I quote Jon Voight in Runaway Train, "…you're gonna hold onto that job like gold. Because it is gold."
Winona Ryder is a hot mess as Lelaina, who pounds cans of Diet Coke and smokes more cigarettes than Humphrey Bogart as she rocks a 90s vibe against the more bohemian Vickie who subscribes to a more retro popular persona. Ben Stiller makes his directorial debut and despite giving himself a kind of meaty supporting role, there's no real sense of ego at play. Stiller doesn't get in the way of our protagonists' arc even when he's clearly polishing his comedic chops. His younger rival to Lelaina's heart, Troy spends most of the film raging against the machine; he's not a particulate likable guy, but I we can all relate to him on some level.
SPECIAL FEATURES
Audio Commentary with actor/director Ben Stiller and writer Helen Childress
Deleted Scenes
Reality Bites: Retrospective documentary
Lisa Loeb – "Stay" featurette
"Stay (I Missed You)" music video by Lisa Loeb
Theatrical Trailer
The special features on this disc come ported from the film's 10th anniversary DVD release and reflect common supplementary content of the era. Despite only a decade passing from the time of Reality Bite's production and its retrospective documentary, the cast and crew all offer insightful reflections on their own personal changes and views of modern youth culture. The audio commentary with director Ben Stiller and scriptwriter Helen Childress goes more in-depth on the movie's aim of capturing the thoughts and anxieties of their generation rather than making a statement. Deleted scenes run for around 13 minutes all up, and are presented in standard definition, but many provide substance and context for the overall film and are worth a watch for fans. –  by Hannah Lynch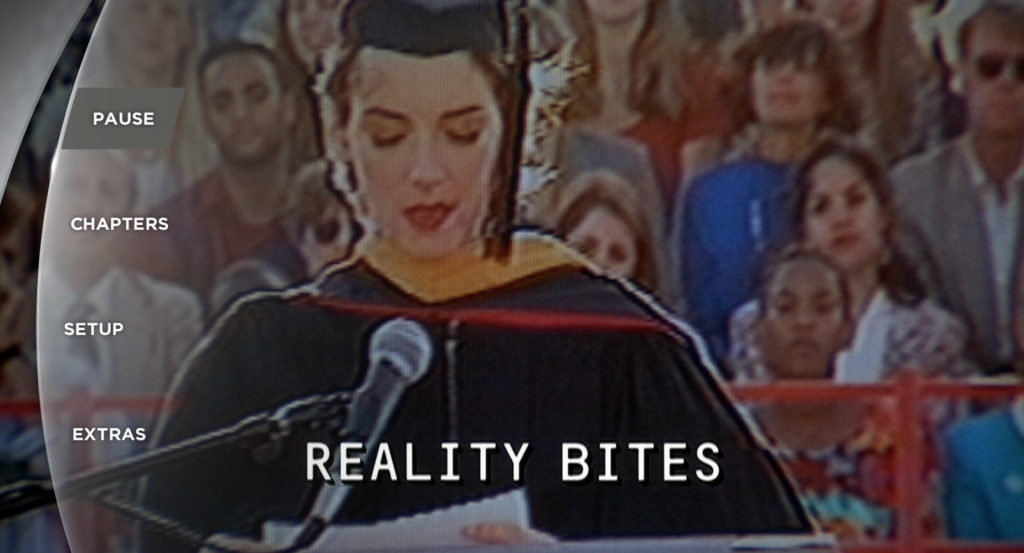 VIDEO AND AUDIO
It's oddly fitting, Via Vision chose to re-issue an early-generation HD rendering for such a generational-themed drama, both of which are obviously dated. Presented in 1.35:1, the image doesn't really pop during any scenes. In fact, the colours are quite muted in comparison to modem standards, but the DTS-HD 5.1 Surround track is well-balanced and loud. English HOH subtitles are included, and the disc is region B locked.
Reality Bites, like most movies, enables you to swap your reality for another, and while it may not be the most desirable, take in the blatant product placement, cool soundtrack and that distinctive 90s vernacular.
REALITY BITES
(1993, director: Ben Stiller)
★★★½
direct blu-ray screen captures
You can follow cinematic randomness on Twitter and Facebook where you'll find all my cinematic exploits. Thank you for visiting!