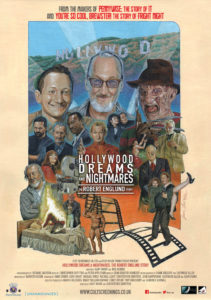 Most horror fans will agree, especially those of the 'Elm Street' variety, that listening to Robert Englund talk is strange cinematic comfort food. Now, after a fifty-year career on the big screen, the man they call 'Freddy' looks back on his accomplishments in the Screambox original documentary, Hollywood Dreams & Nightmares: The Robert Englund Story.
Directed by Gary Smart and Christopher Griffiths, who most recently treated us to the nostalgic overdose, Pennywise: The Story of IT, this two-hour feature that could have easily been 4, charts Englund's early life and career, from a bit part actor to the genre icon we know him as today. Now in his mid-70s, Englund's ability and captivating quality as a storyteller hasn't waned nor has his enthusiasm for the craft of acting. His candidness is very touching at times and unlike many of his peers, he doesn't just limit his thoughts to the roles he played. He often talks at length about the character, the response from audiences and reflection on the period, as with Big Wednesday, in which his narration as a bystander to the film's main trio gives an emotional potency to a post-Vietnam American.
Englund comes across as generous, especially when it comes to up-and-coming talent both in front and behind the camera, always ready and willing to offer advice and encouragement which always seems to come from a very genuine place. I think it's fair to say that Englund has never forgotten his roots, and in fact, he seems to embrace them, which likely attributes to his very positive outlook and attitude.
Obviously, there's a sizeable portion of this documentary devoted to A Nightmare on Elm Street. We've all seen hours upon hours of content on the subject, not to mention those who have attended various horror conventions. Yet after all that, Englund's reflection on playing Freddy Krueger, his most recognised and celebrated role, feels like a fresh take. It's quite amazing how he still manages to add further mystery and nuance to the character despite not having played him on the big screen in twenty years. We don't really get that type of longevity with fellow boogeymen, Michael Myers and Jason Voorhees.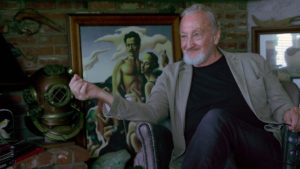 Hollywood Dreams & Nightmares: The Robert Englund Story has the screen veteran in good company with Dennis Christopher, William Katt and Tony Todd, just to name a few, offering their compliments while sharing their own experience with Englund.
Streaming from June 6 (Robert Englund's birthday) on Screambox via Cinedigm and Bloody Disgusting before hitting Blu-ray on July 25, available through Amazon.
THE ROBERT ENGLUND STORY
(2022, director: Christopher Griffiths & Gary Smart)
★★★★½
production stills provided by Simply Legendary Publicity
You can follow cinematic randomness on Twitter and Facebook where you'll find all my cinematic exploits. Thank you for visiting!