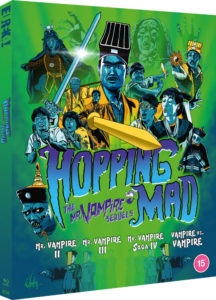 Eureka Entertainment treated us to the Hong Kong classic, Mr Vampire in 2020, introducing a whole new generation of home viewers to 'Hopping Vampires' or Jiangshi to use the official term (as opposed to the more limber bloodsuckers from the West). Upon a quick Google search on the subject, you'll learn there are countless titles, practically an entire sub-genre. Eureka has followed through by giving us four sequels in the recent Blu-ray set, Hopping Mad: The Mr Vampire Sequels which include, Mr. Vampire II (Vampire Family), Mr. Vampire III, Mr Vampire IV (Uncle Vampire) and Vampire vs Vampire.
You could almost compare this brand of Asian cinema to Britain's Hammer Horror in the sense they both wholeheartedly embrace a period or cultural element in telling their respective stories. Hammer found its signature niche in European Gothic, while Jiangshi utilises the Eastern mystic practices and superstitions as a centre to which each of the four films revolves. While spiritual films, they're far from mean-spirited, in fact, they're mostly comedic, yet still exhibit a strong element of conventional horror.
Mr. Vampire II and Mr. Vampire III aim for a more family-friendly vibe and both serve as fantastic physical comedies, with a perfect marriage of slapstick and traditional martial arts that feels totally improvised. In the first sequel, we follow a displaced vampire family, which has a mother and father trying to find their son, who is welcomed into a mortal household by two child siblings. A wholesome whimsical adventure ensures, although a dark fate awaits the fanged characters, much like the more intense and chaotic follow-up, in which a malevolent 'hopper' is provoked by a Taoist con artist with two ghost sidekicks. What culminates is probably the best final skirmish with the titular vampire, as our characters use just about every prop and set piece to defend themselves.
Mr. Vampire IV and Vampire vs Vampire both lean more into straight horror and mystic themes, although there is still a degree of silliness. However, the most interesting turn the final sequel makes is in incorporating Western vampire lore with a very European creature of the night who's immune to all the Eastern techniques in fighting the undead; he even bares a resemblance to Fright Night design! Lam Ching-ying as Master Gau or One-Eyebrow Priest, depending on which movie you've watching, is a constant presence throughout (almost) all four sequels and he's Chuck Norris-level of badass. When he's not wielding a coin sword, Gau is always armed to the teeth with spells and magic, which can stop any supernatural force dead in its tracks. He's a thankless hero always on the clock and a clear fan favourite character.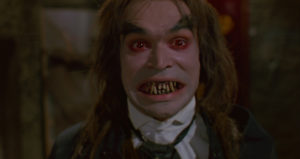 SPECIAL FEATURES
Limited Edition O-Card slipcase featuring new artwork by Darren Wheeling (2000 copies)
Cantonese audio (original mono presentations) on all films
Alternate English dubbed audio track for Mr Vampire II
Optional English Subtitles for all films, newly translated for this release
Brand new feature-length audio commentaries on Mr Vampire II and Vampire vs Vampire by Asian film expert Frank Djeng (NY Asian Film Festival)
Brand new feature-length audio commentaries on Mr Vampire III and Mr Vampire IV by action cinema experts Mike Leeder & Arne Venema
Brand new feature-length audio commentary on Mr Vampire III by Asian film expert Frank Djeng and film writer John Charles (The Hong Kong Filmography, 1977–1997)
Brand new video piece on the history and the resurgent popularity of the Jiangshi genre, featuring an interview with a real Taoist priest
Brand new video piece which examines the rituals portrayed in the Mr Vampire series and how some are still practised in modern-day Hong Kong
Reversible sleeve featuring original poster art
Trailers
A Limited Edition collector's booklet featuring new writing on the films and the Jiangshi genre by James Oliver (2000 copies)
Prepared to be schooled in Asian mysticism with an abundance of bonus material dedicated to this very specific and influential genre of Hong Kong fantasy/horror/comedy with even some input from an actual Taoist priest, for good measure. All commentaries included in this set, in addition to being brand new content, are equally insightful and easy to listen to. Two-person and solo commentaries always make for a different dynamic, and its obvious Mike Leeder and Arne Venema had a great time recording their track for Mr. Vampire III! Frank Djeng both solo and along with John Charles, offers a wealth of knowledge on each major player involved in the Mr. Vampire sequels – certainly doing justice to actors and filmmakers who may be unknown to Western viewers.
Both featurettes on this set run for a little over 15 minutes, with Taoist Cinema: The World of Mr. Vampire being provided on the first disc, and Vampire Legacy on the second. If you're a bit curious as to the origins of Eastern Vampire folklore, such as the infamous "hopping" the dead bodies do, then Taoist Cinema… will surely answer all your questions. The second featurette, on the other hand, looks at ways modern fans and businesses embrace classic Jiangshi cinema from pop culture merchandise to recent Hong Kong films featuring old-fashioned Eastern-style vampires. – by Hannah Lynch
VIDEO AND AUDIO
Mr Vampire II and Mr Vampire III come presented from new 2K restorations while the latter two sequels come from brand new 1080p restorations. Yes, there is a noticeable difference, but all four look impressive and the 2K factor really does provide that extra level of detail, whereas the more standard HD image appears a little softer by contrast. Cantonese audio certainly doesn't lack volume, in fact, it's quite loud and can come through a little distorted during some of the action sequences, so I recommend finding a nice medium.
If you've grown tired of attractive vampires, lamenting over things of little consequence, Hopping Mad will give you a new appreciation whilst broadening your horizon on not only the genre within different cultures but other interpretations of cinema's go-to monsters.
HOPPING MAD: THE MR. VAMPIRE SEQUELS  
(1986-89, director: Various)
★★★★
direct blu-ray screen captures
You can follow cinematic randomness on Twitter and Facebook where you'll find all my cinematic exploits. Thank you for visiting!