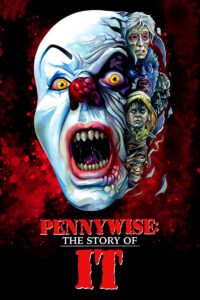 Much like the members of Derry's own 'Losers Club', I had my first counter with Pennywise the Dancing Clown at around 12. I remember a classmate telling me about a movie in which a clown is seen gnawing on a child's torn-off arm, beneath the street, down in a dark and murky sewer. No scene of that description actually occurred, but this kind of impression left on young viewers is such a big factor in how the mini-series, IT, gained an iconic status. Several years in the making, Pennywise: The Story of IT, takes fans back on a nostalgic and in-depth retrospective tour of what was a landmark television event and how it became an author of childhood fears.
IT has enjoyed numerous television re-runs and a lucrative life on home video, which is probably how most met its acquaintance. However, upon its elevation to DVD and then later Blu-ray, fans were never treated to any bonus content apart from a 2002 commentary track featuring some of the cast and crew; which thankfully included John Ritter before his untimely passing the following year. Co-directors, John Campopiano (Unearthed & Untold: The Path to Pet Sematary) and Chris Griffiths (Leviathan: The Story of Hellraiser), combine their respective talents in unearthing rare archival material from IT's production, in addition to capturing new and exclusive interviews with members of the cast and crew, namely Tim Curry and Richard Thomas along with director Tommy Lee Wallace, writer Lawrence D. Cohen and special effects makeup artist Bart Mixon.
Presenting an overarching narrative from Stephen King's conception to the mini-series reception and subsequent legacy, this two-hour and six-minute documentary is everything a fan can ask for. Watching it felt so rewarding after all those quiet afternoons combing through Google for anything from behind the scenes. Not only does the feature offer some great unseen footage, which includes snippets of Tim Curry between takes, but the overall discussion from multiple viewpoints comes from such a warm place; the fondness of how our subjects reflect made me feel closer to the community of fans. Appropriately divided into chapters that cover topics such as the constraints of television, working with mischievous child actors and the rather lacklustre conclusion, Pennywise: The Story of IT even takes a plunge into the notion of scary clowns, dissecting what makes these carnival figures so polarising. The cast and crew's reactions are surprisingly varied on the aforementioned subject and with the recent knowledge I've obtained about my great grandfather being a "well know" clown in Germany during the 1940s, this detour topic was of great interest.
I've always enjoyed IT – one of my many staple VHS rentals as a youngster, although I admit that reading King's original novel in my early 20s made me unfairly critical of the mini-series. Although, after the big-screen adaptation, I've since reconciled my ill feelings and have embraced the made-for-TV classic as a bittersweet reminder of not only my own childhood but of the importance of letting yourself just enjoy a movie despite its flaws, which is what this endearing and original documentary captures so well.
Pennywise: The Story of IT is currently streaming on the dedicated digital platform, Screambox, where you can sign up for a FREE 30-Day Trial, www.screambox.com – a wider release for overseas markets is in the works.
PENNYWISE THE STORY OF IT   
(2022, director: John Campopiano and Chris Griffiths)
★★★★
stills courtesy of Simply Legendary Publicity 
You can follow cinematic randomness on Twitter and Facebook where you'll find all my cinematic exploits. Thank you for visiting!