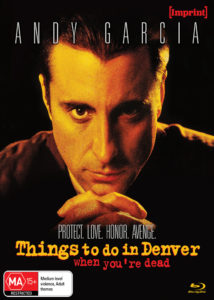 Contrary to what the title suggests, Things to Do in Denver When You're Dead, is not a morbid advertisement for the 'Mile-High City', but rather a slick crime/drama made in post-Pulp Fiction Hollywood that's currently available on Blu-ray from the boutique label, Imprint Films, title number 144.
Andy Garcia stars as Jimmy the Saint, an ex-New York gangster who's offered one last job by a paraplegic, yet commanding crime boss known ambiguously as 'The Man with the Plan', played to absolute perfection by Christopher Walken. While the job in question is born out of some very bizarre logic to keep our wheelchair-bound villain's disgraced son on the straight and narrow, Jimmy's skills are beyond reproach. However, the plan goes south at its most critical moment, which means certain death for Jimmy's crew and banishment for our protagonist.
Unaware of the film's polarising reputation, I went in optimistically with the notion that I'll be watching something moderately standard to its respective genre but ended up being utterly enthralled and entertained in true movie-magic fashion. Yes, the Tarantino influence is undeniable and despite that being the main sticking point for many of the film's detractors, I personally think it's a non-issue. Scott Rosenberg's screenplay allows the film to stand on its own as something unique that echoes the mythos of crime-laden noir; with Jack Warden as a loose narrator and background figure telling fragments of the story to a pair of captivated up-and-comers. Often at times, it feels like we're watching a story told in flashback as the human propensity for exaggeration is very apparent.
Rosenberg crafts a somewhat fun while cryptic vernacular for our characters, and the criminal underworld they frequent. Along with some peculiar nicknames for Jimmy's assorted crew, such as Critical Bill, played by a psychopathic and hilarious Treat Williams, who I never thought I would enjoy again after his opus of overacting in Prince of the City. Christopher Lloyd as "Pieces" has a very literal meaning, but he's a subtle homage to a supporting playing from a genre's golden age, as is the contract killer Mister Shhh, played by an unassuming Steve Buscemi. William Forsythe and the late Bill Nunn are more restrained as Franchise and Easy Wind, both of whom have a presence next to Garcia who epitomises an emotional kind-hearted criminal trying to go straight.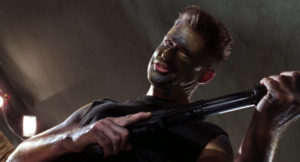 VIDEO AND AUDIO
Things to Do in Denver When Your Dead first hit Blu-ray in 2011 via a bare-bones Spanish release with a poor and very misleading cover design. Imprint Films, presumably using the same 1080p transfer translates nicely to the modem backlit screens, offering a beautiful 1.85:1 neo-noir aesthetic with deep backs and vibrant shades of mood-driving colours. Optional audio tracks, English DTS-HD 5.1 Surround + LPCM 2.0 Stereo both sound excellent but if you have the means, take advantage of the 5.1 as it's very immersive and remarkably clear. English HOH subtitles are available.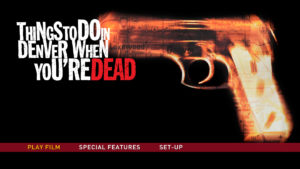 SPECIAL FEATURES
NEW Things to Write in Denver When You're Dead – interview with screenwriter Scott Rosenberg
NEW Things to Direct in Denver When You're Dead – interview with director Gary Fleder
NEW Things to Perform in Denver When You're Dead – interview with actor Andy Garcia
NEW Things to Design in Denver When You're Dead – interview with designer Nelson Coates
Imprint's latest release of Things to Do in Denver When You're Dead appropriately comes with all new special feature content – four interviews, to be exact. In separate sit-downs, screenwriter Scott Rosenberg and director Gary Fleder discuss their humble film-school beginnings and how their close working relationship helped shape their movie's unique style. Rosenberg especially goes into detail on the real-life origins of some of "Denver's" themes, which helps add context to the story's more ambiguous elements. The leading man, Andy Garcia, enthusiastically reminisces about his experience working on the project and shares his love for the actor-friendly script. Finally, production designer Nelson Coates gives the longest interview, at almost 30-minutes, and goes in-depth on the development of the film's iconic sets and filming locations. – by Hannah Lynch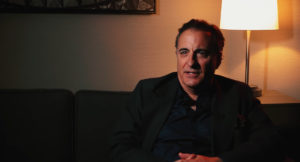 Woven between the high-stakes narrative, a romantic subplot is interjected, and while it may slow the film's momentum, once you know the context which relates to Rosenberg, I think it adds more impact to our heroes' motivation and ultimate fate. Things to Do in Denver When You're Dead deserves to be seen and the reception to Imprint release has been for the most part positive, which is great to see, so get in quick before all 1500 copiers are in the wind.
THINGS TO DO IN DENVER WHEN YOU'RE DEAD     
(1995, Gary Fleder)
★★★★½
Head over to the Imprint Films Facebook page for the latest releases, giveaways, great deals and more!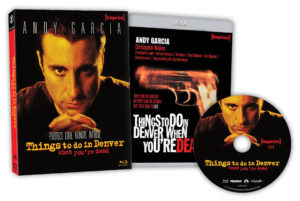 direct blu-ray screen captures
You can follow cinematic randomness on Twitter and Facebook where you'll find all my cinematic exploits. Thank you for visiting!