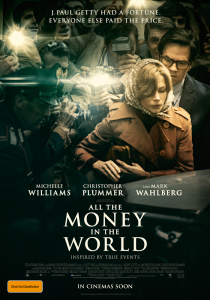 For a moment it felt like there was a force preventing me from seeing All the Money in the World, but thankfully the stars aligned yesterday afternoon for a viewing that was definitely worth the wait. Inspired by true events, when 16-year-old John Paul Getty III is kidnaped in Italy, the boy's mother desperately tries to convince his billionaire grandfather Jean Paul Getty to pay the ransom before it's too late.
I think the biggest strength with Ridley Scott's latest feature is that appropriate liberties are taken in order make an already compelling story into one suitable for the big screen whilst remaining respectful to the real-life case and more importantly, those who were involved and affected. We're witness to a horrific ordeal that hinges on the greed callousness of an individual with an inflated sense of one's self, on a level which is infuriating to anyone with an ounce of humanity. Suffice to say, Christopher Plummer is well deserving of his Best Supporting Actor nomination and was ultimately the right casting choice as the elderly Getty in light of recent controversy. Michelle Williams stands out as determined mother Abigale Getty, delivering the film's strongest performance, while Mark Wahlberg excels by not playing Mark Wahlberg as Getty Oil negotiator and ex-government operative Fletcher Chase.
All the Money in the World is a long movie as you would expect from the subject matter and the acclaimed director, but it holds your attention firmly and immerses you in a time period that has been painstakingly recreated. Out in cinemas across Australia through Village Roadshow, this is one contender I highly suggest catching during awards season.
ALL THE MONEY IN THE WORLD
(2017, dir: Ridley Scott)
★★★★
You can follow cinematic randomness on Twitter and Facebook where you'll find all my cinematic exploits. Thank you for visiting!