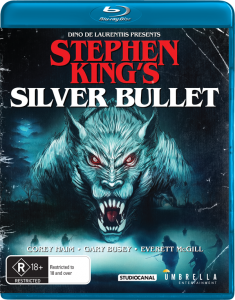 Umbrella Entertainment has hit the ground running in 2018 with their Blu-ray release of Silver Bullet, which has had the online horror community abuzz since its announcement last October. Based on Stephen King's 1983 novella Cycle of the Werewolf, the famed author also penned the screenplay for this obscure mid-eighties classic in which a small rural town is terrorized by an unseen beast. At the centre of our story is Marty Coslaw (Corey Haim), a paraplegic young boy who has a strained relationship with his older sister Jane (Megan Follows), the film's narrator, but enjoys the company of his black sheep uncle Red (Gary Busey). As fear engulfs their town Marty becomes convinced that werewolf is responsible, living among the volatile community.
Among the violence and carnage unleashed by our shape-shifting villain, there's a fanciful quality that strikes a rather poignant cord within the viewer; nostalgia for a simpler time when adventure and outdoor fun came with such ease and often without consequence. Our trio of unlikely heroes are a joy to watch, especially Gary Busey as the sceptical, but indulging Red who tasks a gun shop owner with making a silver bullet, shown in a sequence that's nothing short of magical. Young actors Corey Haim and Megan Follows are both genuine as brother and sister, providing a level of emotion not normally found in creature features. Everett McGill as the tormented Reverend Lowe is an intimidating presence, at odds to the immoral conduct prevalent throughout the town.
VIDEO & AUDIO
Apart from a few brief moments, video quality is worthy of the Full HD stamp, offering strong colours and improved clarity over the previous release on physical media, and the audio is clear and consistent on the disc's 2.0 DTS-HD track.
SPECIAL FEATURES
Packed with exclusive bonus content, produced in part by Umbrella Entertainment and Lee Gambin of Cinemaniacs, this Blu-ray release is an instant contender for the year's best and without a doubt the definitive edition of what has been in the past a much sought after title.
Audio Commentary with director Daniel Attias
The Wolf Within – An Interview with actor Everett McGill
Full Moon Fever – Interviews with SPX artists Michael McCracken Jr. & Matthew Mungle
Dino's Angel Take on Lycanthropy: Martha De Laurentiis Remembers Silver Bullet
Isolated Score Selections and Audio Interviews with Composer Jay Chattaway
Theatrical Trailer
TV Spot
Radio Spot
Stills Gallery
Paying tribute to classic paperback novels, Simon Sherry's distinctive cover art is impossible to miss, adding to the appeal of Silver Bullet, which is likely to win a lot of new fan thanks to an excellent release, available now in stores and online!
Note: Umbrella Entertainment have also released this film on DVD.
SILVER BULLET
(1985, dir: Daniel Attias)
★★★★½
You can follow cinematic randomness on Twitter and Facebook where you'll find all my cinematic exploits. Thank you for visiting!