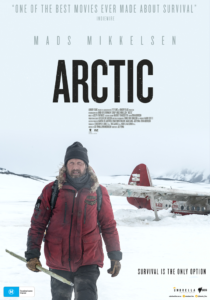 Following a brief showing at last year's Melbourne International Film Festival, Brazilian filmmaker and musician Joe Penna's debut feature Arctic is set for a limited theatrical release across Australia from Thursday, February 14th. Starring Danish actor Mads Mikkelsen (Rogue One), this harrowing survival drama follows a man stranded under sub-zero temperatures in the Arctic after an airplane crash. With desperation slowing taking hold, our hero encounters a badly injured survivor of a failed rescue attempt, bringing out a greater sense of urgency. He then must decide whether stay at his makeshift camp or improve the pair's chances of rescue via a dangerous trek through the icy wilderness.
I'm sure a lot of us who watch Arctic would sit there thinking, "I wouldn't last a day in that!", which may be so, but the fundamental urge and instinct to survive despite the harsh conditions is a fascinating journey in itself. Merely observing our protagonist through his daily routine proves to be a palpable experience; a man stripped bare of most essentials who must literally claw to salvation. His ingenuity and resourcefulness, not to mention his will to keep going is truly inspiring and is enhanced by the need to return his ailing companion to safely. Furthermore, the simple pleasure he derives from an improvised meal of instant noodles and fresh salmon is shown to be transcendent of the dire circumstances. Mikkelsen's reserved demeanour doesn't give much too much away in terms of raw emotion, but it's the subtlety his performance which carries a lot of weight. While we're flawed and have a natural tendency to self-doubt during times of great hardship, our capacity for perseverance is what Penna explore through our stranded hero; providing a lesson on ourselves. Iceland stands in for the titular location in an utterly convincing performance, enhance by Tómas Örn Tómasson's stunning cinematography, capturing the bitter cold and blizzards of endless white.
Arctic is intense, immersive and engaging through the entirety of it's 97-minute runtime. While not a film high on re-watch value, it's certainly one that will stay with you for a while. You can find your nearest screening of Arctic by visiting film's distributor Umbrella Films at their official web site.
ARCTIC
(2018, dir: Joe Penna)
★★★★
You can follow cinematic randomness on Twitter and Facebook where you'll find all my cinematic exploits. Thank you for visiting!