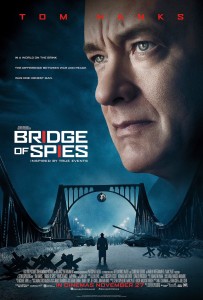 It's been three years since Steven Spielberg's last film, which makes going to see one of his immense productions more of an event as opposed to just another trip to the movies. Starring my all time favourite actor Tom Hanks, 'Bridge of Spies is a Cold War drama which tells the true story of American insurance lawyer, James B. Donovan's courageous efforts to help rescue a pilot detained in the Soviet Union.
Your mood going in to a movie can either be a hindrance or an emotional advantage. I'm grateful that for me for me it was the latter, as I enjoyed one of the best woodfired pizzas I've ever eaten, a couple of hours prior to seeing the film. If you're ever in Warragul I highly recommend Pepe's Woodfire on Queen Street. About 30 minutes in, my heighten state of satisfaction was soon eclipse by what was unfolding on screen. I can safety say that 'Bridge of Spies' reaffirms Steven Spielberg as the master cinematic storytelling that he is. It's a perfectly balanced film, evolving from what first appears to be a developing courtroom drama, to an immerse and atmospheric tale of mild-mannered espionage. An accurate picture of the fragile and paranoid social climate is presented in stark detail through the actions and motives of opposing sides, both politically and militarily. There's a lingering sadness throughout the piece, which is mostly derived from the unfair persecution of innocent lives who are caught under the oppressive vale of the Iron Curtain. The warm charisma of Tom Hanks who delivers another exceptional performance brings a humane element to the overall story through the character of James B. Donovan. Cinematography plays a significant part in highlighting the shadowy sub-plot with silhouette like shots of government and military oriented characters, symbolic of their ambiguous agenda.
I consider 'Bridge of Spies' as Spielberg's best film since 'Catch Me If You Can' from 2002 and I wouldn't be surprised if it's nominated for Best Picture at next year's Oscars. It marks the fourth collaboration between Tom Hanks and the veteran legendary director and hopefully it won't be the last.
BRIDGE OF SPIES 
(2015, dir: Steven Spielberg)
★★★★★
You can follow cinematic randomness on Twitter and Facebook where you'll find all my cinematic exploits. Thank-you!