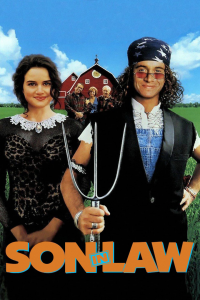 You don't necessarily have to love a movie in order to look back upon it fondly, as it's the memories you associate with it that matter. The 1993 Pauly Shore vehicle, 'Son in Law' is one such movie for me. I have a vivid memory of staring at the poster with mild curiosity through the window of the old Yallourn North video store as a child. Little did I know a few months later I would be watching the film was with my two eldest cousins. The memory of that occasion is a little hazy, but I clearly remember laughing hysterically at one particular line, only because my young mind didn't understand the context of what was being said, leading to my cousins laughing at me. Moving on to the film itself; after a whirlwind introduction to college life, a now changed and cultured farm girl named Becca returns home for Thanksgiving break accompanied by her best friend, Crawl. An eccentric party animal who finds himself in a classic fish out of water scenario.
Revisiting 'Son in Law' recently with a group of friends, I was surprised by how much I got into it, despite the questionable comedic talents of the film's star. There's a sentimental quality about the film which I found particularly enjoyable, in some instances almost serving as time capsule of the early '90s culture. Shore's improvised and bizarre style of comedy unleashed on the film's rural setting, resembles that of an extra-terrestrial stranded on earth. The sheer level of lunacy on display, not to mention the puzzling lingo will either irritate or amuse viewers. Furthermore, a loose narrative allows for our outlandish supporting characters to delight in their share of hilarious mayhem. Performances are generally consistent with Carla Gugino (recently appearing in the disaster flick, 'San Andreas') giving the strongest as Becca. Pauly Shore on the other hand is likeable as the kind natured Crawl, however his acting ability leaves lot to be desired.
With an overall theme of acceptance despite personal differences, it's an easy film to watch regardless. If you're feeling nostalgic, this simple slice of Americana with a side of insanity is worth revising.
SON IN LAW
(1993, dir: Steve Rash)
★★★
You can follow cinematic randomness on Twitter and Facebook where you'll find all my cinematic exploits. Thank-you!