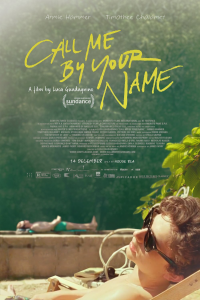 January has come to signify one or two trips to Melbourne's illustrious Rivoli cinema to watch the award season favourites unfortunately subject to limited release. Braving the onslaught of an unseasonable downpour, the miserable outdoor conditions were perfectly counteracted by the summer-rich Norther Italian landscape in Call Me by Your Name, a romantically subdued drama in which seventeen-year-old Elio begins a relationship with his father's visiting research assistant Oliver, with whom a mutual bond quickly forms.
Among the numerous languages spoken in this culturally embracive feature, the most prominent is one that's unspoken. Devoid of all boundaries, desire and the freedom of expression, both artistically and sexually, tell a deeply personal story about the fundamental urge to love and share one's self with another, regardless of gender. The film's two stars Timothée Chalamet and Armie Hammer are both emotionally vibrant as Elio and Oliver, delivering much of their performances through non-verbal means with the aid of what can only be describe as a rather seductive landscape and climate. Michael Stuhlbarg as Elio's father is amusing and insightful through the parallels he presents via his passionate works as an archaeologist, a significant theme throughout.
Call Me by Your Name will leave you at a loss for words as it speaks to the viewer on an almost instinctive level, serving as a bittersweet reminder of the angst we felt during our youth, with all those sudden bursts of pleasure and pain. It is without question a truly remarkable piece of cinema.
CALL ME BY YOUR NAME
(2017, dir: Luca Guadagnino)
★★★★½
You can follow cinematic randomness on Twitter and Facebook where you'll find all my cinematic exploits. Thank you for visiting!