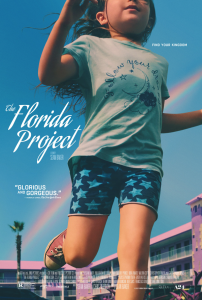 On its final run in Victorian theatres, my girlfriend and leapt at the chance to see indie drama The Florida Project, catching the second last session at the practically deserted Jam Factory cinema complex.  Opting to escape one reality for another, we were introduced to precocious six-year-old Moonee, who finds amusement in the form of mischief and adventure while living with her rebellious mother in the Magic Castle, a low-end Florida motel located in the shadows of Walt Disney World.
Taking place over the course of a single summer, this uncompromisingly raw feature comprises of numerous vignettes detailing the day-to-day existence of characters who are mostly stuck, with little prospects or means of improving their situation. While of the adult's dwell in a self-imposed misery, Moonee and her rag-tag friends have each other and their limitless imaginations; a polarizing contrast to the neighbouring "Happiest Place on Earth" where everything for one's enjoyment is provided. Among some reprehensible behaviour from both children and adults, the sense of community is evident despite the constant friction between residents and thankless motel manager Bobby, played effortlessly by Willem Dafoe, in a supporting role that's so much more. His lenience towards Moonee's mother Halley, played convincingly by first-time actress Bria Vinaite, reveals a lot about his character, not to mention the watchful eye he keeps over the film's young star Brooklynn Prince as the rambunctious Moonee.
The Florida Project is heartbreaking in many ways, as we're shown the discarded side of a region where millions flock for pre-packaged happiness while others just barely scrape by with almost nothing to their name. However, despite bad attitudes and irresponsible behaviours, there's the occasional glimpse of hope; enough to ignite change.
THE FLORIDA PROJECT
(2017, dir: Sean Baker)
★★★★
You can follow cinematic randomness on Twitter and Facebook where you'll find all my cinematic exploits. Thank you for visiting!