With tomorrow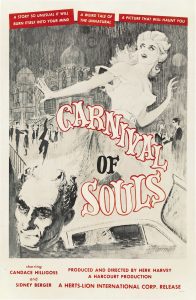 being October 31st there is no better time than to share with you my thoughts on not only one of my favourite classic horror movies, but an essential title for late night viewing, and a perfect companion for Halloween festivities. Following a traumatic car accident, a young woman relocates to Utah where she is hired as a church organist. Upon her arrival, she is mysterious drawn to an abandoned pavilion that beckons to her out on the shores of Great Salt Lake.
There is something just so perfectly off-putting about Carnival of Souls. While it's a little crude in places, the way its constantly drifts from a grounded setting to an almost dream-like plain is nothing sort of mesmerizing, and the accompanying score which consists entirely of church organ music only enhances the film's foreboding tone. Candace Hilligoss who portrays the protagonist Mary Henry, gives a withdrawn performance which lends itself to the character of an individual who has somehow fallen out of sync with the world around her. Adding to this sense of unease, is an ominous figure who follows Mary during much of her day-to-day life, played by the film's director, Herk Harvey, who also served as producer and co-writer. Made on a budget of an estimated $33,000, Carnival of Souls is a testament to the ingenuity and resourcefulness of low budget film-making and has since earned a significant cult following.
Devoid almost entirely of special effects which are largely synonymous with the horror genre, Carnival of Souls relies more on atmosphere to create its intended effect on audiences. Despite being  free to view online thanks to Public Domain, I do however recommend picking up a copy on disc for not only the best possible experience but for the informative extra content relating to its backstory.
CARNIVAL OF SOULS  
(1962, dir: Herke Harvey)
★★★★
You can follow cinematic randomness on Twitter and Facebook where you'll find all my cinematic exploits. Thank you for visiting!